"Lord, keep my memory green."
That's a great quote from one of best novelists during the Victorian era. If Charles Dickens was writing today, he might be tempted to put a spin on current events by saying, "Lord, keep my products green." As we look around the world today there is one subject that is almost universally discussed, dissected, and leads to arguments as heated as religion or politics. That subject is environmentalism. Put in the simplest terms, we simply say, "…going green…" to describe the current hot topic (pun intended).
Everywhere we look now, there is a story, guideline, or product available that we as a human race can utilize to improve our surroundings and reduce our footprint on this wonderful planet we call Earth. While this article could spin out of control quickly based on your beliefs on what is right or wrong with the environment, we simply want to provide our spin on the power requirements for the latest IGP platforms from AMD, NVIDIA, and Intel.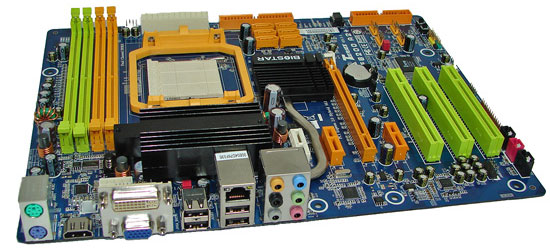 Notice we say platforms. Yes, the chipsets are a very important factor in the overall power consumption of a system, though the main watt robbing items are generally the CPU and GPU. In addition, the number of storage devices, cooling apparatus, and the power supply all play an integral part in the ecosystem we like to call the personal computer.
Our quick look today is by no means a comprehensive review of system power consumption; instead, we are providing an additional focus on the power requirements of the three latest IGP solutions available in the market. We felt like this information would get lost in the multitude of pages in the forthcoming roundup, so a sidebar article seemed appropriate. The results today will provide an extra glimpse into the platform differences when using the same exact components on the AMD side sans the motherboard/chipset and competitive offerings from Intel for comparison. We plan to do the same for our video comparisons between these platforms.
We know the hardware manufacturers are pushing energy conservation from just about every possible angle, including Gigabyte's Dynamic Energy Saver solution and Western Digital's GreenPower series of hard drives. What we would like to know from the readership is if additional articles (more in-depth) centered on platform power efficiencies is something of interest. This type of information would cover categories from HTPC to Gaming, along with recommendations of products that offer the "greenest" performance for your particular system.
That said, let's see which particular platform wins Al Gore's heart… or if you prefer, which saves you enough pennies to buy that Hummer you always wanted. (4/22/08 Update - We will provide additional numbers utilizing a Intel DG35EC motherboard and a new ASUS P5E-VM HDMI BIOS in the near future, initial testing shows the Intel DG35EC providing results about 6~11% better than the ASUS board, additional AMD board results will be provided also)