P-6831 LCD Quality
Given that we know there are at least two different LCD models available with the Gateway FX P-series notebooks, it's important to make it clear that we are reviewing the 1440x900 WXGA+ LCD. The LCD on our particular notebook comes from Samsung, the LTN170X2. As usual, we are dealing with a TN panel, which means worse viewing angles and 6-bit colors. The good news is that the pixel response time is better than older notebook panels (16ms vs. 25ms), and the backlight is rated at 200 nits.
While Samsung states that the contrast ratio is 500:1, it seemed much worse in person and testing confirmed that at least on our particular model the contrast ratio was much lower. Images appeared to be washed out in comparison to other recent notebooks, although we did notice the improvement in brightness. Let's start with a look at brightness levels and contrast ratio.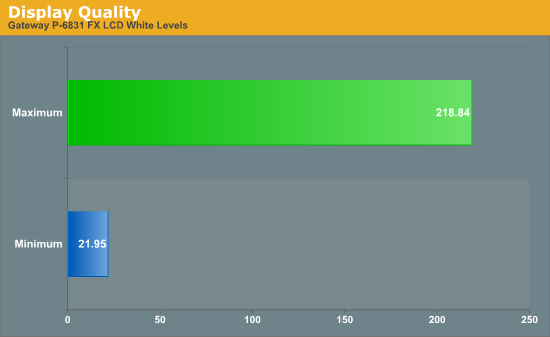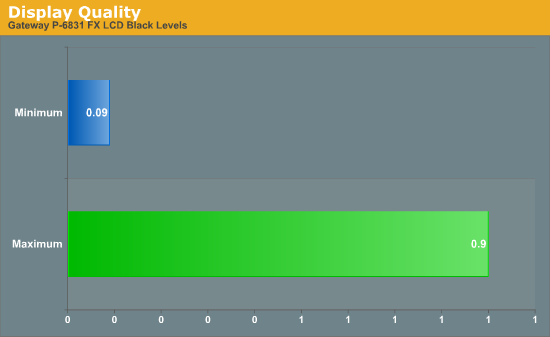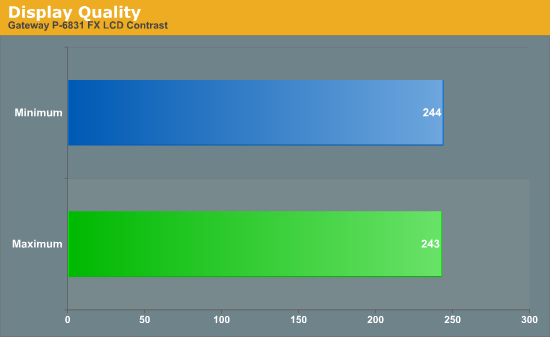 The white levels are good for a laptop, coming in at over 200 nits. Unfortunately, black levels scale proportionately, and the result is a relatively poor final contrast ratio of around 250:1. We've mentioned in the past that marketing has gotten a bit carried away with the importance of certain specifications, contrast ratio and response time being two of the biggest culprits. The thing is, such specifications are important when they fall below a certain point. It's difficult to tell the difference between a 2000:1 and a 1000:1 contrast ratio, but the difference between 500:1 and 250:1 is very blatant. We're not quite sure why our test results and the LCD specifications differ so much; it could be that Gateway cut some other costs related to the LCD and that's why the contrast ratio is much lower than expected. It's not enough to make us actually recommend against purchasing the P-6831, although if you demand a high-quality LCD you might want to look elsewhere or use an external display.
A new addition to our LCD testing is a look at color gamut. This is something we have wanted to add previously, but we hadn't found any good utilities for generating the appropriate charts and data. We recently found out about Gamutvision, a utility developed by Imatest LLC. They were kind enough to provide us with a copy of their software, and it does exactly what we need. We compared the color profiles of all previously tested laptops to the Adobe RGB 1998 color profile. Below is a chart of the gamut volume for the Gateway P-6831 FX, along with a graph showing the percentage of the Adobe RGB 1998 gamut from the various laptops. Prepare to be disappointed….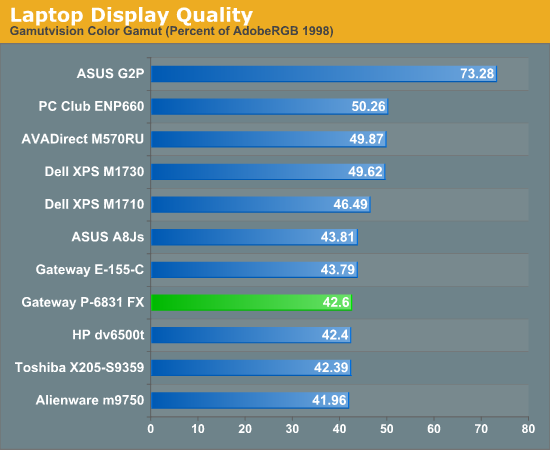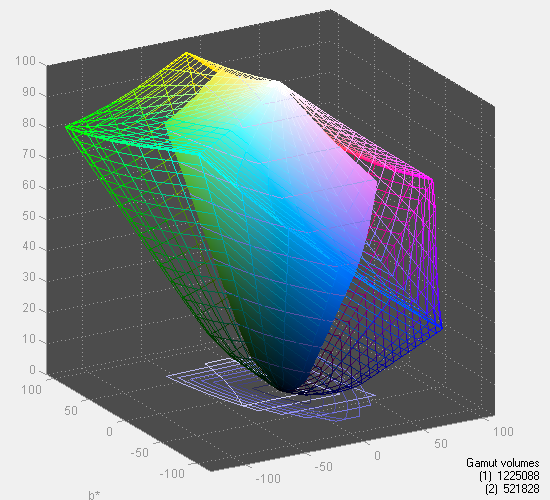 We commented in the past about how great the LCD on the ASUS G2P looks in comparison to other laptop LCDs. We now have some more detail as to why it looks better. Nearly all of the laptop LCDs we have tested provide less than 50% of the Adobe RGB color gamut — and note that there are more exacting standards than Adobe RGB 1998. The G2P sets the high water mark at 73.28%, while the vast majority of the other notebooks fall under 50%.