Ethernet Performance
The current motherboard test suite includes LAN performance measurements. All of these boards utilize PCI or PCI Express based controllers with the only difference being the supplier of the core logic.
The Windows 2000 Driver Development Kit (DDK) includes a useful LAN testing utility called NTttcp. We used the NTttcp tool to test Ethernet throughput and the CPU utilization of the various Ethernet Controllers used on the Intel motherboards.
We set up one machine as the server; in this test, an Intel system with an Intel CSA Gigabit LAN connection. Intel CSA has a reputation for providing fast throughput and is a logical choice for our Gigabit LAN server.
On the server side, we used the following Command Line as suggested by the VIA whitepaper on LAN testing:
Ntttcpr -m 4,0,‹server IP› -a 4 -l 256000 -n 30000
On the client side (the motherboard under test), we used the following Command Line:
Ntttcps -m 4,0,‹client IP› -a 4 -l 256000 -n 30000
At the conclusion of the test, we captured the throughput and CPU utilization figures from the client screen. Our NTttcp test represents the absolute best throughput scenario for our network controllers and will rarely be duplicated under normal usage patterns across an office or home LAN. We decided to create an application test across that would represent typical usage patterns in a home Gigabit and 10/100 network setup. Unfortunately, we have not been successful over the course of the past couple of months in creating a test that is repeatable or does not contain issues brought on by the Vista operating system we discussed in our last article.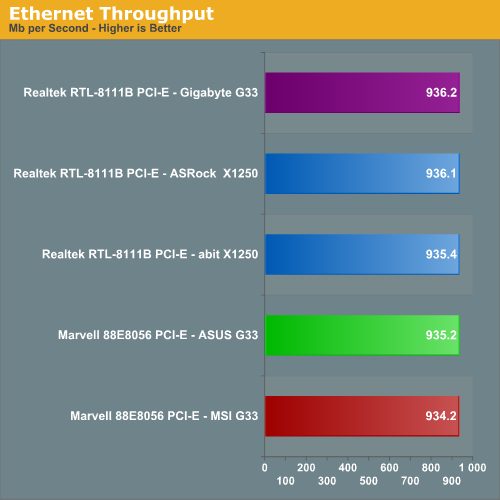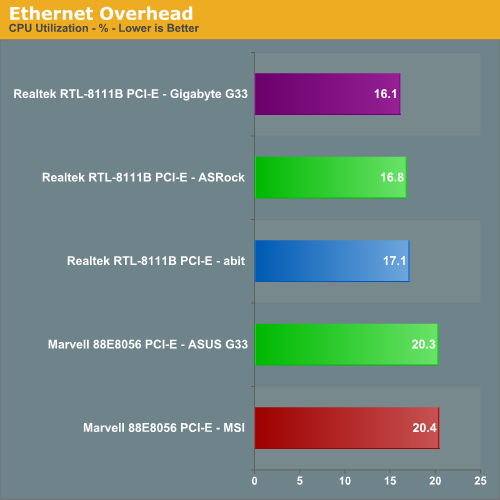 Both the CPU utilization and throughput performance favors the Realtek Gigabit controllers with the Gigabyte implementation offering the best combination. However, the differences are slight and will not be noticed under normal operating circumstances.