nForce 680i Platform
At the top of the product line, and targeted at the "hard-core overclocker", is the nForce 680 SLI. It consists of two discrete chips, the 680i MCP and the 680i SPP. As we saw in the 590 chipset, one x16 PCIe slot is controlled by each chip. This provides dual x16 SLI slots for the 680i, similar to what was provided by the 590 chipset.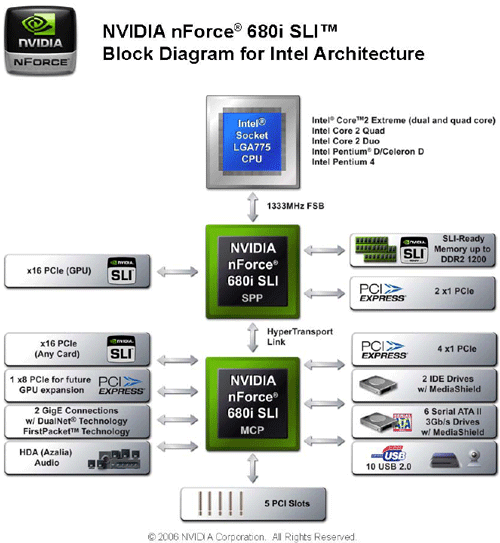 There is a significant new addition with 680i, however, in a third PCIe x16 slot between the x16 PCIe slots for SLI. This third slot is x8 PCIe instead of x16, but it can be used for a GPU on the 680i, with a new twist. This x8 slot is suitable for a physics processor combined with SLI.
If you prefer multiple monitors instead, you can even drive up to six monitors - two per card - with video cards in all 3 PCIe slots.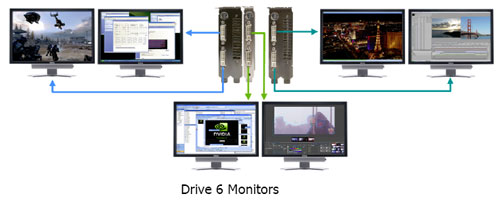 The nForce 680i provides a total of 46 PCIe lanes, with 18 lanes available on the 680i SPP and 28 lanes provided on the 680i MCP.
New features of the 680i are the addition of Extreme Overclocking capabilities and basic refinements of the features first introduced with the 590 SLI chipset. Features include:
Extreme Overclocking
FSB speeds of 1333 MHz can be achieved with a CPU that supports this specification.


DDR2 speeds of DDR2-1200 and beyond can be used to keep pace with overclocked system components. NVIDIA nForce 680i SLI MCPs support high-speed SLI-Ready memory
NVIDIA nTuneTM Utility
allows adjustment of CPU and memory speeds without rebooting. There is also access to most BIOS settings from inside Windows.
True 2 x16 PCI Express SLI Support
provided by two full-bandwidth, 16-lane PCI Express links.
Third PCIe Slot for Graphics Expansion
NVIDIA MediaShieldTM Storage
includes RAID and SATA drive support.
Multiple Disk Setup Through a wizard-based interface, you can set up your drives for better data protection, faster disk access or maximum storage capacity. MediaShield automatically selects a RAID 0, 1, 0+1 or 5 configuration according to your needs. Advanced users can access RAID options directly.
DiskAlert System In the event of a disk failure, MediaShield users see an image that highlights which disk has failed to make it easier to identify, replace, and recover.
RAID Morphing MediaShield allows users to change their current RAID setup to another configuration in a one-step process called morphing. This eliminates the need to back up data and follow multiple steps in the process.
Bootable Multidisk Array MediaShield storage fully supports the use of a multi-disk array for loading the operating system at power-up.
Six SATA 3Gb/s Drives Combine up to six SATA drives into one volume for bigger, faster RAID. Drives can be configured as six RAID 0 (striped) drives for maximum throughput, or Single or Dual RAID 5 arrays. Hot plug and Native Command Queuing are supported.
Networking with Dual Gigabit Ethernet with Teaming
allows the two connections to work together to provide up to twice the Ethernet bandwidth.
High Definition Audio (HDA)
can deliver 192 kHz/32-bit quality for eight channels.
USB 2.0
plug-and-play interface that provides easy-to-use connectivity for up to 10 USB devices.