Folding@Home
For several years now, Dr. Vijay Pande of Stanford has been leading the Folding@Home project in order to research protein folding. Without diving unnecessarily into the biology of his research, as proteins are produced from their basic building blocks - amino acids - they must go through a folding process to achieve the right shape to perform their intended function. However, for numerous reasons protein folding can go wrong, and when it does it can cause various diseases as malformed proteins wreck havoc in the body.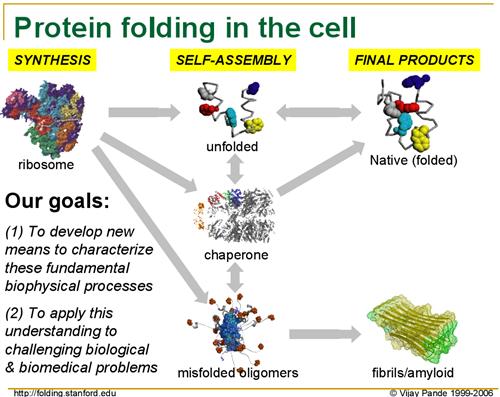 Click to enlarge
Although Folding@Home's research involves multiple diseases, the primary disease they are focusing on at this point is Alzheimer's Disease, a brain-wasting condition affecting primarily older people where they slowly lose the ability to remember things and think clearly, eventually leading to death. As Alzheimer's is caused by malformed proteins impairing normal brain functions, understanding how exactly Alzheimer's occurs - and more importantly how to prevent and cure it - requires a better understanding on how proteins fold, why they fold incorrectly, and why malformed proteins cause even more proteins to fold incorrectly.
The biggest hurdle in this line of research is that it's very computing intensive: a single calculation can take 1 million days (that's over 2700 years) on a fast CPU. Coupled with this is the need to run multiple calculations in order to simulate the entire folding process, which can take upwards of several seconds. Even splitting this load among processors in a supercomputer, the process is still too computing intensive to complete in any reasonable amount of time; a processor will simulate 1 nanosecond of folding per day, and even if all grant money given out by the United States government was put towards buying supercomputers, it wouldn't even come close to being enough.
This is where the "@Home" portion of Folding@Home comes in. Needing even more computing power than they could hope to buy, the Folding@Home research team decided to try to spread processing to computers all throughout the world, in a process called distributed computing. Their hopes were that average computer users would be willing to donate spare/unused processor cycles to the Folding@Home project by running the Folding@Home client, which would grab small pieces of data from their central servers and return it upon completion.
The call for help was successful, as computer owners were more than willing to donate computer cycles to help with this research, and hopefully help in coming up with a way to cure diseases like Alzheimer's. Entire teams formed in a race to see who could get more processing done, including our own
Team AnandTech
, and the combined power of over two-hundred thousand CPUs resulted in the Folding@Home project netting over 200 Teraflops (one trillion Floating-point Operations Per Second) of sustained performance.
While this was a good enough start to do research, it was still ultimately falling short of the kind of power the Folding@Home research group needed to do the kind of long-runs they needed along side short-run research that the Folding@Home community could do. Additionally, as processors have recently hit a cap in terms of total speed in megahertz, AMD and Intel have been moving to multiple-core designs, which introduce scaling problems for the Folding@Home design and is not as effective as increasing clockspeeds.
Since CPUs were not growing at speeds satisfactory for the Folding@Home research group, and they were still well short of their goal in processing power, the focus has since returned to stream processors, and in turn GPUs. As we mentioned previously, the massive floating-point power of a GPU is well geared towards doing research work, and in the case of Folding@Home, they excel in exactly the kind of processing the project requires. To get more computing power, Folding@Home has now turned towards utilizing the power of the GPU.