DDR/NetBurst Memory Bandwidth and Latency
One of the most talked-about AMD advantages of the last couple of years has been their on-processor memory controller. This has allowed, according to popular theories, the Athlon64 to significantly outperform Intel NetBurst processors. The fact is NetBurst DDR2 bandwidth has recently been similar or wider in bandwidth than Athlon64 - even when the DDR is overclocked. You can see this clearly when we compare Buffered and Unbuffered Bandwidth of a NetBurst 3.46EE to an AMD 4800+ x2(2.4GHz, 2x1MB Cache) running DDR400 2-2-2 and running overclocked memory at DDR533 3-3-3.
The green bars represent DDR memory performance, while the beige to red are increasing DDR2 speed on NetBurst. Light green represents DDR400 2-2-2 while Dark Green is overclocked memory at the same CPU speed, DDR533 at 3-3-3.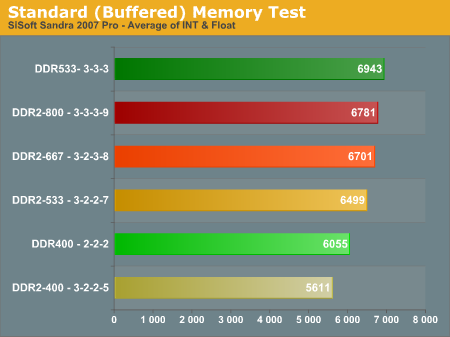 In buffered performance, Fast DDR400 is only faster than DDR2-400 and slower than DDR2-533, 667 and 800. Overclocked memory at DDR533 3-3-3 is faster than any of the DDR2 bandwidths on NetBurst.
The Sandra Unbuffered Memory Test, which turns off features that tend to artificially boost performance, is generally a better measure of how memory will behave comparatively in gaming. The same green for DDR applies here.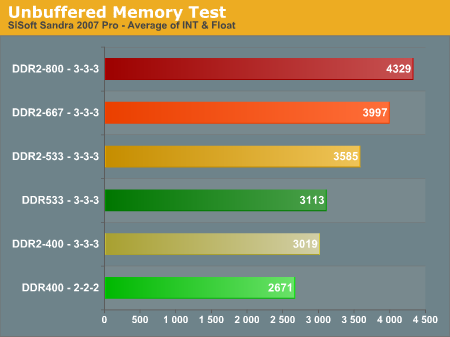 Without Buffering, DDR400 has the smallest bandwidth of tested memory speeds and timings. Even overclocking to DDR533 allows the DDR to barely beat DDR2-400. DDR2-533, 667, and 800 all have greater Unbuffered bandwidth than the DDR overclocked to 533. NetBurst DDR2 memory bandwidth is generally wider than the bandwidth supplied by DDR memory on Athlon64. Despite the wider bandwidth, the deep pipelines and other inefficiencies in the NetBurst design did not allow the NetBurst processors to outperform Athlon64. Keep this in mind later, when we look at AM2 and Core 2 Duo Memory Bandwidth.
Latency
The other area where AMD has had an advantage over NetBurst DDR2 performance is memory latency, the result of the on-processor memory controller. Comparison of the AMD DDR Memory controller and the Intel DDR2 Memory controller in the Intel chipset shows AMD DDR with latency about 35% lower than Intel NetBurst in Science Mark 2.0.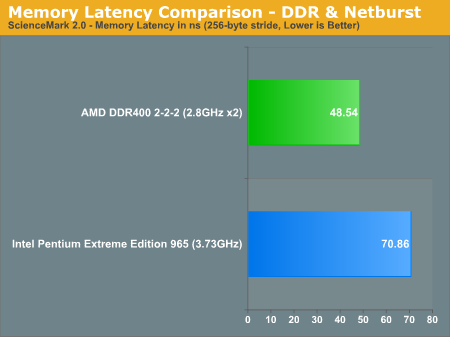 While memory bandwidth was very similar between AMD and NetBurst, the deep pipes of the NetBurst design still behaved as if they were bandwidth starved. On the other hand the AMD architecture made use of the bandwidth available and the much lower latency to outperform NetBurst across the board.