Architecture Summary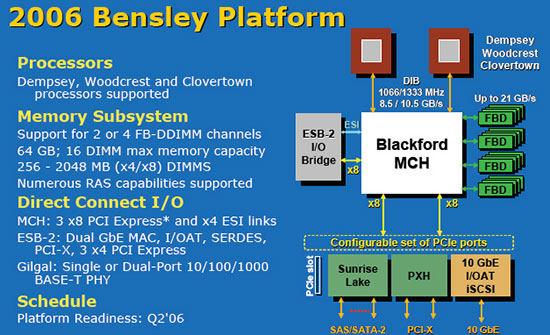 Woodcrest's home is a newer revision of the Bensley platform than what Dempsey launched with, which means that it's a drop-in part for newer Bensley based systems. If all goes to plan Clovertown (Quad-Core Xeon) should be a drop-in upgrade as well (depending on the system vendor). As we discussed in our
Dempsey article
, the Bensley platform features FB-DIMM with a peak bandwidth of 21GB/sec, SAS/SATA support and 1066/1333MHz FSB.
Woodcrest Highlights:
Shared 4MB L2 "Smart Cache"
Dempsey based processors had a separate 2MB L2 cache for each core, but Woodcrest has 4MB of L2 Cache shared between both cores. Due to the fact that the cores share a single cache, there is no data replication like there is with separate L2 caches; this results in more efficient data-sharing between cores. The shared cache also helps with mismatched loads: when one core is consistently using more cache than the other core, the CPU can allocate more L2 cache to that core. Both of these techniques are illustrated below.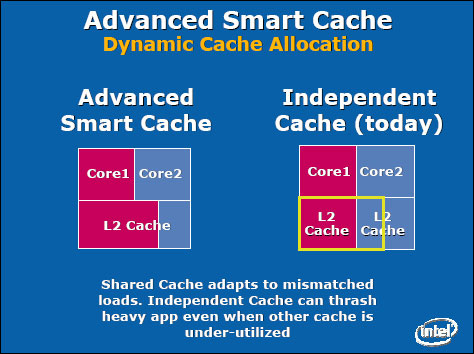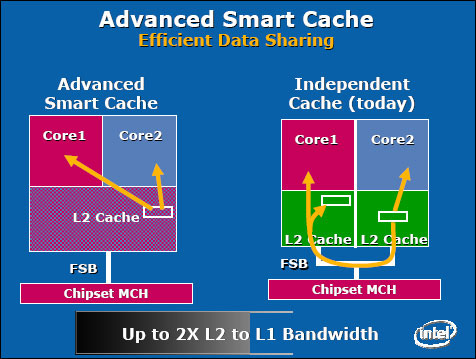 Wide Dynamic Execution Enhancements
With the Intel Core micro-architecture, every execution core is 33% wider than previous generations, allowing each core to fetch, dispatch, execute and retire up to four full instructions simultaneously. The Opteron - as well as all previous NetBurst Xeon processors - can only handle 3 at a time.
Macro Fusion
Macro-fusion combines certain common x86 instructions into a single instruction for execution. Without Macro-fusion four instructions at a time are fetched from the queue and each instruction gets decoded into separate micro-ops. With Macro Fusion, 5 instructions can be fetched at a time, and if a fusable pair is present it can be sent to a single decoder. A single micro-op can then represent two regular x86 instructions.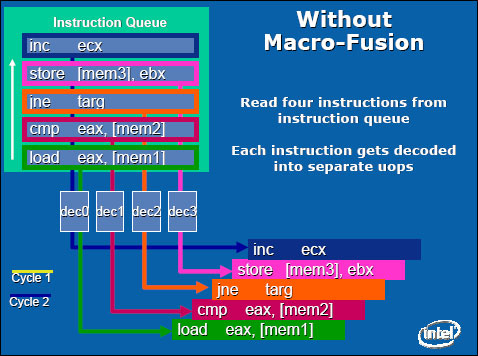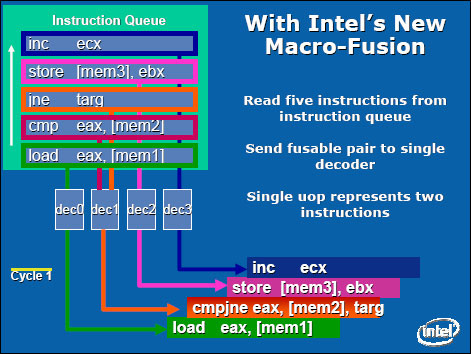 Beyond 2 Sockets, is Intel's FSB still an Achilles Heel?
As we've seen in past benchmarks, the front side bus has been a thorn in Intel's side, especially in the quad socket systems. Whether or not the new architectural changes that Intel has made with Woodcrest will alleviate enough of that pressure to overpower the scalability of Opteron in four socket configurations is unknown at this point. Intel is quite confident that with the shared cache and its dual independent FSB running at 1333MHz that bus bandwidth is not a concern, however at some point the bus bottleneck will be a problem. One of Intel's architects has however stated that an
integrated memory controller is possible
, which Intel has
already shown us a demo of
.