"We are such stuff, As dreams are made on and our little life
Is rounded with a sleep..."
This line as spoken by the magician Prospero in William Shakespeare's whimsical play, "The Tempest", reminds us of the uniqueness of the human mind and the fleeting amount of time that we are around to utilize it.
The Asus P5N32-SLI Deluxe that we will review today is also very unique in several ways and like most computer products in the current marketplace, its life span will be fleeting. However, for those of you who have the opportunity to utilize it, you will find what dreams are made on.
I will say this up front; this is one of the better motherboards that I have had the opportunity to use in the last 20 years. In fact, this board deserves additional testing time in order to explore fully and extract all of its performance potential. In keeping with what we believe is the best option for the current Intel processor lineup, the Pentium D series, we did not test a single core processor on this board. However, based upon the results that we extracted from the 840EE and 820D processors, we will be testing a single core processor on this board in the near future.
While it does not have the quad graphics capability of the Gigabyte GA-8N SLI Quad, the stellar layout of the MSI P4N Diamond, or the extensive feature set of the Gigabyte GA-8I955x Royal that was reviewed recently, this board's capability more than exceeds the sum of its parts. Yes, it does have some quirks as most products will, but Asus has engineered a truly remarkable motherboard utilizing the revised NVIDIA nForce4 Intel Edition SLI for the Northbridge and the NVIDIA nForce4 SLI for the Southbridge resulting in the x16 designation.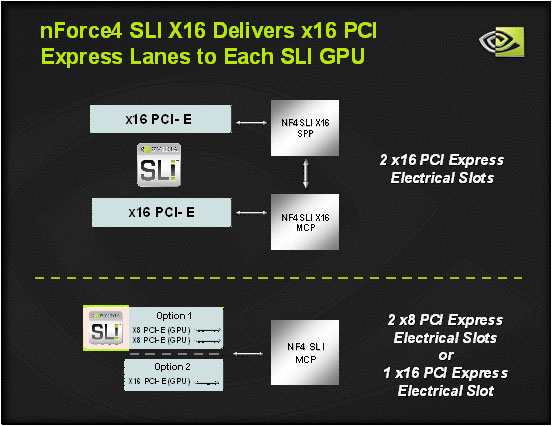 This results in a total of 40 configurable PCI Express lanes compared to 20 PCI Express lanes in the previous nForce4 Intel Edition SLI design. This allows the option to support two full-bandwidth 16-lane PCI Express links for graphics compared to a single 16-lane PCI Express link or split into two full-bandwidth 8-lane PCI Express links previously. While this doubles the bandwidth of the previous chipset configuration, in reality, the actual performance improvements are dependent upon the CPU, GPU, applications, and driver sets used. We witnessed anywhere from a 3% to 25% improvement in certain applications and were, at times, CPU constrained when utilizing a pair of 7800GTX video cards in SLI configuration at 1600x1200 resolutions and above. Significantly better improvements have been reported on the AMD x16 configuration when utilizing an FX57 CPU and 7800GTX SLI setup with the 81.85 driver set.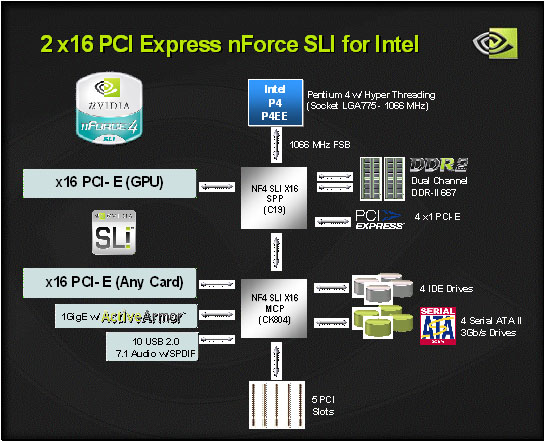 The chart above lists the standard feature set available to manufacturers using the NVIDIA nForce4 SLI x16 Intel Edition. Asus chose to augment this feature set with additional SATA II capabilities from Silicon Image, additional Gigabit Lan port via the Marvell 88E8053 chipset, and Firewire 1394a support via the TI TSB43AB22 chipset.
One of the main design features that Asus engineered into this board is an exclusive 8-phase voltage regulator power design that can significantly lower operating temperatures while reducing input ripple current and output ripple voltages . In fact, the input ripple current is over three times lower than a traditional 4-phase design while output ripple voltages are four times lower. The power consumption compared to the 4-phase design is about 10% less while the 8-phase design has the advantage of quicker transient responses and increased dependability due to lower thermal values.
What all this means is that your system will run cooler and overclock better compared to other solutions. In fact, through informal testing utilizing the BIOS readings, we found our Intel Pentium 840EE was on average running about 5c cooler in the Asus board compared to other solutions in the same test setup and ambient conditions. We will be conducting more thermal tests with scientific instrumentation in the near future. Our average overclocks were around 5% better than the other boards at more aggressive memory timings and with lower voltages required to the chipsets. While this does not sound like much, the ability of this board to run a CPU that previously topped out in the 3.9GHz range at up to 4.2GHz is impressive. The Asus P5N32-SLI Deluxe was an extremely stable board throughout our testing and did not fail a single time throughout two weeks of varying tests and conditions.
Let's see what this board is capable of now.