Basic Features: Asus P5N32-SLI Deluxe
Specification
Asus P5N32-SLI Deluxe
CPU Interface
LGA775-based Pentium 4, Pentium XE, Celeron D, and Pentium D processors.
Chipset
North bridge- NVIDIA nForce 4 SLI Intel Edition (Crush C19)
South bridge- NVIDIA nForce 4 SLI Edition (Athlon CK804)
Pentium D Support (Dual-Core)
Full Support
Front Side Bus
1066 / 800 / 533 MHz
Front Side Bus Speeds
533-1600 MHz (in 1 MHz increments)
Memory Speeds
Auto- 400-1200 MHz (in 1 MHz increments)
System Clock Mode
Optimal, Linked, Expert
PCI Express
100 MHz to 150 MHz in 1 MHz increments
Dynamic Overclocking
AI NOSTM (Non-delay Overclocking System)
AI Overclocking (intelligent CPU frequency tuner)
ASUS PEG Link (Automatically performance tuning for single/dual graphics cards)
ASUS CPU Lock Free
ASUS Ai Booster Utility Precision Tweaker for Windows
Core Voltage
Auto, 1.1V - 1.70V in 0.0125V increments
DRAM Voltage
Auto, 1.85 - 2.4V in 0.05V to 0.10V increments
Other Voltage
North Bridge - Auto, 1.4V, 1.5V, 1.6V
South Bridge - Auto, 1.5V, 1.6V
FSB - Auto, 1.215, 1.315, 1.415
LDT (Hyper Transport) Ratios
200, 400, 600, 800, 1000
Memory Command Rate
Auto, 1T, 2T (current BIOS defaults to 2T)
Memory Slots
Four 240-pin DDR2 Slots
Dual-Channel Unbuffered Memory to 16GB
Expansion Slots
(2) x16 PCIe Slots
(1) x4 PCIe Slot
(2) x1 PCIe Slots
(2) PCI Slots version 2.2
SLI
(2) x16 Fully Supported
Onboard SATA
(4)-Drive SATA 2 by nForce 4
Onboard IDE
(2) ATA 133/100/66/33 ports, (4) drive support by nForce 4
SATA/IDE RAID
NVIDIA® nForce4 SLI supports NVRAID
- 2 x Ultra DMA 133/100/66/33
- 4 x Serial ATA 3 Gb/s
- NVRAID: RAID0, 1, 0+1, 5, and JBOD
Silicon Image® 3132 SATA controller supports
- 1 x Internal Serial ATA 3 Gb/s hard disk
- 1 x External Serial ATA hard disk (SATA On-the-Go)
- RAID 0, 1
Onboard USB 2.0/IEEE-1394
(9) USB 2.0 ports supported by NVIDIA nForce 4
(2) 1394 FireWire ports supported by TI 1394a
Onboard LAN
Dual Gigabit Ethernet
PCIe Gigabit LAN Support
Marvell 88E1111 PHY, Marvell 88E8053
Onboard Audio
Realtek ALC850 8-channel CODEC
Universal Audio Jack
Audio Sensing and Enumeration Technology
Coaxial/Optical S/PDIF out ports on back I/O
Power Connectors
ATX 24-pin, 8-pin EATX 12V, 4-pin 12V EZ plug (required for SLI operation)
Internal I/O Connectors
2 x USB connectors supports additional 6 USB 2.0 ports
2 x IEEE1394a connector
1 x COM connector
1 x GAME/MIDI connector
CPU Fan / 2x Chassis Fan/ Power Fan / 2x chipset fan connectors
Front panel audio connector
Chassis Intrusion connector
CD / AUX audio in
Other Features
Fanless Design
AI NET2 network diagnosis
CrashFree BIOS 2
Q-Fan2
MyLogo2
EZ Flash
BIOS
AMI 0047
The Asus P5N32-SLI Deluxe is a member of the ALife product family and, as such, is a fully-featured flagship board targeted towards the PC gamer. The board ships with an extensive accessory package along with several dynamic overclocking features such as AI NOS
TM
(Non-delay dynamic Overclocking System), AI Overclocking (intelligent CPU frequency tuner with preset profiles), ASUS PEG Link (automatic performance tuning for single/dual graphics cards), ASUS CPU Lock Free (BIOS setting to unlock select multiplier locked CPUs), and the ASUS Ai Booster Utility Precision Tweaker software that allows control over certain system settings within Windows. The board also features the exclusive 8-Phase power design, Copper Heat Pipe technology for cooling the chipsets, Stack Cool 2 design to dissipate heat to the opposite side of the motherboard, and an external SATA II port on the back I/O panel.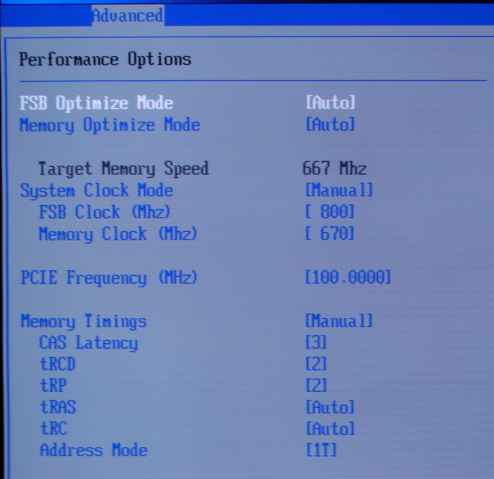 The BIOS options are extensive on the P5N32-SLI Deluxe, with memory voltage to 2.4V, and an extensive range of chipset, bus, and vCore voltage adjustments. Memory ratios are handled like other nForce4 SLI Intel Edition boards in that the number of memory dividers is so numerous that you can simply enter a target memory clock and the BIOS will select the appropriate memory divider to produce a setting as near as possible to the requested value. The board fully supports manual memory timing adjustments or allows for an Auto setting that will set the memory to the SPD settings. This Auto setting will adjust the memory timing settings automatically when the system is overclocked. You have the ability to set the system clock mode to Auto (sync the fsb and memory to their rated standard), Linked (sync the fsb and memory proportionally as you increase the front side bus), or Manual (allows independent adjustment of the fsb and memory).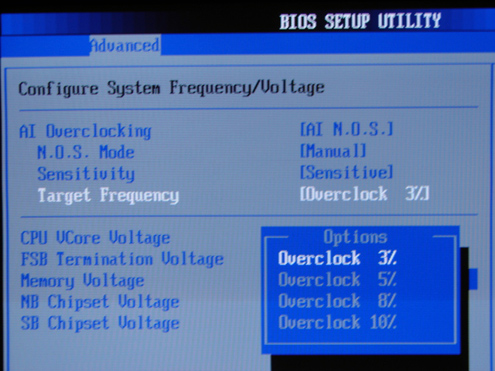 The new revision of the nForce4 SLI x16 Intel Edition Chipset fully supports all dual core Pentium D processors. We confirmed that the board worked properly at
stock and over clocked
settings with an Intel 820 processor and an 840 processor, and there were no problems with the board recognizing the two cores and four logical processors that are created with the Hyperthreading feature on the 840 EE processor.