Memory Performance
The biggest question on our minds when comparing these two heavyweights was: who has the better memory controller?  We turned to the final version of ScienceMark 2.0 for the answer.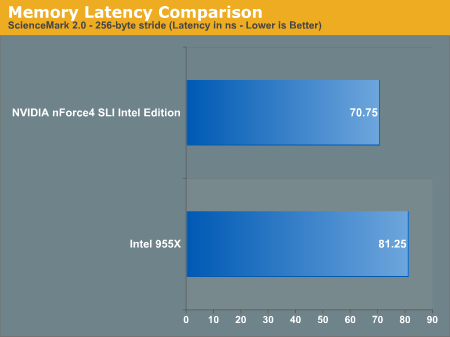 Amazingly enough, at the same memory timings, NVIDIA drops memory latency by around 13%.  This is a worst case scenario for memory latency. In all of our other memory tests, the nForce4's memory controller was equal to Intel's controller - but even any advantage here is impressive, not to mention such a large advantage.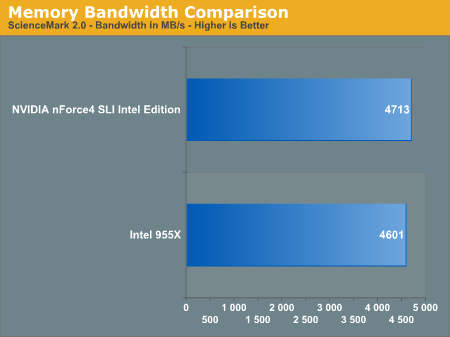 NVIDIA's latency reduction and DASP algorithms offer a negligible 2% increase in overall memory bandwidth.  While you'd be hard pressed to find any noticeable examples of these performance improvements, the important thing here is that NVIDIA's memory controller appears to be just as good as, if not faster, than Intel's best.  Kudos to NVIDIA - they have at least started off on the right foot with performance. 
DDR2-667 or 533?
When Intel sent us their 955X platform, they configured it with DDR2-667 memory running at 5-5-5-15 timings.  NVIDIA sent their nForce4 SLI Intel Edition board paired with some Corsair DIMMs running at 4-4-4-15 timings at DDR2-667.  Given that we have lower latency DDR2-533 memory, we decided to find out if there was any real performance difference between DDR2-667 at relatively high timings and DDR2-533 at more aggressive timings. Once again, ScienceMark 2.0 is our tool of choice: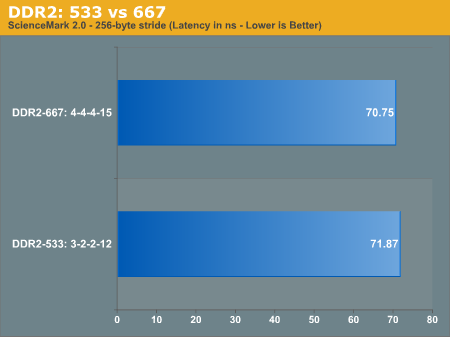 Here, we see that even at 3-2-2-12, DDR2-533 isn't actually any faster than DDR2-667.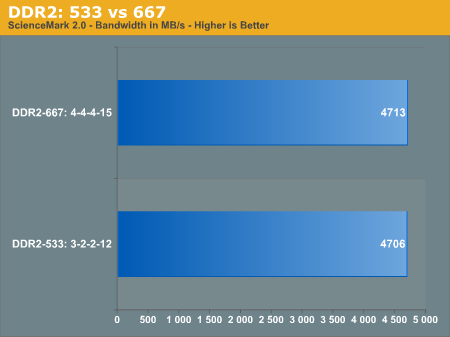 ...and it offers slightly less memory bandwidth. 
It looks like there's not much point in worrying about low latency DDR2-533, as higher latency DDR2-667 seems to work just as well (if not a little better) on the newest Intel platforms.