The Motherboards
For this comparison, we used production boards. From Intel, we have the Intel D955XBK and representing NVIDIA, we have the ASUS P5ND2-SLI Deluxe.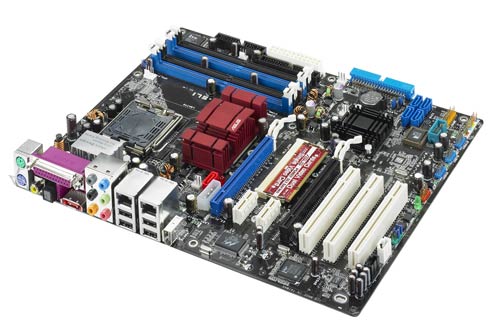 While NVIDIA's nForce4 reference board still doesn't seem to have dual core support, ASUS' board does, so it looks like the chipset will have no problem supporting the Pentium D.  One problem that we have seen, however, is that neither NVIDIA's reference board nor ASUS' board support Intel's Thermal Monitor 2 specification at this time.  While NVIDIA insists that support for TM2 is coming, we are hearing from motherboard manufacturers that support for TM2 will only be there for single core processors.  If that ends up being true, that will be a huge downside for the nForce4 platform - TM2 significantly reduces heat output as well as fan noise on Intel platforms, both features that are much appreciated. 
Despite having numerous problems with their AMD SLI motherboard, the ASUS P5ND2-SLI Deluxe was flawless during our testing.  We had one problem with the system not POSTing, but a later BIOS revision fixed that issue. 
The Test
Note that this is a comparison of Intel platform chipsets. For a comparison of AMD and Intel CPUs, have a look at our latest CPU reviews.
Intel Pentium 4 Configuration
LGA-775 Intel Pentium Extreme Edition 840
2 x 512MB Crucial DDR-II 667 Dual Channel DIMMs 4-4-4-15
Intel D955XBK 955X Motherboard
ASUS P5ND2-SLI nForce4 SLI Intel Edition Motherboard
ATI Radeon X800 XL PCI Express
NVIDIA GeForce 6800GT PCI Express
Seagate Barracuda 7200.7 Plus (with NCQ)
Maxtor MaXLine III (with NCQ) for NCQ tests