Storage and Power
Storage
As we mentioned earlier, the V40z's six hot swappable Ultra320 storage bays utilize LSI's 53C1020 SCSI controller to connect up to six LVD SCSI devices. The sixth expansion slot in the front of the server can be used for a floppy drive/DVD/CD drive combo, as illustrated in our configuration below.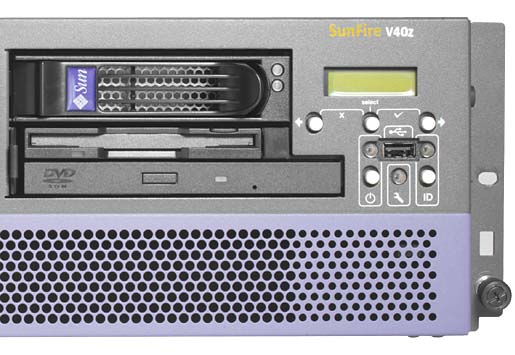 During the original release of the V40z, the LSI 53C1020 did not support 292GB hard drives. In the most recent BIOS upgrades, the V40z fully supports these sizes, which gives the machine a storage capability of just over 1.7TB. All six of the SCSI devices have activity and fault LEDs routed to the front of the machine and via the SMBus to the Service Processor. Even in the event of a stale kernel, we can tell if a hard drive has gone faulty via one of the various remote connections to the SP. The hard drive states are also viewable via the front panel LCD console.
Power
Power on our Sun V40z comes from two, redundant 760W power supplies – both hot swappable. A metal arm swings out from the back of each power supply, unlocking the unit for removal.
As we also mentioned earlier, both of these power supplies are directly managed by the Service Processor. As a result, when plugging in the system, the Service Processor boots up automatically its own operating system to oversee the functionality of the rest of the computer. This intelligent design allows for us to view the exact details of power draw and operating temperature.