Sony DRU-710A
Sony has produced some very intriguing products over the last few years, particularly since the DVDR format wars started to really heat up. Sony generally takes the most competent recording platform and then rebrands it while working with the original OEM to improve the firmware and write descriptors. The last several iterations of Sony burners are based on LiteOn OEM designs, and the DRU-710A is no exception either.
Up until recently, Sony actually had two product lines: a high speed, single layer line (DRU-5Xx) and a slower, dual layer line (DRU-700). Now that dual layer burners are synonymous with 16X burners, the 5Xx line has slightly given way to the 7Xx series instead.
Sony DRU-710A 16X DVD-/+RW Drive
Interface
PATA
CD Write Speed
48X CAV
40X, 24X, 16X, 8X P-CAV
CD Rewrite Speed
24X, 16X, 10X, 4X Z-CLV
CD Read Speed
40X MAX CAV
DVD-R Write Speed
8X, 4X, 2X, 1X Z-CLV
DVD-RW Rewrite Speed
4X, 2X, 1X CLV
DVD+R Write Speed
16X CAV
12X, 8X, 4X, 2.4X P-CAV
DVD+RW Rewrite Speed
4X, 2.4X
DVD+DL Write Speed
2.4X
DVD Read Speed
16X MAX
Supported Modes
DAO / DAO-RAW 16 & 96
TAO
SAO / RAW SAO, RAW SAO 16 & 96
Packet Write
Multi-Session
Supported Formats
DVD+R (DAO, incremental, seq)
DVD+RW (random)
DVD-R (DAO, incremental, seq)
DVD-RW (restricted overwrite)

CD-R, CD-RW, CD-ROM, CD-DA,
Mixed Mode, CD Extra
Photo CD, CD Text, Bootable CD, UDF
Access Time
CD: 145ms
DVD: 135ms
Buffer
2MB
Just like our DRU-700, the DRU-710 supports booktype setting and error diagnostics from the MediaTek chipset. As you can see above, all of the specifications are identical between the DRU-710A and the LiteOn SOHW-1633.
Product support for Sony is top notch. We have dozens of great experiences when testing Sony's quality control, and their forums, help desk and live chat all surpass anything that the other drive manufacturers in this analysis are capable of.
Sony recorders are almost always the most expensive retail drives in our roundups, and that hurts them considerably in the price analysis. However, if you look for their OEM models in places like NewEgg, you can find much cheaper drives without software.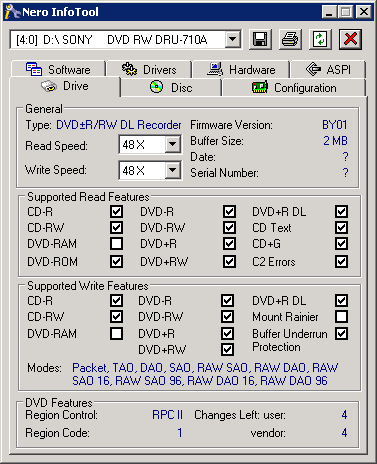 Like the LiteOn counterpart, the Sony DRU-710A was also extremely noisy and emitted a high pitched whine during the entire burn.
Feel free to download the performance graphs for the DRU-710A
here
.