LG GSA-4160B
LG always sparks our attention, since they design and build one of the few truly universal DVD burners available. 5X DVD-RAM support is an enormous addition to the DVD-RAM community, and the
GSA-4120B
introduced in May was the only burner capable of high DVD-RAM speeds. Unfortunately, media then (and now) still seems to plague the DVD-RAM community, although that hasn't stopped LG from producing a tri-format recording solution.
LG is completely unique in the sense that most of its components are designed around chipsets and servos exclusively used on LG-Hitachi burners. We don't see recorders with the same controllers for sale under different brand names, like we do with the Pioneer 108D (ASUS DRW-1604P) or the NEC 3500A.
 LG GSA-4160B 16X DVD-/+RW Drive
Interface
PATA
CD Write Speed
40X, 24X
16X, 8X, 4X
CD Rewrite Speed
24X, 16X, 10X, 4X
CD Read Speed
40X MAX
DVD-R Write Speed
8X, 6X, 4X, 2X, 1X
DVD-RW Rewrite Speed
4X, 2X, 1X
DVD+R Write Speed
16X, 12X, 8X
4X, 2.4X
DVD+RW Rewrite Speed
4X, 2.4X
DVD+RAM Write Speed
5X, 3X, 2X
DVD+DL Write Speed
2.4X
DVD Read Speed
16X MAX (ROM)
8X MAX (-/+R, -/+RW)
5X MAX (RAM)
Supported Modes
DAO / DAO-RAW 16 & 96
TAO
SAO / RAW SAO, RAW SAO 16 & 96
Packet Write
Multi-Session
Supported Formats
DVD+R (DAO, incremental, seq)
DVD+RW (random)
DVD-R (DAO, incremental, seq)
DVD-RW (restricted overwrite)

CD-R, CD-RW, CD-ROM, CD-DA,
Mixed Mode, CD Extra
Photo CD, CD Text, Bootable CD, UDF
Access Time
CD: 125ms
DVD: 145ms
DVD-RAM: 165ms
Buffer
2MB
Even though the GSA-4160B has slower DVD-R write speeds than most of the other drives in our roundup, the ability to write DVD-RAM discs sets it apart from all of our other burners. DVD readers are starting to adopt DVD-RAM reading much better than they have in the past. So, if you can find DVD-RAM media for cheap, it certainly makes an attractive feature addition.
Unlike most of our other DVD recorders in the roundup, the GSA-4160B does not advertise 16X DVD-R write speeds. Although, we question how necessarily relevant that specification is, since no 16X DVD-R media exists yet anyway. Below, you can see what Infotools reports: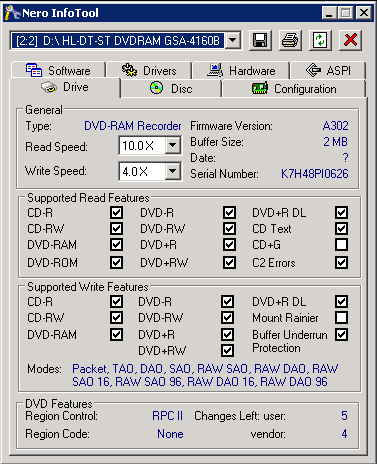 Inside, our GSA-4160B looks identical to the GSA-4120B, all the way down to the SKUs on the chips itself.
The flash memory located on the left side of the PCB appears to be the only major change. You may recall that our older GSA-4120B utilized a 2MB Fujitsu
flash
solution, while the GSA-4160B incorporates a Macronix MX29LV160BT TSOP instead. The performance advancements in this drive almost certainly come from the more mature firmware, rather than newer components.
We had positive feelings for the GSA-4120B, and if LG-Hitachi corrected some of the minor write strategy issues while adding 16X DVD+R write capability, this drive will give all of the top tier manufacturers a run for its money.
Feel free to download the performance graphs for the GSA-4160B
here
.