LiteOn SOHW-1633S
Our roundup would not be complete without an offering from LiteOn. LiteOn has continuously proven itself as a solid (but generally not outstanding) OEM and retail manufacturer.
 LiteOn SHOW-1633S 16X DVD-/+RW Drive
Interface
PATA
CD Write Speed
48X, 40X CAV
32X, 24X P-CAV
16X, 8X CLV
CD Rewrite Speed
24X Z-CLV
16X, 10X, 4X CLV
CD Read Speed
40X MAX CAV
DVD-R Write Speed
8X, 6X Z-CLV
4X, 2X, 1X
DVD-RW Rewrite Speed
4X, 2X, 1X CLV
DVD+R Write Speed
16X CAV
12X, 8X P-CAV
6X, 4X, 2.4X
DVD+RW Rewrite Speed
4X, 2.4X
DVD+DL Write Speed
2.4X CLV
DVD Read Speed
16X MAX CAV
Supported Modes
DAO / DAO-RAW 16 & 96
TAO
SAO / RAW SAO, RAW SAO 16 & 96
Packet Write
Multi-Session
Supported Formats
DVD±R/W (DAO, Incremental, muti-border, restricted overwriting)

CD-R, CD-RW, CD-ROM, CD-DA,
(variable packet, TAO, SAO, DAO, raw burning/overburn)
Access Time
CD: 160ms
DVD: 160ms
Buffer
2MB
Once again, LiteOn went with a MediaTek based DSP, the MT1828E. Below, you can see a scan of the double-sided PCB. Using a PCB with components on both sides slightly increases the cost and complexity of the unit, but also decreases the size of the drive. This is why most MediaTek burners have a smaller form factor.
On the front side of the mainboard, there is not a whole lot to see other than the Samsung
3.3V DRAM module
. The reverse side of the main PCB can be seen below.
Coupled with the analog controller, the MT1616E, the SHOW-1633S provides all the features of NEC and Pioneer, as well as additional features like error feedback. All MediaTek controllers provide feedback to the PC on the number of C1/C2/C3 (or PI/PO) errors produced during a burn. Software like
K-Probe
allows the PC to record and graph these errors in the same manner that Q-Tools reports errors. This is a great feature if you are a hardware reviewer, but not something that we would recommend as a factor in a purchase decision.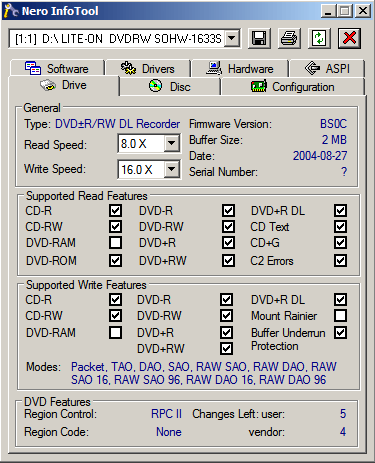 Although we are accustomed to high pitch whines while writing discs, the LiteOn 1633S was extremely noisy.
Feel free to download the performance graphs for the SOHW-1633S
here
.