Introduction
If anyone were asked to name the two most anticipated games of this year, no thought would be required before putting forth the inevitable reply of "Doom 3 and Halflife 2". Order may very depending on the gamer's background and taste, and the occasional "Sims 2" response may be heard in the minority. So far, we have Doom 3 (even The Sims 2 is already Gold), but Halflife 2 is still MIA. We keep hearing rumors (though nothing substantial), but even last year's certain release wasn't set in stone.
Ever since the incendiary remarks made by Valve's Gabe Newell about the ability of Valve's programmers to come up with code that ran as fast on NVIDIA's hardware as it did on ATI's (and putting the blame for this square on NVIDIA's shoulders), and the following source code leak, both the buzz over the Halflife sequel and its delay have increased in what feels like an exponential manner.
Of course, last year, ATI "bundled" Halflife 2 with its cards, but consumers who made the purchase were left with little in the way of fulfillment of this offer. That is, until now. Last week, Valve pushed out a one level beta version of the Counterstrike mod fitted to the Halflife 2 core over steam for those customers who had registered their ATI HL2 coupons. Eventually, the game will be released as Counterstike: Source, but, for now, the beta version shows off the bells, whistles, and capabilities of the new Source engine that powers HL2.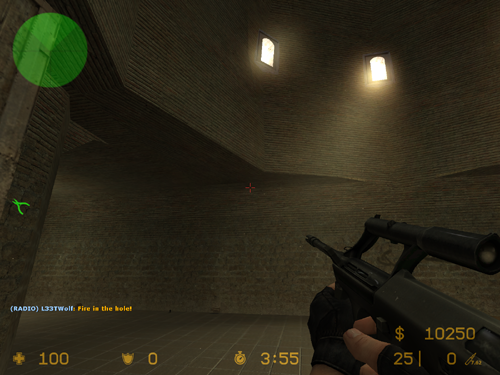 Light blooming through windows, illuminating dust in the air in Counterstrike: Source Beta
As an added bonus, Valve included a video card "stress test" in the beta version of CS: Source. Now, with an updated version of the engine, refined drivers, and brand new cards, we take a look at another bit of the story behind the ever lengthening saga of Halflife 2.