Source, CS, and Halflife 2
Before we take a look at the numbers, we have to know what we are dealing with. There are really three important components to address when looking at the beta version of Counterstrike: Source. First, there's the fact that the game is based on the Source engine and has a built in graphics stress test to push hardware to its limits and beyond. Next, there's Counterstrike and how that franchise fits into the equation. Finally, the crux of the matter, what do our observations reveal about the upcoming Halflife 2 title?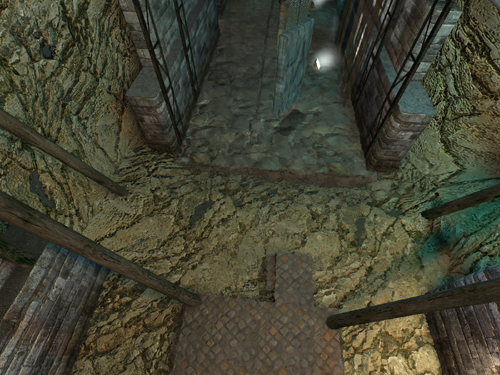 The opening of the Video Stress Test benchmark
In taking a look at the source engine test level supplied with CS:Source Beta, one of the first things we noticed was a difference in feeling between Source and id Software's latest engine. We've only got a test room and a sandy CS level to test the Source on, so we really haven't seen all that it has to offer, but our first impression of the engine is that it is very "clean". Clean like listening to an undistorted guitar after hearing some intensely heavy rock, or the feeling of looking at an HDTV next to an old UHF box. So far, the scenes we've seen rendered with Source show us that the engine is very good at producing crisp, clear images. Our initial impression of Doom III wasn't that it was any less real or vivid (we still got that warm, squishy, HD feeling inside), but that it was real in a dark, dirty, and atmospheric way. We will probably see how well Valve can coax their engine into producing similar situations at different points in Halflife 2, and surely there will be Doom III engine licensees who will create games with a slightly (for lack of a better word) happier feel. But at this point we don't have enough info to say that one engine is "better" than the other. So far, we'll just call them different. We are absolutely looking forward to seeing how Valve will integrate some of the very cool effects produced by the stress test in gaming situations.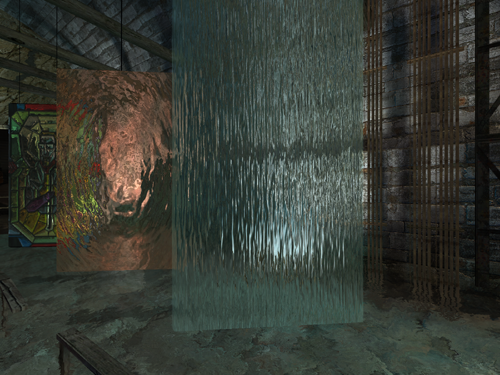 Some of the more complex rendering that goes on in the Video Stress Test is overlapping reflective/refractive surfaces
Counterstrike: Source is somewhat of an interesting choice for Valve to lead off with. Historically, CS players have been very demanding on framerate. While we can't get 200fps at high resolutions, the subtle (and not so subtle) enhancements to the game engine add a depth to Counterstrike that could revitalize the franchise. Unlike the stress test, the enhancements in the one level available for play in Counterstrike: Source Beta (dust) aren't all about fire, water, reflection/refraction, and tv monitors. The main benefits we see in CS are in the added clarity, feeling of realism, and enhanced physics. Kicking a box or rolling an oil drum down a hill are fun enough to distract players from the game at hand. Actually, such real world interactions with the environment provide a new way to play: kicking a tire down one side of a hill to draw sniper fire, then running down the other is a very effective trick. Smoke and flashbang effects, muzzle flares, and explosions add to the experience as well. Lighting effects inside buildings pile on the realism. With the intensity of effects kept to a subtle level, high frame rates are still achievable, and if we decide to include CS: Source as a test game in future articles, we will put a larger emphasis on higher frame rates than we will from the stress test we will see benched here.
When it comes to Halflife 2, we still don't have a very good picture of how Counterstrike and the included stress test will relate to game play. We will very likely see less sheer graphical impact in the final version of HL2 than in the stress test. After all, Valve packed tons of water, translucent surfaces, and special effects into a tiny room in order to push graphics cards to the limit. We wouldn't expect (or want) to see a level like that in the game. Effects and eye candy are wonderful things, but game designers always need to be careful not to heap too much of a good thing on gamers. One of the most important aspects of the latest in the FPS genre is to put the player in the game as much as possible. At the same time, HL2 will have AI and huge levels with all kind of stuff going on. We really feel that HL2 will be much more CPU intensive than the graphics stress test (which we would hope), or even Counterstrike. Graphically, HL2 will likely be more intense than CS (as it will have more opportunity for strange alien special effects), though this remains to be seen.
So, with Halflife 2, we're looking at something more CPU intensive than both CS and the gpu stress test, and between the two in average graphical intensity. No, it's not easy to call. Especially since we haven't found a "good" way to benchmark our Counterstrike level yet. We take a brief look at CPU scaling with the video stress test on the A64FX platform, but this won't offer as much insight as we would like until we can get our hands on HL2. An in depth analysis of the impact of the cpu on the graphics engine as far removed from game play as possible could help us separate the graphics factor from the game benchmark later on if we decide to use HL2 as a CPU test (we are hoping to be able to test the impact of the new AI algorithm if possible).. Of course, that depends on the type of benchmarking software that comes with HL2 (if any).
But that's enough background. Now on to the tests.