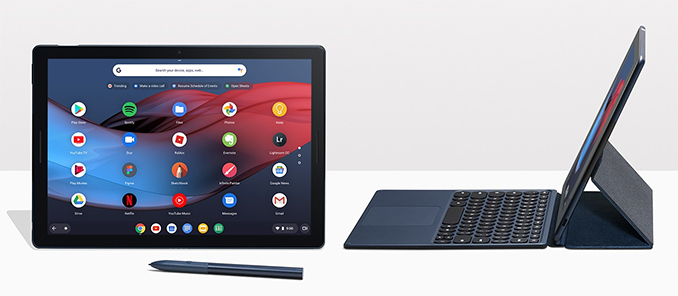 Google on Tuesday introduced its first tablet PC based on its Chrome OS operating system, the Pixel Slate. Being based on Intel's high-performance x86 SoCs and equipped with a 12.3-inch display, the new Pixel Slate can rival low-power 2-in-1 laptops in terms of performance and LCD real estate. Straddling the line between a tablet and a formal 2-in-1 convertible, Google is also producing an official keyboard attachment that will sell separately from the Pixel Slate, which is similar to how Microsoft is handling the Surface Pro.
The Pixel Slate is Google's fourth-generation computer running Chrome OS and is also the company's second tablet (the first one was based on Android and was arguably not a success, considering the state of software on this platform). The company has learnt quite a lot throughout its journey and one of the key things that differentiate its own computers from numerous competing offerings is performance. The new Pixel Slate is offered in a wide range of configurations covering the performance and storage spectrum, from the entry-level Intel Celeron-based model with 4 GB of RAM and 32 GB of storage, up to a powerful Core i7-based model with 16 GB of RAM and a 256 GB SSD. Typical Chromebooks often use similar entry level specs, but few offer configuration options that scale into the performance and capacity of a full notebook PC.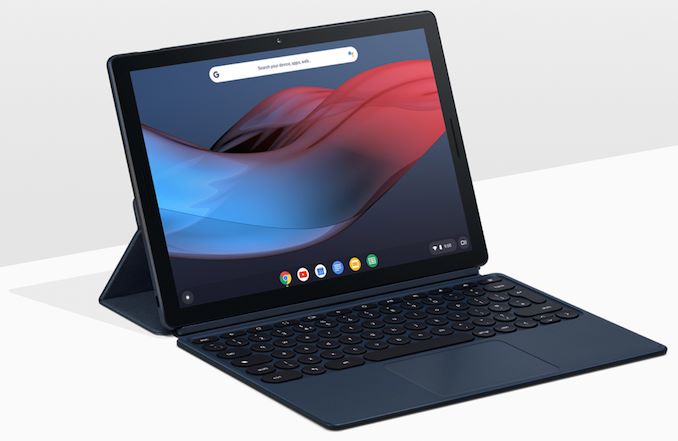 Just like the previous-generation Pixelbook, the new Pixel Slate comes with a 12.3-inch display covered with Corning's Gorilla Glass 5. The display is laid out in a 3:2 aspect ratio, which Google finds ideal for the majority of typical use cases. The LCD has a 3000x2000 resolution, a maximum brightness of 400 nits, and covers up to 72% of the NTSC color space. The display can work with Google's Pixelbook Pen stylus for those who need it, just like similar tablets from Apple and Microsoft.
Google Pixel Slate
Entry
Low-Power
Mid-Range
High-End
Display
Diagonal
12.3"
Resolution
3000×2000
Brightness
400 cd/m²
CPU
Celeron
Core m3
Core i5
Core i7
Graphics
Intel, integrated
RAM
4 GB
8 GB
8 GB
16 GB
Storage
32 GB SSD
64 GB SSD
128 GB SSD
256 GB SSD
Wi-Fi
2x2 802.11ac Wi-Fi module
Bluetooth
BT 4.2
USB
1 × USB Type-C (5 Gbps?) for data, charging, display output
Other I/O
webcam, speakers, microphone, fingerprint sensor
Dimensions (H × W × D)
290.9 mm × 202 mm × 7 mm
11.45 inches × 7.95 inches × 0.27 inches
Weight
725 grams / 1.6 pounds
Battery Life
48 Wh | 10 hours
Price
$599
$799
$999
$1599
The new tablet from Google comes in an aluminum unibody that is 7 mm thick and featuring a midnight blue finish. As for the battery, the Pixel Slate is outfitted with a 48 Wh battery that is rated for 10 hours.
Two distinctive things that set the new Pixel Slate apart from its predecessors and offerings from other PC suppliers are a keyboard with round keys as well as a fingerprint reader integrated into its power button, a first for any PC based on the Chrome OS. Another noteworthy feature of the Pixel Slate are front-firing stereo speakers, which are not typically found on tablets, but are common for laptops.
Moving on to connectivity. On the wired side of things the Pixel Slate has a USB-C port used for charging and connecting an external display (up to a 4K resolution is supported). On the wireless side of things there is 2x2 802.11ac Wi-Fi + Bluetooth 4.2 adapter.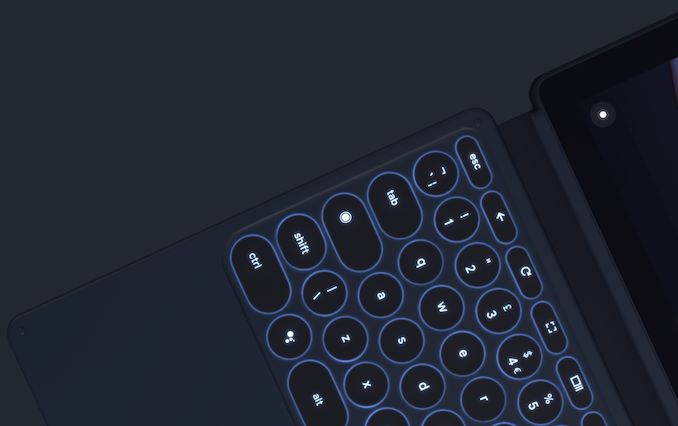 Google's Pixel Slate will be available later this year directly from the company and from major retailers. Prices will start at $599 for a Celeron-based convertible laptop. More powerful machines will obviously be more expensive and will end up at $1,599. Meanwhile, the keyboard will be sold separately for $199, whereas the stylus will cost $99.
Google is not the first PC maker to offer a tablet running its Chrome OS. A number of its partners from the Chromebook camp introduced such devices earlier this year and took advantage of the fact that Android apps now work on Chrome OS as well. Meanwhile, Google is the first company to offer a tablet-format (or shall I say convertible, given the performance and optional keyboard?) Chrome OS-based PC based on high-performance Intel's processors, essentially targeting notebook users with its Pixel Slate. Keeping this fact in mind, it is not surprising that Google's Pixel Slate is not as affordable as typical Chromebooks.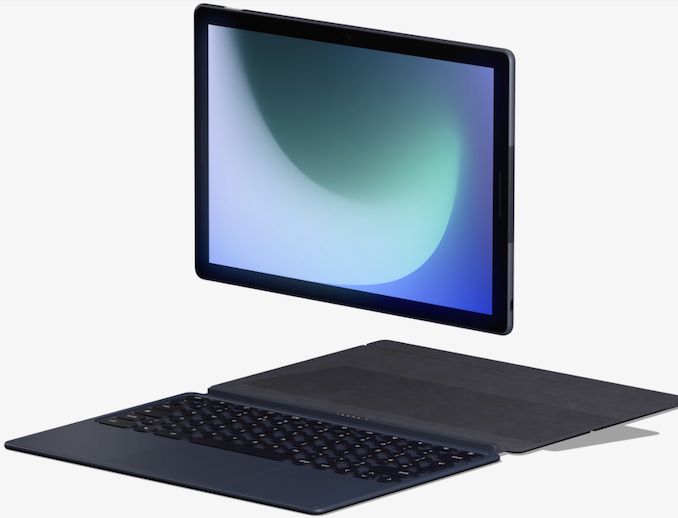 Related Reading: