Xeon D-2100 Motherboards Appearing
ASRock Rack D2100D8UM
Jumping the gun just a little, we were sent a link to ASRock Rack who has already put some of its Xeon D-2100 products up on the website. Specifically, the D2100D8UM shows a motherboard with a fixed embedded socket, eight memory slots, two PCIe slots, a pair of SFF-8643 breakout ports, and an integrated IPMI with a dedicated network port. In order to take advantage of the integrated 10 GbE ports, customers will have to use a mezzanine card with the appropriate PHY.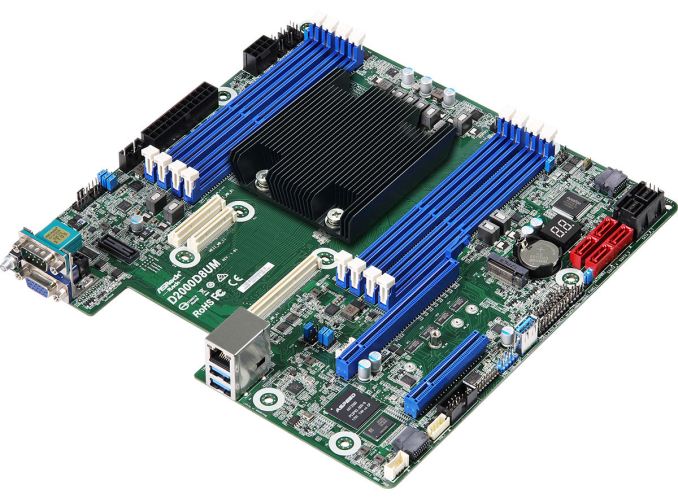 We're not entirely sure how long ASRock Rack has been preparing for this platform, although this looks like one of its more integrated platforms, probably designed for a specific customer in mind. The webpage states in the main headline that it supports up to 512 GB of DDR4, but in the specification table it says it only supports 128 GB of DDR4. Both segments however do clarify RDIMM and LRDIMM support, which is a positive.
The PCIe slots are physically an x16 slot and an x8 slot, however there are only 16 lanes between the two and they act in a switching capacity, for x16/x0 or x8/x8 operation. For a system that has access to 32 PCIe lanes, looking through the specification sheet it is not overtly obvious where the other 16 from the SoC have gone. It would seem that in the interest of cost (or the specific customer), they are simply not used.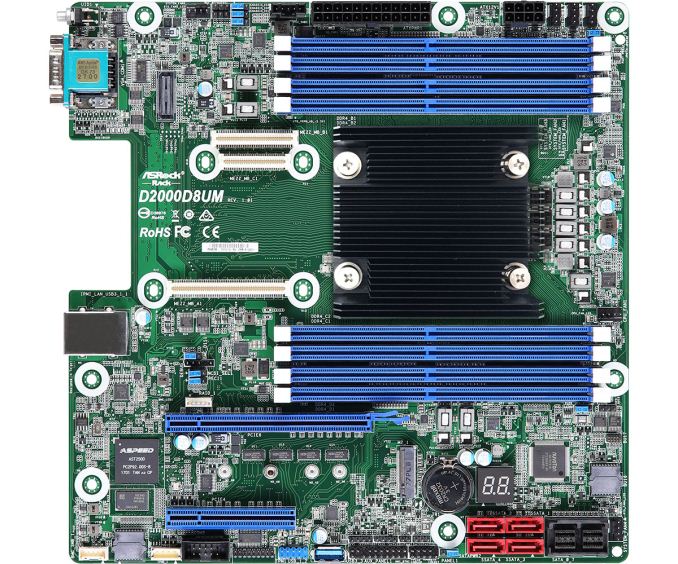 Elsewhere on the board is almost a full set of SATA ports. Three SATA ports are standard SATA ports, 1 is a SATA DOM, and eight SATA ports come from the two SFF-8643 breakout connectors. This totals twelve ports, although the platform supports 14. Similarly, there is a single USB 3.0 port, a single USB 2.0 port, and one header each for USB 2.0 and USB 3.0. On the rear panel there is an Ethernet port for the integrated management chip, an Aspeed AST2500, along with a VGA header for management as well. Other networking and USB ports have to be added in by the customer. There are also five fan headers.

ASRock Rack does not list the exact processors that it will put into this motherboard, stating that it supports up to 110W, which would cover the full list. It is likely that interested parties will have to inquire as to exact pricing depending on the D-2100 series needed.
Many thanks to SH SOTN for the link.