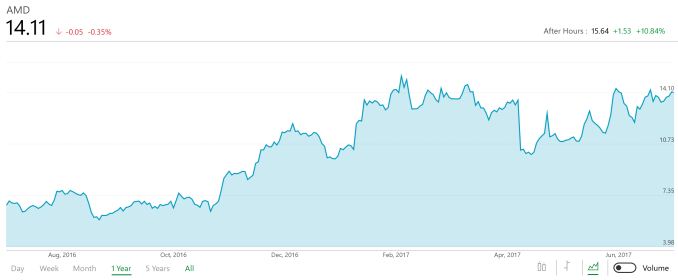 This afternoon, AMD announced their second quarter results for their fiscal year 2017, and the news is promising. AMD still has some work to do in order to get back to profitability, but that work has been helped tremendously by successful product launches earlier this year. Ryzen has shown exciting potential, and a diverse and strong product lineup has helped AMD's bottom line. For the second quarter, AMD's revenue was up 19% year-over-year to $1.22 billion, and operating income was $25 million for the quarter. Net income was still in the red with a loss of $16 million, resulting in a loss per share of $0.02 on a GAAP basis. Gross margin was 33%, hovering right around that 35% range that AMD wants to hit for profitability.
AMD Q2 2017 Financial Results (GAAP)
Q2'2017
Q1'2017
Q2'2016
Revenue
$1220M
$984M
$1030M
Gross Margin
33%
34%
31%
Operating Income
+$25M
-$29M
-$8M
Net Income
-$16M
-$73M
+$69M
Earnings Per Share
-$0.02
-$0.08
+$0.08
AMD also releases Non-GAAP results which exclude results such as restructuring charges, debt fees, and stock based compensation. Sometimes Non-GAAP results can help you look at an underlying business when there is restructuring charges affecting results either positively or negatively, but in this quarter for AMD, the Non-GAAP results are almost exclusively the result of not factoring in stock-based compensation which amounted to $24 million. On a Non-GAAP basis, revenue for the quarter was the same $1.22 billion, but operating income is now $49 million, compared to just $3 million a year ago. Net income was $19 million, and earnings-per-share results in $0.02.
AMD Q1 2017 Financial Results (Non-GAAP)
Q2'2017
Q1'2017
Q2'2016
Revenue
$1220M
$984M
$1030M
Gross Margin
33%
34%
31%
Operating Income
+$49M
-$6M
+$3M
Net Income
+$19M
-$38M
-$40M
Earnings Per Share
+$0.02
-$0.04
-$0.05
The year-over-year results may seem a bit skewed, since Q2 2016 was actually a profitable quarter for AMD, but that was due to a $150 million infusion of cash from a joint-venture with Nantong Fujitsu Microelectronics. This quarter doesn't have any large cash deals involved, and AMD is very close to breaking even, with strong gains across its product line.
The star of the show is undoubtedly Ryzen, and the Computing and Graphics segment had a very strong quarter, with revenues of $659 million, up 51% compared to Q2 last year. AMD attributes this jump to demand for graphics and Ryzen desktop processors. Operating income for the Computing and Graphics group was $7 million, compared to an $81 million loss last year, and much of that was driven due to higher average selling prices for its processors. Although AMD is not yet able to charge the premium of Intel, it can at least charge a lot more than it did for the last generation of CPUs.
AMD Q2 2017 Computing and Graphics
Q2'2017
Q1'2017
Q2'2016
Revenue
$659M
$593M
$435M
Operating Income
+$7M
-$15M
-$81M
Enterprise, Embedded, and Semi-Custom had a 5% drop in revenue, to $563 million, mostly due to a softening in semi-custom SoC sales. This segment is where AMD's EPYC CPU line will impact though, so the next couple of quarters should be interesting to see here, with the launch of the Xbox One X, and EPYC.
AMD Q2 2017 Enterprise, Embedded, and Semi-Custom
Q2'2017
Q1'2017
Q2'2016
Revenue
$563M
$391M
$592M
Operating Income
$42M
$9M
$84M
All Other had an operating loss of $24 million, compared with a loss of $11 million in Q2 2016, with this primarily being stock-based compensation, as well as a $7 million restructuring credit in Q2 2016 helping out that quarter.
AMD has a lot to be excited about, and they've delivered a strong product in Ryzen already, which will branch out to enterprise with EPYC where the higher margins are. On the GPU side, Vega has launched as well with workstation graphics cards available now. Add in the custom SoC market that they've worked hard to establish, and the future seems just a little bit brighter than before. For Q3, AMD is expecting a 23% increase in revenue compared to this quarter, plus or minus 3%.
Source: AMD Investor Relations