Vantec also gave us the opportunity to take a first look at their Ion PSU. The Ion is essentially the same as the Stealth but with a steel construction to cut costs down. Vantec Ions are fairly new to the PC market, so you may have trouble finding them in retail channels still.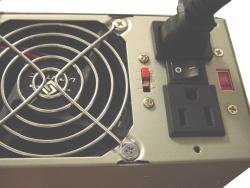 Click to Enlarge
While visiting the Vantec headquarters last month, one of the more interesting things Vantec had to mention to us was their discontent with variable fan controls. Other power supply companies have also shown their dislike for the feature, since it significantly raises costs, lowers performance and is generally used improperly (if at all). Further revisions of the Stealth and Ion supplies may drop the fan controller in favor of automatic controls.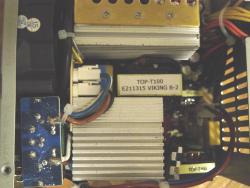 Click to Enlarge
Both the Ion and the Stealth power supplies made a name for themselves but cramming an uncanny amount of connectors onboard. The Ion comes with 9 standard sized molexes, plus one serial ATA adaptor. Interestingly enough, the Ion does not come with a universal ATX connector, and just ships with a standard ATX adaptor.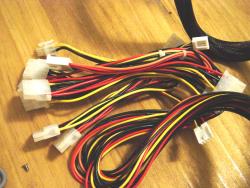 Click to Enlarge
Wattages
| | | | | | | | | | |
| --- | --- | --- | --- | --- | --- | --- | --- | --- | --- |
| | 3.3V | 5V | 12V | -12 | -5 | +5vsb | combined theoretical | actual combined | advertised total |
| Vantec Ion 400W | 85.80 | 200.00 | 192.00 | 12.00 | 4.00 | 12.50 | 285.80 | 220.00 | 400.00 |
The Ion has a very low +3.3V rail, like Vantec's 520W Stealth. Unfortunately, the Stealth could make up by having a large +12V rail for Intel systems as well. The Ion will work fine for your basic AMD or Intel system, but those who really push the limit (particularly with a hungry video card) are going to eventually have problems with the low output on this unit.
For $60, the Ion is priced about half that of the Stealth. The steel construction obviously reduces costs, as well as the elimination of the Universal ATX connector, which we can only guess cuts down on the number of rare components needed for construction. If anything, the Ion targets the low end system builder market better than its aluminum predecessor.