Omen X
Large displays as well as dual-monitor setups clearly improve productivity of office workers and creative professionals. Applying this to broader markets, HP thinks that gamers could also benefit from two displays by accessing messaging or media services, or even tweak performance of their components without quitting their games. To that end, HP is rolling out a new dual-screen laptop, the gaming-focused Omen X 2S 15. In addition to a typical 15.6-inch LCD as a main display, it also sports a secondary, 5.98-inch multitouch screen. Meanwhile, the system itself is powered by crème-de-la-crème gaming hardware including Intel's eight-core CPU as well as NVIDIA's GeForce RTX 2080 Max-Q GPU.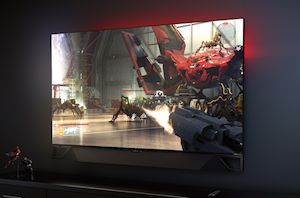 Huge displays for entertainment and productivity are getting increasingly popular these days as prices are falling. Last year NVIDIA proposed a reference design for Big Format Gaming Displays: 65-inch...
53
by Anton Shilov on 3/14/2019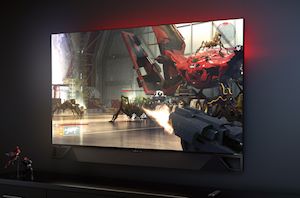 Early last year NVIDIA and its partners announced the Big Format Gaming Display (BFGD) initiative, with the goal to bring to market TV-sized 4K gaming monitors with a high...
9
by Anton Shilov on 1/6/2019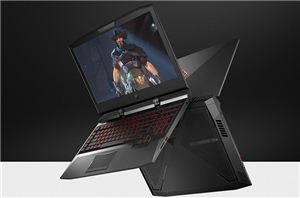 HP has announced its first Omen X gaming notebook targeting the most demanding segment of the market — customers seeking for maximum performance and not afraid of overclocking. The...
23
by Anton Shilov on 8/26/2017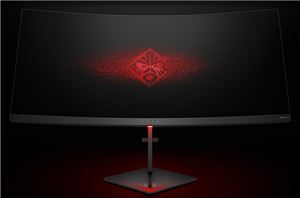 HP at CES introduced its first ultra-wide curved display for gamers that belongs to the company's Omen X lineup. The unit will be among the largest monitors from HP...
44
by Anton Shilov on 1/6/2017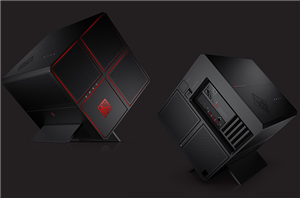 HP this week re-entered the market of high-end gaming PCs with its Omen X desktop. The machine uses rather unusual cube-shaped tri-chamber design featuring high-end hardware, liquid cooling and...
19
by Anton Shilov on 8/18/2016