Ivy Bridge
Twenty two months ago Intel launched its LGA-2011 platform and Sandy Bridge E aimed at the high-end desktop enthusiast. The platform brought more cores, more PCIe lanes and more memory bandwidth to those users who needed more than what had become of Intel's performance desktop offerings. It was an acknowledgement of a high end market that seems to have lost importance over the past few years. On the surface, Sandy Bridge E was a very good gesture on Intel's part. Unfortunately, the fact that it's been nearly two years since we first met LGA-2011 without a single architecture update, despite seeing the arrival of both Ivy Bridge and Haswell, doesn't send a great message to the users willing to part with hard earned money...
Intel's Mooly Eden just disclosed Ivy Bridge's transistor count to a captive audience at IDF this morning: 1.4 billion transistors. That's presumably for the quad-core version compared to 1.16B...
16
by Anand Lal Shimpi on 9/14/2011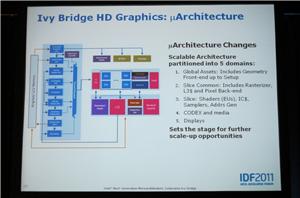 We just finished going over the GPU portion of Ivy Bridge in Intel's IVB tech session. If you're interested, the slides are below.
12
by Anand Lal Shimpi on 9/13/2011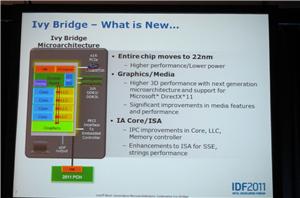 We're still working on our deep dive on Intel's Ivy Bridge architecture but for those who are interested the slide deck that Intel just presented is in the gallery...
7
by Anand Lal Shimpi on 9/13/2011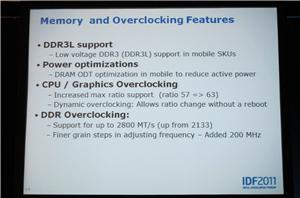 Ivy Bridge has three new features for overclocking: The max CPU ratio is now 63x up from 57x You can now adjust CPU ratios without a reboot, just via a register...
6
by Anand Lal Shimpi on 9/13/2011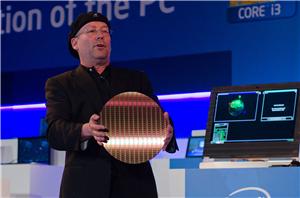 Earlier this year Intel revealed its mobile Sandy Bridge lineup, including a slew of 45W quad-core Core i7 SKUs. Next year Ivy Bridge will expand the range to include...
17
by Anand Lal Shimpi on 9/13/2011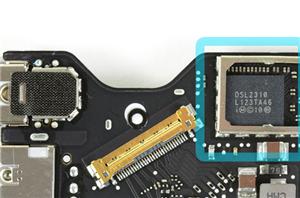 Image Courtesy iFixit Thunderbolt has seen limited use this year - the standard has only been implemented by Apple and Sony, the rest of the PC market will have to...
16
by Anand Lal Shimpi on 9/13/2011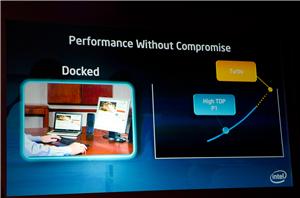 At Computex Intel announced that Ivy Bridge would be its first processor to support a configurable TDP. Today all CPUs are rated at a single maximum TDP. Mainstream notebook...
26
by Anand Lal Shimpi on 9/12/2011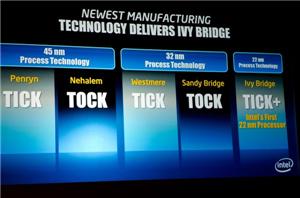 This week Intel will begin sharing some of the first details of its Ivy Bridge processor (2012 Core i-series CPU) at the annual Intel Developer Forum in San Francisco...
35
by Anand Lal Shimpi on 9/12/2011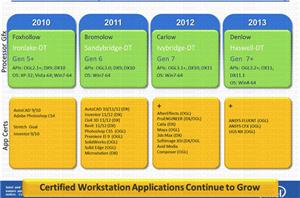 Intel's integrated graphics processors have long had a poor reputation when it comes to gaming, and while the IGPs get a little closer to competitiveness with each iteration, that...
9
by Andrew Cunningham on 8/5/2011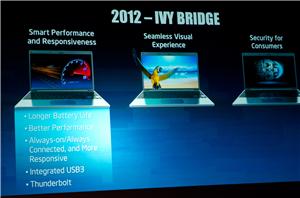 Intel just emailed me to clarify a point from its Ivy Bridge presentation on Tuesday. While USB 3.0 will finally be integrated into the chipset, Thunderbolt will not. Intel...
20
by Anand Lal Shimpi on 6/1/2011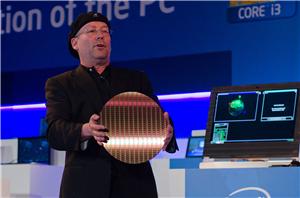 Just before a couple of key Ivy Bridge disclosures, Mooly Eden held up a wafer of 22nm Ivy Bridge CPUs. Presumably these are quad-core versions with 16 EUs, the...
31
by Anand Lal Shimpi on 5/31/2011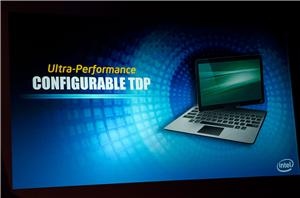 With Turbo boost and power gating we took a step towards configurable CPUs. It didn't matter whether you needed one core or four, with power gating and turbo you...
18
by Anand Lal Shimpi on 5/31/2011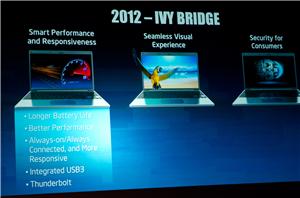 We knew about the first feature on this list (USB 3.0) would come with Ivy Bridge's 7-series chipset, but the second one was something I just heard about today...
26
by Anand Lal Shimpi on 5/31/2011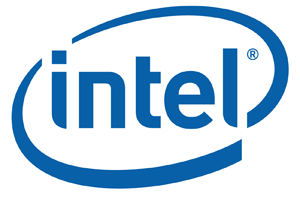 Last week, we told you about Sandy Bridge-E and X79 chipset. Today, we have a lot of interesting news about other Intel products, including a look at the Ivy...
74
by Kristian Vättö on 5/6/2011