Hydro PTM+
Last year FSP introduced one of the world's first commercial liquid-cooled PSUs for PCs, the Hydro PTM+ with the maximum output of 1400 W. Quite naturally, such a beast carries a price tag that is reachable only by enthusiasts with deep pockets, so this year the company intends to launch a cheaper liquid-cooled PSU that is rated for up to 1000 W while also boasting RGB lighting. The FSP Hydro PTM+ PSU will be rated for 850 W when cooled only by its internal fan, but will output up to 1000 W if a liquid cooling system is attached. Meanwhile, just like the case of the Hydro PTM+ 1200 W/1400 W power supply, under normal circumstances the new Hydro PTM+ 850 W/1000 W PSU will...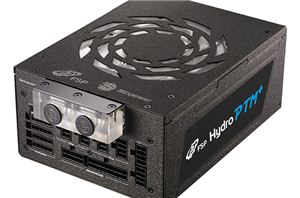 FSP this week has announced that its Hydro PTM+ 1200 W/1400 W power supply, featuring a liquid cooling block that was originally demonstrated at Computex 2017, would hit the...
12
by Anton Shilov on 2/7/2018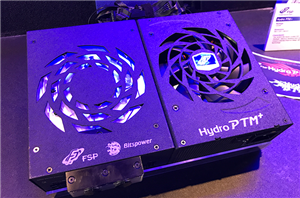 FSP has demonstrated an ATX power supply unit with liquid cooling at Computex. The manufacturer claims that liquid cooling ensures that the PSU stays quiet even under high loads...
15
by Anton Shilov on 6/2/2017