Everspin
A new generation of IBM's FlashSystem storage appliances will be adopting a new architecture with magnetoresistive RAM (MRAM) write caches instead of capacitor-backed DRAM. MRAM is one of the fastest and highest-endurance nonvolatile memory technologies currently available, but it has severely limited density compared to NAND flash memory or Intel's 3D XPoint memory. Until recently, most applications of MRAM were in embedded systems where MRAM could replace small flash chips or battery-backed DRAM and SRAM buffers. Everspin, the only current supplier of discrete MRAM chips, has been pushing capacities higher with their currently available 256Mb chips and 1Gb chips that will be sampling by the end of this year. This is being enabled by their migration from in-house manufacturing on wafers fabbed at Freescale to...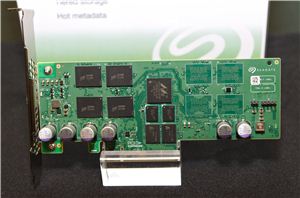 In spite of a fire that closed the exhibition floor last week at Flash Memory Summit, Seagate managed to set up several live demos and display their latest SSDs...
7
by Billy Tallis on 8/15/2017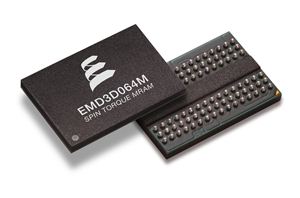 Magnetoresistive RAM manufacturer Everspin has announced their first MRAM-based storage products and issued two other press releases about recent accomplishments. Until now, Everspin's business model has been to sell...
22
by Billy Tallis on 3/8/2017