Republic of Gamers
As mentioned on the first page of this piece, ASUS is celebrating their '10 Years of ROG' during 2016, and while I imagine the big party will be at Computex later this year, there was still a few things to show off for CES. First up is this little number, made entirely of Lego.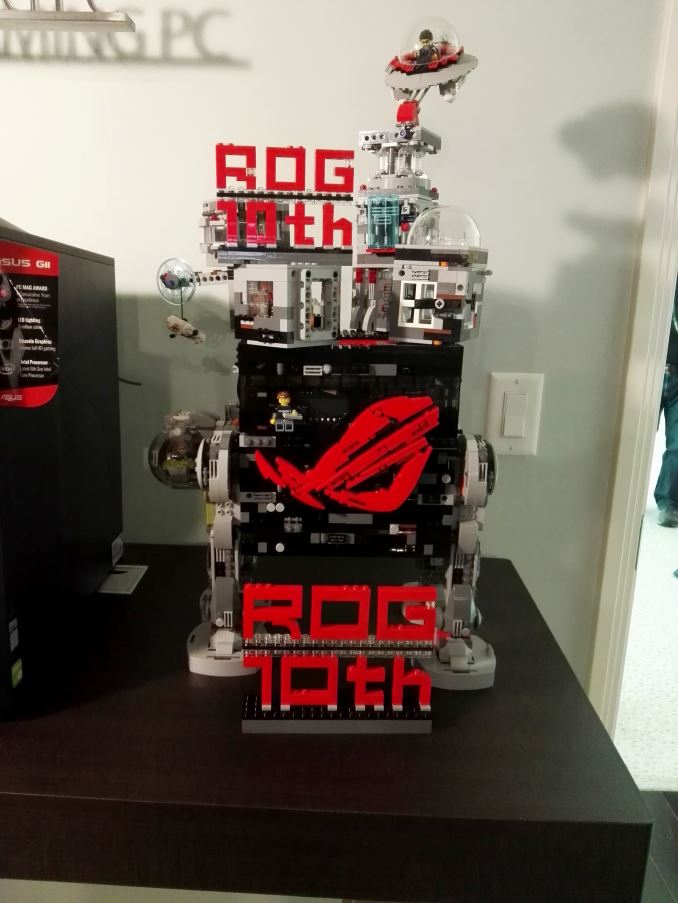 If you can make it out, there is an ROG Maximus VIII Impact motherboard in the middle there (read our review at this link) but it still needed a power supply, CPU cooler and the rest to be an actual PC. Nonetheless, I'm all for interesting displays like this.
For actual products already in the channel or coming to market, here's a 21:9 G-Sync enabled monitor, the ROG Swift PG348Q: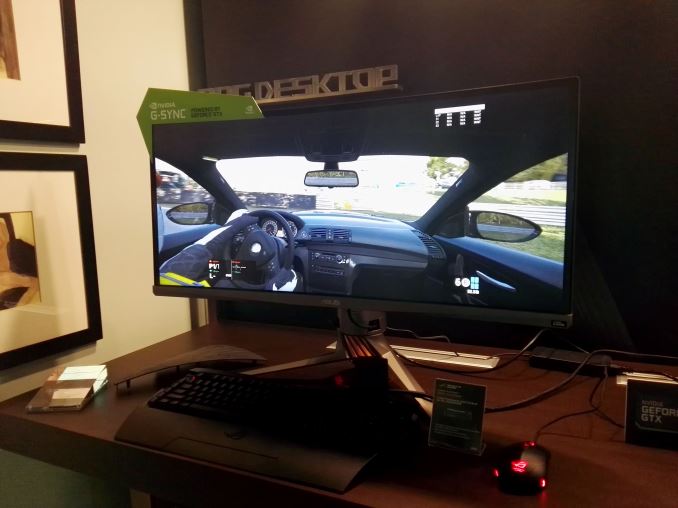 If 2015 did not have enough 21:9 panels, it would seem that 2016 is starting off on the right foot. This one will hit in at 100 Hz while still showing a 3440x1440 resolution and all the bells and whistles of a fully adjustable monitor. There's an added extra, if you happen to be showing it off: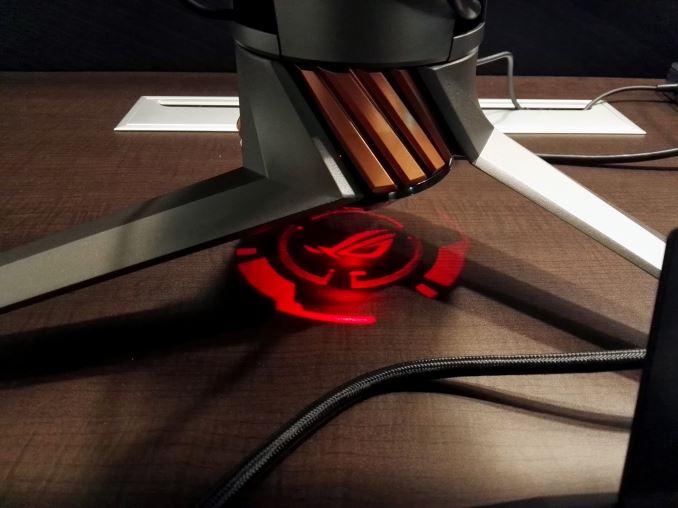 It's a small touch, but interesting.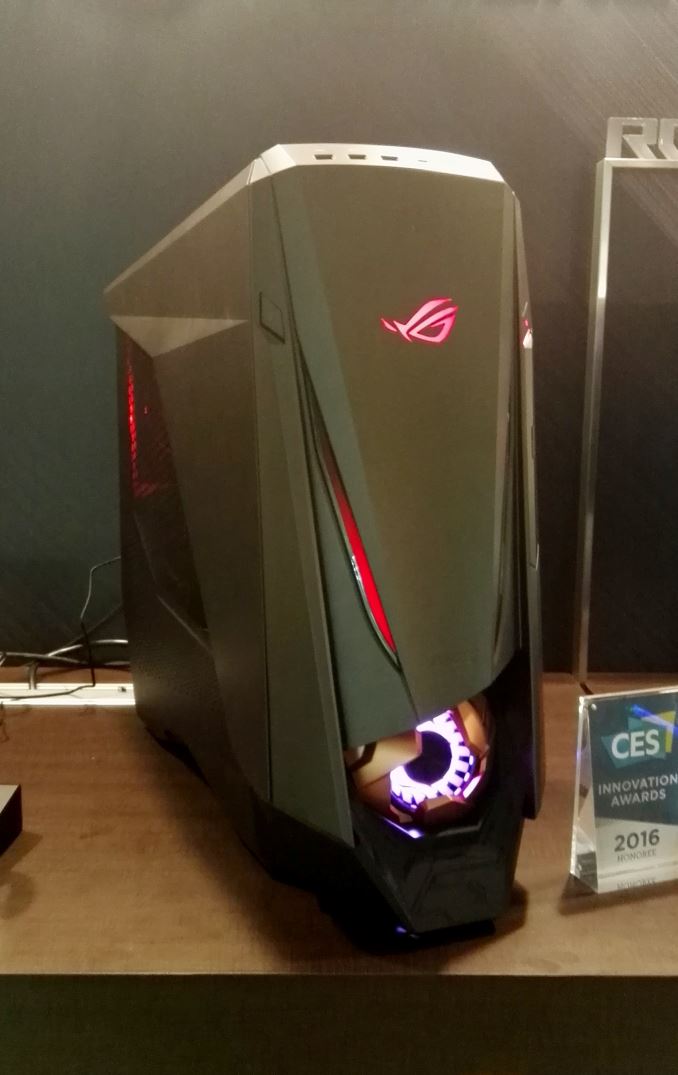 ASUS has been selling ROG systems for a while now, and while the US is technically not the strongest market for this, they do have some sales and the GT51 here is another product in that line.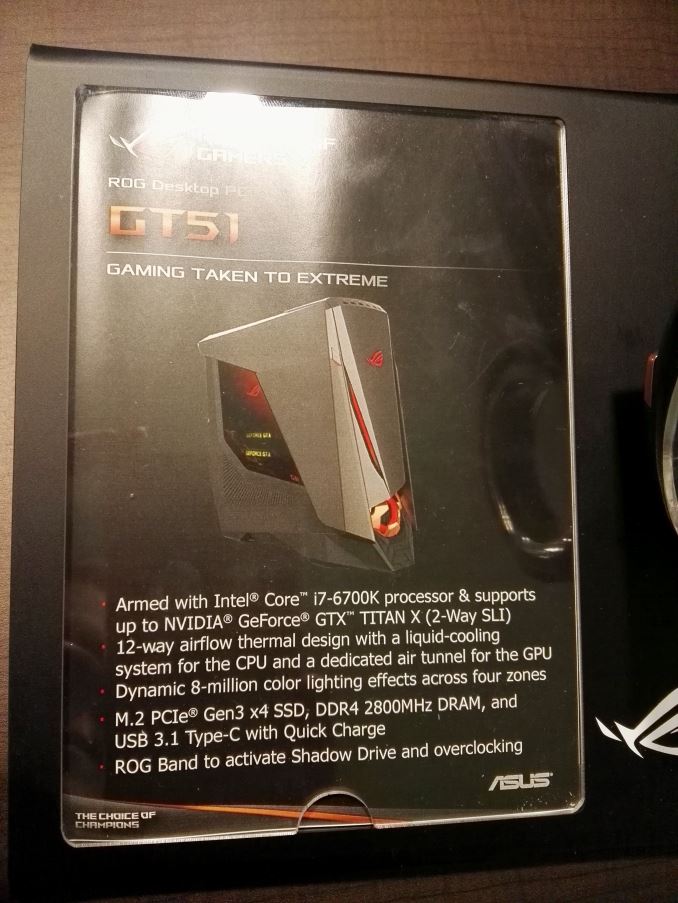 The specifications are perhaps pretty obvious: Core i7 Skylake processors with up to GTX TITAN X graphics in SLI, lots of storage, fast memory and USB 3.1 in Type-C format. What got my interest here is the ROG Band also on show: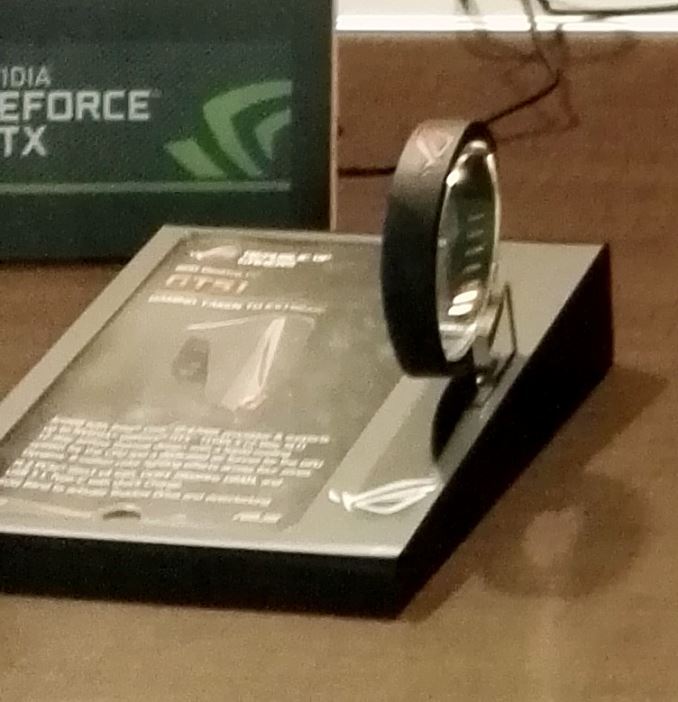 Excuse the low quality image (it turns out all of my images were bad for it), but the idea here is a simple device that will lock/unlock the machine similar to a keyless car system, but the wristband will also allow simple overclocks to be activated when requested. That perhaps sounds gimmicky at best, or perhaps the lock/unlock might not be for the security conscious, but anything that saves a few seconds here and there is going to be of interest somewhere down the line.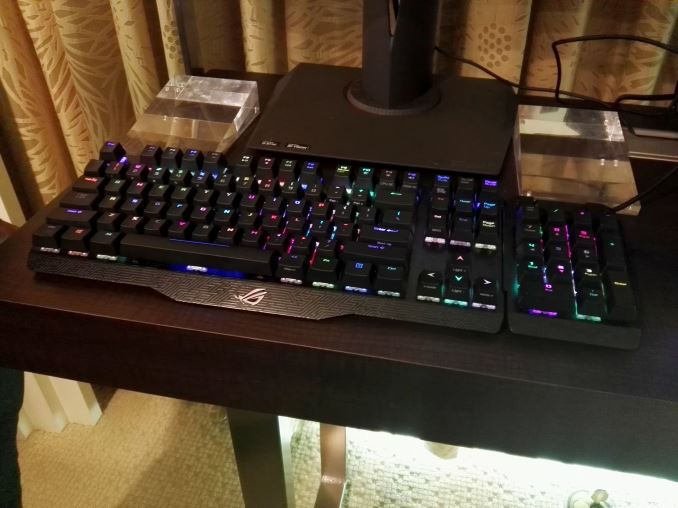 Last up is the ROG Claymore keyboard. It comes out as it looks – a full RGB enabled mechanical keyboard with Red, Brown, Blue or Black switches in that ROG/Mayan aesthetic. The keypad is able to switch sides when needed. The construction and feel during my few moments of use felt good, with special button allocations for overclocking when using the software, as shown in the video:
Unfortunately there are no media keys or macro keys, although given that there is a left-right modular system, I would suggest to ASUS that a media/macro panel should be made so it can be placed on either side similar to the keypad.