KT400 Up Close
If you aren't already familiar with our coverage of VIA's Socket A KT333 chipset, we suggest you brush up on it here.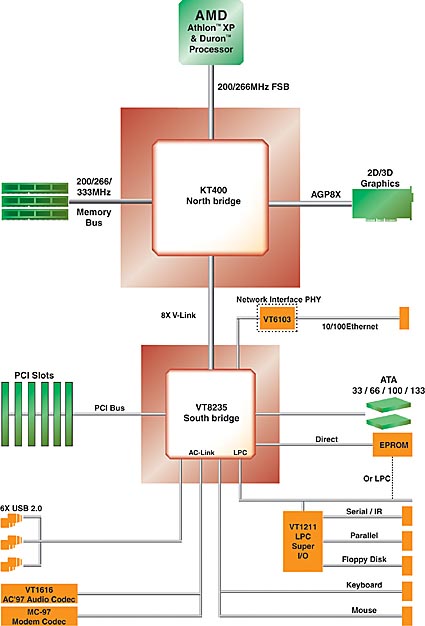 As is clear from the diagram above, the VIA KT400 chipset is not all that different from VIA's previous Socket A chipset, the KT333. There are only a few, minor changes that VIA implemented with the KT400 chipset.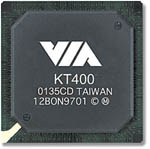 The most significant feature the KT400 brings to the table is unofficial support for DDR400 memory. DDR400 is not a JEDEC approved specification, but this fact didn't stop VIA from attempting to validate the KT400 for DDR400 operation. As it stands, KT400 chipsets are, for the most part, validated for DDR400 operation. The catch however is that not all DDR400 modules will operate seamlessly with KT400-based motherboards. Therefore, VIA is not officially supporting DDR400 for the KT400.
Another feature the KT400 brings to the table is AGP 8X. Offering twice as much bandwidth as the now "obsolete" AGP 4X (approximately 2.1 GB/s of bandwidth), AGP 8X is supposed to offer some real world performance advantages. However, you'll see virtually no performance gain in present-day programs, even with the extra 1GB/s of bandwidth that AGP 8X offers. We'll be bringing you a comparison of AGP 4X and AGP 8X video cards very soon, so stay tuned for that.
Another feature the KT400 brings is a faster V-link connection, running at 533MB/s (the KT333 offered 266MB/s). In today's programs, this type of bandwidth essentially translates into zero real world performance gains. The situation with V-link is obviously very similar to the situation with AGP 4X and AGP 8X. In both instances however, we can't rule out the possibility that the additional bandwidth will be needed in future applications.
For more info on VIA's KT400 chipset, you can visit their web site, or just by going here.