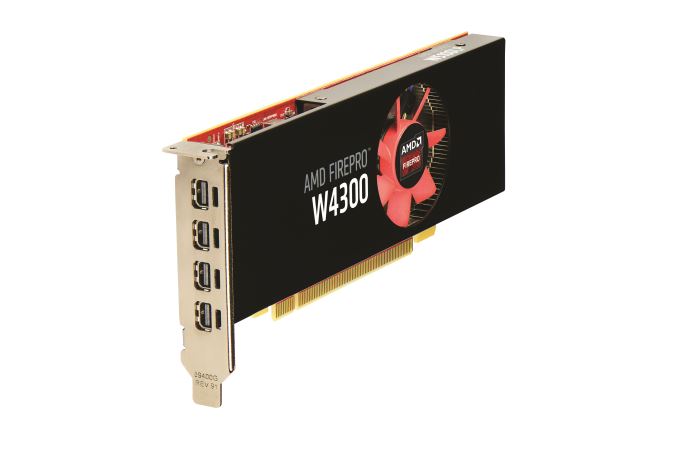 With the slower release cadence for AMD's FirePro professional cards, we tend to only hear from the FirePro group once or twice per year. And with the last update of the desktop FirePro lineup taking place back in August of 2014, the company has been due for some kind of update to their lineup to close out 2015. To that end, today the company is announcing the latest addition to the FirePro lineup, the FirePro W4300.
After last year's more sizable refresh, today's announcement is a lower-key update for AMD. AMD has only released one GPU in the last year, the high-end Fiji, which we're not expecting to see released as a FirePro workstation card due to its limited 4GB of memory. Instead, today's announcement is focused on updating the lower-end of the FirePro W lineup with a single new card to cover what AMD sees as product/performance gap in their lineup.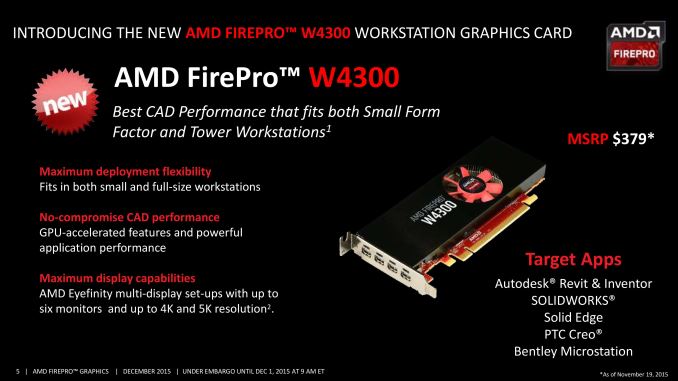 AMD FirePro W Series Specification Comparison
AMD FirePro W5100
AMD FirePro W4300
AMD FirePro W4100
AMD FirePro W2100
Stream Processors
768
768
512
320
ROPs
16
16
16
8
Core Clock
930MHz
930MHz
630MHz
630MHz
Memory Clock
6Gbps GDDR5
6Gbps GDDR5
5.5Gbps GDDR5
1.8Gbps DDR3
Memory Bus Width
128-bit
128-bit
128-bit
128-bit
VRAM
4GB
4GB
4GB
2GB
Double Precision
1/16
1/16
1/16
1/16
TDP
75W
50W
50W
26W
Form Factor
Full
Low Profile
Low Profile
Low Profile
GPU
Bonaire
Bonaire
Cape Verde
Oland
Architecture
GCN 1.1
GCN 1.1
GCN 1.0
GCN 1.0
Display Outputs
4
4
4
2
The new card is the FirePro W4300. Based on AMD's Bonaire GPU, the W4300 is essentially a performance bump for this segment of AMD's lineup, offering improved performance and better features than the Cape Verde based W4100 did in the same performance and size profile.
From a technical standpoint the W4300 is essentially a smaller and lower power version of AMD's existing W5100. Like its older sibling, the W4300 ships with 768 stream processors enabled, clocked at 930MHz, and is paired with 4GB of GDDR5 running at 6Gbps. The difference between the two cards at the GPU level is that while the W5100 was a 75W card, the W4300 brings this down to just 50W. AMD tells us that the improvement in power consumption comes from better leveraging their PowerTune technology, allowing them to further control the card's power consumption while also ultimately imposing a 50W limit on total power consumption (with an ASIC TDP of around 35W).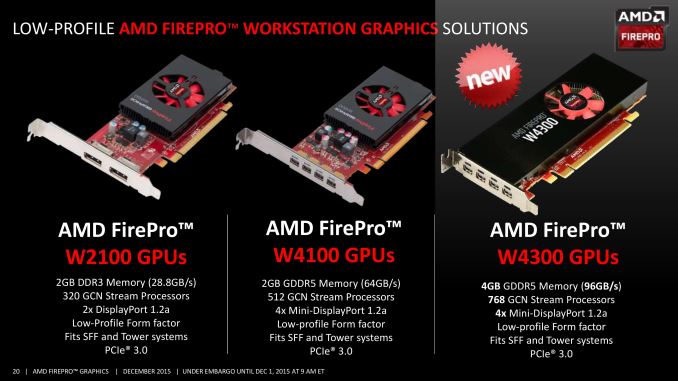 AMD hasn't provided any benchmarks comparing the two – their focus is how it compares to NVIDIA's lineup – but the resulting performance should be similar to W5100. Otherwise compared to the W4100, performance should be significantly higher thanks to the 50% increase in stream processors and memory bandwidth, not to mention Bonaire's more intelligent implementation of PowerTune, which plays a big part in these 50W cards. Otherwise from an architectural standpoint, W4300 improves on W4100 by adding support for AMD's FreeSync, the company's name for their implementation of DisplayPort Adaptive-Sync. To date AMD's focus on FreeSync has been with consumer gaming, however as vendors are starting to ready workstation-class displays with support for the technology, AMD is now ramping up their promotion of and support for FreeSync in workstations. To which the W4300 is now the lowest-end of the FirePro W cards to support FreeSync.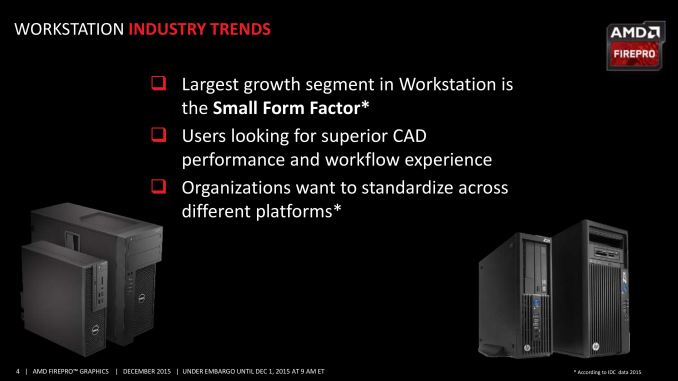 At the other end of the spectrum, the W4300 is now AMD's most powerful low profile/small form factor FirePro card. Small form factor PCs have become increasingly important in the workstation space – these days a mini-ITX sized board can support a desktop processor, a high-performance M.2 PCIe SSD, and a workstation video card – so AMD has further improved on the amount of performance they offer for small form factor workstations. Similarly, this is why the W4300 is a 50W card as opposed to a 75W card, as these smaller systems have limited heat dissipation capabilities.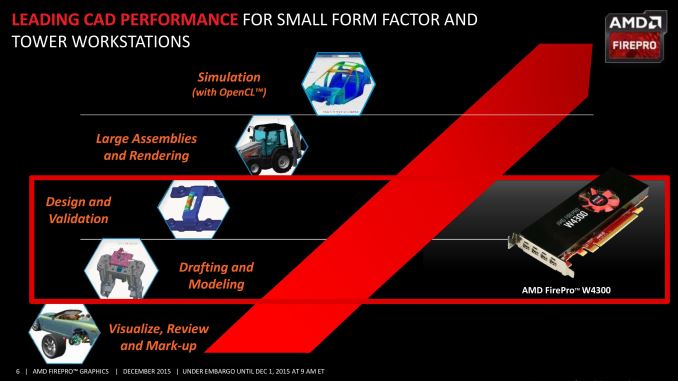 Within AMD's lineup the W4300 is being pitched in the same general category as the W5100 and W4100, which is to say the focus is on lower-end CAD/CAM setups. Overall AMD sees these types of cards being suitable for many graphics-centric tasks, while the higher-end cards like the W7100 and above would be for the large-scale rendering (e.g. movie production) and combined graphics/compute workloads where the GPU is being leveraged for executing and drawing simulations.
Finally, the W4300 will be launching with an MSRP of $379, though AMD tells us that the street price for the card is more likely to be $299. The primary competition for the W4300 will be NVIDIA's Quadro K1200, which is based on the company's GM107 GPU and like the W4300 is the top low-profile card in NVIDIA's product stack. As is typically the case with the FirePro lineup, AMD is aiming to beat NVIDIA on performance for the price; at $299 the W4300 should be anywhere between 10% and 57% faster than the K1200, though it goes without saying that most gains will depend on the nature of the workload and the models being used.