ASRock Z170 Extreme7+ Conclusion
If you've skipped to the conclusion of the review first, answer this question: how important is data access storage to you? Is the main hump moving from a rotating platter drive to a solid state drive, and the rest is just icing on the cake? Or is there a burning need for multiple solid state drives in an array? One of the main selling points of the Z170 Extreme7+ is the ability to have three M.2/U.2 drives based on PCIe and put them into RAID, but how many users are realistically going to set out and buy three SSD 750s or three SM951s/950 Pro M.2 drives either as a JBOD or as a RAID-0? That answer is probably nearer 10 than 10-thousand, but would be a bit excessive to say zero.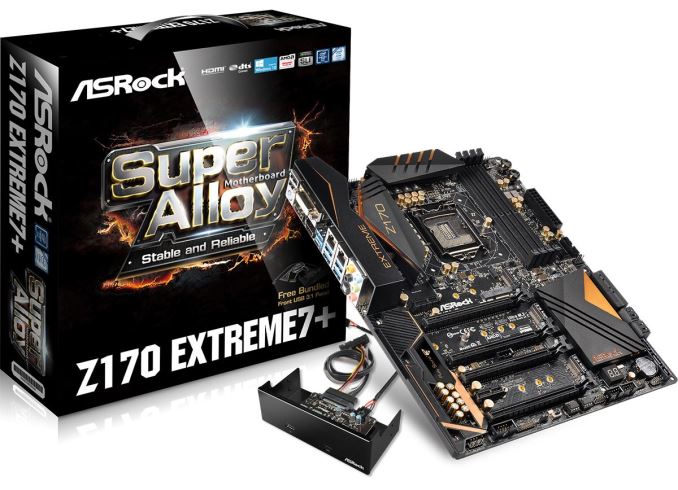 ASRock historically does things a little bit differently to other motherboard manufacturers, from using an onboard LSI controller on consumer products to 10 gigabit Ethernet, a mini-ITX high-end desktop platform or using a silicone coating on a motherboard to repel moisture to name a few. In every motherboard manufacturer's brainstorming room, dozens of ideas are suggested and fall to the floor, either by virtue of impractability, time, or lack of value. It's that last one which matters the most, because if there is not value to the consumer then there is not much point in pursuing the idea. That what makes ASRock as a company interesting to watch, because their bar for 'value' seems to be set differently to everyone else, and this is seen partly in the Z170 Extreme7+.
Very few users will need three PCIe 3.0 x4 based M.2 slots that are RAID capable, but the Z170 chipset was designed to handle that configuration and required someone to actually go and build it. Alongside this, ASRock adds to the two USB 3.1 ports already on board with a USB 3.1 front panel that uses one of those obsolete SATA Express ports (and a USB 2.0 header) to provide a pair of front-facing USB 3.1 ports (A and C), which in itself heralds back 2011 and one of my first AnandTech reviews ever where ASRock bundled a USB 3.0 front panel in a similar fashion.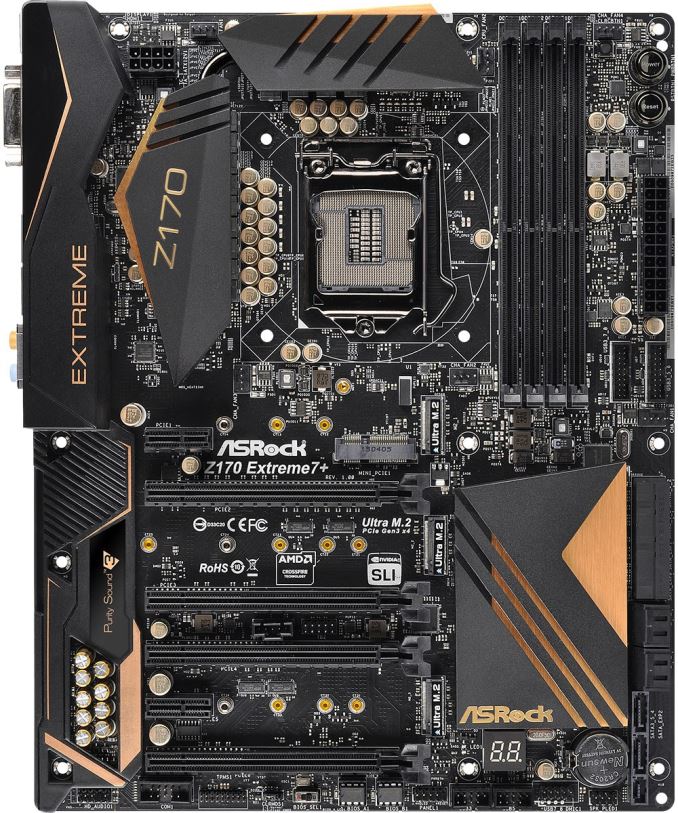 For features, the dual Intel network ports (I219-V and I211-AT) are joined by a mini-PCIe slot for users to add their own Wi-Fi module, and the onboard audio comes via an enhanced Realtek ALC1150 audio solution. Aside from the two USB 3.1 ports on the rear (A+C), we get four USB 3.0 ports on the rear and two USB 3.0 headers onboard for cases provided by an ASMedia controller. Another ASMedia controller also gives four extra SATA ports, bringing the total to ten which includes space for three SATA Express ports, although there is some switching involved and not all these feature will work at the same time with the M.2 slots also in play.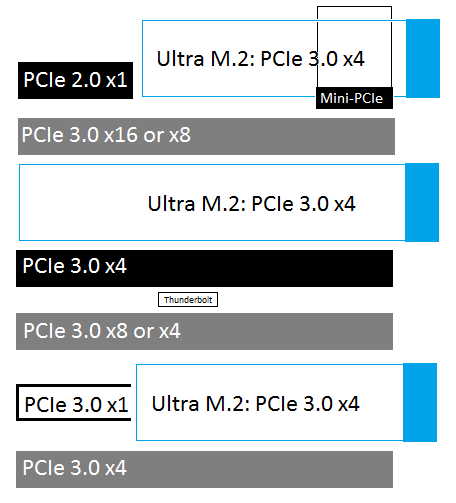 Benchmark wise, the Extreme7+ does not have MultiCore Turbo by default on the BIOS we tested, but this manifests in a much lower power consumption as a result. POST times for the board are currently the best we have seen on Z170, and the audio solution scores highest in our test so far. The only serious test that had issues was DPC Latency, though I am told that at the time of testing, due to the new platform, BIOSes are still to be optimized. A review is only ever a snapshot in time, meaning that users who purchase this motherboard and care enough about DPC Latency should update the firmware to the latest available when possible.
At $240, it sits above that popular mainstream segment of $140-$200 motherboards that will be the big sellers. The Extreme7+ sits on top of ASRock's Extreme motherboard product list until an Extreme9/11 comes along, and the benefit of going above the regular extends to multiple Ultra M.2 ports, ten SATA ports, a wealth of USB 3.0 and a bundled USB 3.1 panel. Aside from a regular PC, if you wanted a storage platform with a strong networking base and space for RAID cards, the ASRock Z170 Extreme7+ might just have you covered this side of a high-end desktop arrangement.