Final Words
The Zotac ZBOX MAGNUS EN970 provided us with the opportunity to take a look at what mobile Maxwell coupled with a Broadwell-U CPU could bring to the gaming mini-PC market. Simply put, this is the most powerful mini-PC we have evaluated so far for gaming workloads.
There are certain things that prospective consumers need to keep in mind. The M.2 slot in the unit supports only PCIe x2 devices and not x4 ones such as the Samsung SM951. The discrete GPU drives up the idle power, meaning that one can't have the cake and eat it too. It would be nice to have something similar to what is done in the notebook space to be implemented here - i.e, being able to use the integrated GPU as well when not gaming, or when attempting to use Quick Sync. Finally, we would like to see a higher performance CPU in the system - there are other CPUs at this TDP worth considering.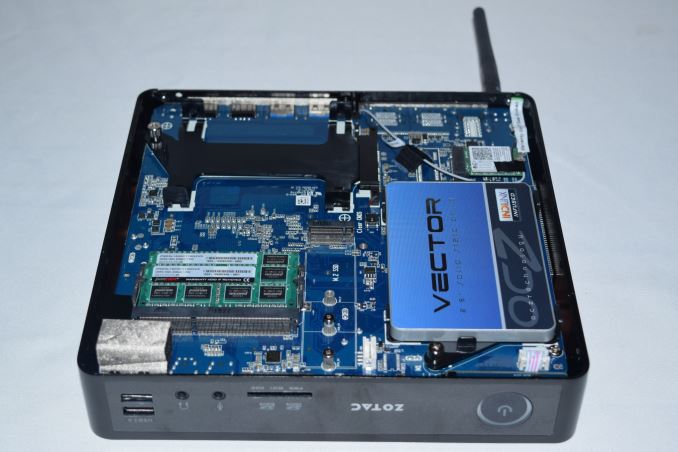 One of the aspects for which Zotac can't be blamed directly is the advertising of the NVIDIA GTX 970M as GTX 960 when they are completely different for HTPC uses. NVIDIA's rebranding scheme makes very little sense, at least in this situation. The 'NVIDIA GeForce GTX 960' in the ZOTAC ZBOX MAGNUS EN970 is a MXM card, and as such, can't be purchased standalone. As an OEM exclusive, it is only available in pre-built systems like the MAGNUS EN970. Despite being placed in a SFF system, the GTX 970M can provide roughly the same performance as that of a bonafide desktop GTX 960 - just not for HTPC workloads.
Excellent thermal design and a robust cooling mechanism make the MAGNUS EN970 one of the quietest gaming mini-PCs that we evaluated. To provide some rough numbers, a HTC One M7 running the Android Sound Meter Pro app recorded just 50 dB when placed directly outside the outlet vent during the benchmarking of GRID Autosport. With the GB-BXi5G-760, we recorded 65 dB under similar circumstances. During gameplay, or even 5 - 6 ft. away, the noise profile of the unit is simply not a concern at all.
The barebones version of the ZBOX MAGNUS EN970 is available for $800 on Amazon. For $100 extra, the PLUS version adds a 120GB SATA SSD and an 8GB SO-DIMM. The pricing is quite reasonable when the costs of the competing products are considered. On the whole, the plus points of the ZOTAC ZBOX MAGNUS EN970 far outweigh the issues. There is still scope for improvement that we have pointed out in this review, but it still makes an interesting mini-PC purchase.