Scale-Out Big Data Benchmark: ElasticSearch
ElasticSearch is an open source, full text search engine that can be run on a cluster relatively easy. It's basically like an open source version of Google Search that can be deployed in an enterprise. It should be one of the poster-children of scale-out software and is one of the representatives of the so called "Big Data" technologies. Thanks to Kirth Lammens, one of the talented researchers at my lab, we have developed a benchmark that searches through all the Wikipedia content (+/- 40GB). Elasticsearch is – like many Big Data technologies – built on Java.
We are not sure why, but installing IBM's JDK caused a lot of headaches. For some reason the JVM stopped working in the middle of our tests. We got the same behavior running Apache Spark. This could be a result of our lack of experience with the IBM JDK, or the fact that the Linux LE ecosytem is still young. To cut a long story short, we ended up useing OpenJDK 8, which is part of the Ubuntu 15.04 distribution. OpenJDK is very similar to and based upon the same code as Oracle's HotSpot JDK.
We limited the systems to one socket to avoid the issues associated with garbage collection pauses and other scaling issues. There is reason why many Java benchmarks on these massive machines are using multiple JVMs.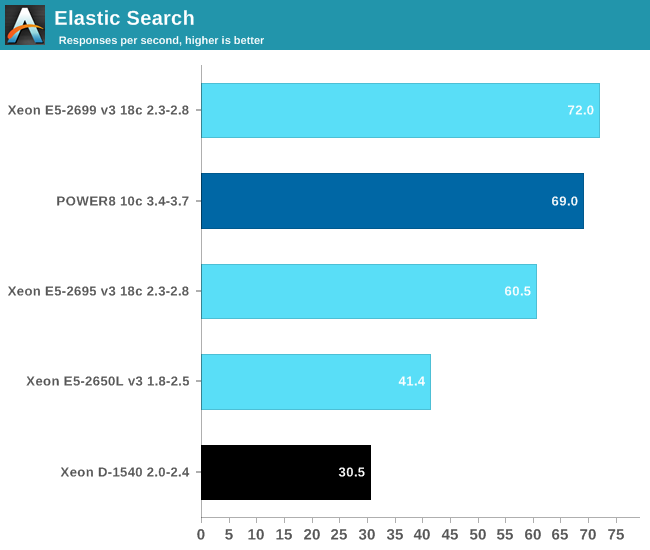 Although the POWER8 can probably perform a bit better with the IBM JDK, performance is in the same league as the best Xeons. Meanwhile as a further point of comparison we also included the score of the Xeon D from our previous article.