ASRock Z170: OC Formula and Gaming ATX
The motherboard lines from ASRock fall into three categories: overclocking (OC Formula), mainstream channel (Extreme, Pro) and gaming (Fatal1ty Gaming). ASRock is also historically a motherboard manufacturer that likes to do things a little bit differently, trying out new combinations and designs regardless of widespread appeal. For the Z170 launch there are no serious surprises to begin with (like an Extreme11 with onboard LSI controller), but there are a few smaller form factor products in the mix.
Motherboards with a + in the name will come with a bundled USB 3.1 front panel adaptor suited for USB Type-C. This connector uses a SATA Express port and a USB header to give a panel that uses the ASMedia ASM1142 controller to a USB 3.1-C and USB 3.1-A. To be honest, this is quite clever – SATA Express as a standard is practically dead as no products using it have ever been released. As a result, ASRock has repurposed it for USB 3.1 use, allowing USB 3.1 ports on the front of the PC – a nice idea.
ASRock Z170 OC Formula
The sole overclocking motherboard to begin with will be the OC Formula. Typically ASRock also launches a microATX version of this, but at this time we believe if one is coming, it may be coming out at a later date.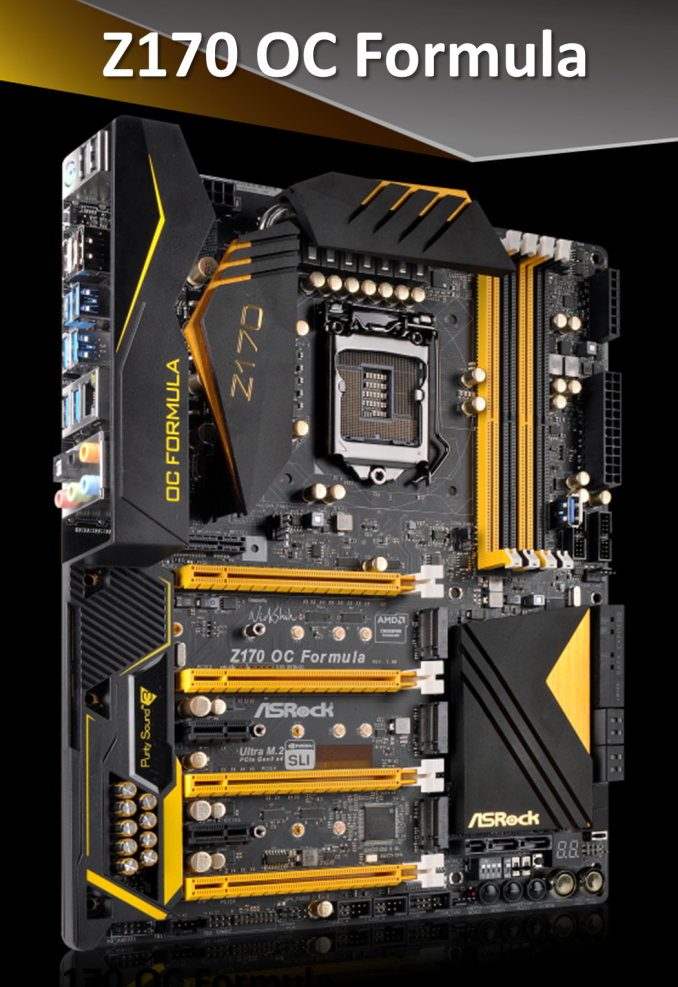 The OC Formula will be an 8-layer motherboard sporting sixteen power phases with four DDR4 memory slots supporting up to DDR4-3600 when overclocked. The motherboard looks set up for four-way graphics, although there is an apparent lack of a PLX chip. This suggests that the PCIe lane allocation from the GPU is x16 for single graphics and x8/x8 for dual graphics. The other two full-length PCIe slots, even from this image, look to have fewer electrical pins in them for PCIe 3.0 x4 connections from the chipset.
In the middle of the PCIe lanes are three M.2 slots, and they all support PCIe 3.0 x4 from the chipset and it would seem to suggest that these are RST capable. If that is the case, that gives 12 lanes to M.2 and 8 lanes to PCIe slots, totalling up the 20 PCIe lanes of the chipset before we get to USB 3.1 controllers, networking support or the two extra PCIe 3.0 x1 slots onboard. This means that there is probably some limitation on the combination, or that one of the PCIe 3.0 x4 slots actually comes from the CPU, giving an x8/x4/x4 combination. My specification sheet lists quad-SLI support, although some manufacturers tend to use that to mean dual-GPU graphics cards such as the GTX 690 in two slots. 3-way CFX is also supported, although if these are PCIe 3.0 x4 slots from the chipset, I'm sure they can be used in CrossFire mode anyway.
Audio is from an enhanced Realtek ALC1150 solution, giving the usual array of EMI shield, PCB separation, enhanced filter caps and others. Networking is from the Intel I219V, with a mini-PCIe slot above the first PCIe x16 slot for a WiFi card if needed. VGA output on this board is provided only by HDMI 1.4b and DP 1.2, with the focus of this board on discrete graphics. There's a USB port sticking out on the right hand side next to two USB 3.0 headers and another few ports on the rear. There is an ASMedia ASM1142 in play, giving a USB 3.1-A and USB 3.1-C on the rear panel. Storage is given by the aforementioned three M.2 slots, ten SATA 6 Gbps ports and three SATA Express capable arrangements. It will be interesting to see the block diagram when this board hits the shelves.
ASRock Z170 Gaming K6+ ($200) / Z170 Gaming K6 ($185)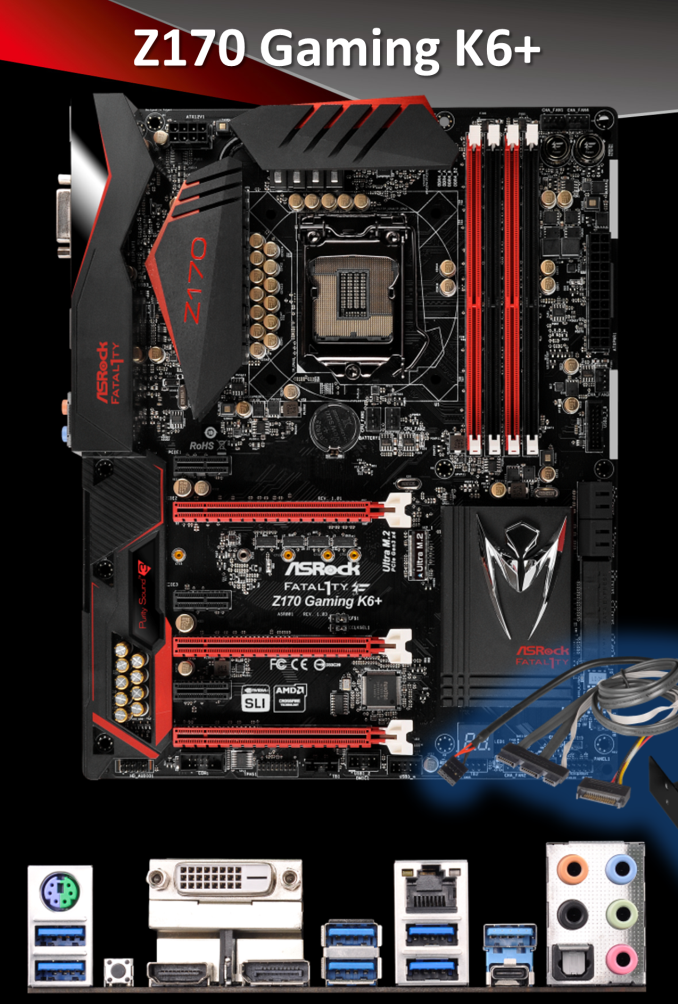 The Gaming K6 and K6+ differ only by the bundled USB 3.1 panel, but at the time of launch are ASRock's high end gaming motherboards. Four DDR4-3600 capable slots are paired with an x8/x4/x4 arrangement in the PCIe slots and a single M.2 slot running in PCIe 3.0 mode. Video outputs come from a DVI-D port, a HDMI 1.4b port and a DisplayPort 1.2.
Much simpler than the OC Formula, we get a pair of SATA Express ports (with the K6+, one can be used with the USB 3.1 front panel), eight SATA 6 Gbps ports and eight USB 3.0 ports split between a header, five rear ports and a Fatal1ty Mouse Port for older operating systems. The ASMedia ASM1142 is here as well, giving USB 3.1-A and USB 3.1-C ports on the rear panel.
The Z170 Gaming K6 is designed to be the decendent of the Z97X Killer, ASRock's high end gaming model for Z97. As part of that Gaming brand, it will come with the new Killer E2400 network chip to optimize gaming traffic and the enhanced Realtek ALC1150 audio solution under Purity Sound 3.
ASRock Z170 Gaming K4 ($146)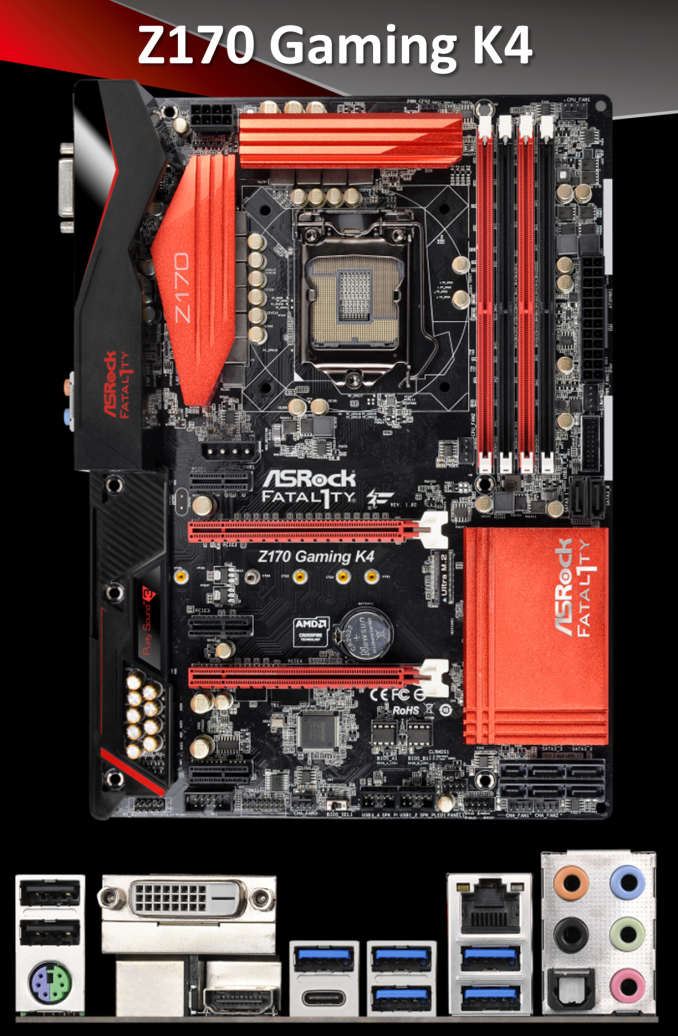 The Gaming K4 is the lower cost gaming model in the line, reducing the board width dimensions and migrating the SATA ports to coming directly out of the motherboard. Support for four modules of DDR4-3500 is paired with an x16 or x8/x8 arrangement for graphics and a single M.2 running at PCIe 3.0 x4 mode.
By the looks of it, this motherboard might not have SLI certification, helping keep costs down but aiming more for the single NVIDIA or dual AMD user. Audio and networking match that of the K6 by having an enhanced Realtek ALC1150 solution paired with the new Killer E2400 network interface.
The rear panel is less abundant than the others as well, featuring only a DVI-D and HDMI 1.4b for audio as well as six USB 3.0 ports. There is no USB 3.1 here – the Type-C port you see on the rear IO is actually USB 3.0 only, similar to that on a Macbook.