ECS K7VTA3
Motherboard Specifications

CPU Interface

Socket-462

Chipset

VIA KT333 North Bridge
VIA VT8233A South Bridge

Bus Speeds

100/133/140/150/166MHz

Core Voltages Supported

N/A

AGP Voltages Supported

N/A

DRAM Voltages Supported

N/A

Memory Slots

3 184-pin DDR DIMM Slots

Expansion Slots

1 AGP Slot
5 PCI Slots
1 CNR Slot

Onboard RAID

Promise PDC20266R

Onboard USB 2.0/IEEE-1394

VIA VT6202 (4 USB 2.0 ports)

Onboard LAN

Realtek RTL8100B

Onboard Audio

Avance Logic ALC201A - 2 Channel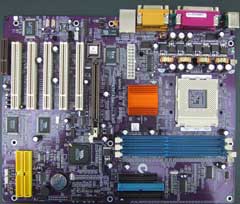 Click to Enlarge
If there is a single manufacturer in Taiwan that epitomizes the word OEM, it would be ECS. After their acquisition of PC Chips, ECS quickly become a very serious threat in the Taiwanese motherboard market. The sheer volume of motherboards and the very low prices that they sell for make ECS a formidable competitor; ECS has even forced ASUS to pursue a new low-cost motherboard brand of their own in order to compete.
Because of their focus on shipping volumes of low-cost boards, ECS is generally a strong supporter of SiS chipsets and thus we were a bit surprised to see that they were ready with a KT333 board for this roundup.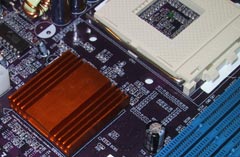 The K7VTA3 features five PCI slots a regular AGP 4X slot and a single CNR slot, again an indication of ECS' OEM heritage. The board also features three DIMM slots all of which can be populated without sacrificing stability. You won't find a fan on the North Bridge either, which is a plus in our book - less noise and another component without any moving parts. There's not much in the way of overclocking features for this board, so a larger heatsink isn't necessary.
The usual features are present on the board, including VIA's discrete USB 2.0 solution. Despite of the support for 6 USB 2.0 ports (and the South Bridge's support for 6 USB 1.1 ports), ECS only outfitted the K7VTA3 with two total ports and no external brackets.
On-board 10/100 Ethernet is provided by a Realtek chip and on-board audio is driven by an Avance Logic (Realtek) ALC201A AC'97 codec. It's a shame that ECS didn't use the newer ALC650 codec that offers 6-channel audio support with drivers that allow you to remap the two remaining 1/8" jacks on the rear of the board to rear/LFE outputs.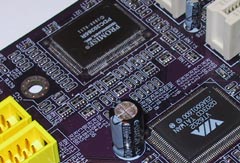 To top off the list of integrated features, ECS outfitted the K7VTA3 with the same Promise IDE RAID controller as some of the other manufacturers. A downside to this feature is that the chip still only offers one non-adjustable stripe size for RAID arrays (64KB).
Our biggest complaints about the K7VTA3 stem from its lack of any configurability in the BIOS. There is no clock multiplier support but surprisingly enough there are a handful of FSB frequencies that you can choose from. Voltage adjustment is wishful thinking but the latest BIOS does offer proper Thoroughbred support. The lack of any significant overclocking features is understandable considering ECS' dedication to the OEM market but we would still like to see them introduced in at least an enthusiast line of boards if possible.
The K7VTA3 does not support reading temperatures directly off of the Athlon XP's die; instead it resorts to an external thermistor like most motherboards.
During our tests, we didn't encounter any stability issues with the motherboard.