Camera Architecture
It seems that having a camera is now a necessity on even the most inexpensive devices. But there are cases like HP's Stream 7 where the quality of the camera is so poor that you question whether it was even worth the money spent on it in the first place. However, with inexpensive smartphones the image quality is usually good enough for sharing via social media and instant messaging which makes it worth including. Whether or not this holds true for the Moto E is yet to be seen, but before discussing image quality it's important to have a good understanding of the Moto E's camera system.
Motorola Moto E (2015) Camera Specifications
Front Camera - Resolution
0.3MP (640x480)
Front Camera - Sensor
Aptina MT9V113
(2.2µm, 1/11")
Front Camera - Focal Length
1.4mm
Front Camera - Max Aperture
F/3.0
Rear Camera - Resolution
5.0MP (2560x1920)
Rear Camera - Sensor
Samsung S5K5E2 (1.12µm, 1/5")
Rear Camera - Focal Length
2.5mm (28mm eff)
Rear Camera - Max Aperture
F/2.2
The front facing camera on the Moto E is a 0.3MP sensor from Aptina. The original Moto E didn't even have a front facing camera so it's definitely an upgrade in that respect, but I do wonder if it would have been better to continue without the front facing camera and either spend the money elsewhere or further drive down the price of the phone.
The rear facing sensor is made by Samsung. It's a 1/5" 5MP sensor with 1.12 micron pixels. You may be familiar with it, as it was the sensor used for the HTC One M8's front-facing camera. It's also important to note that the 2015 Moto E supports autofocus, which is an enormous improvement over its predecessor which had a fixed focus camera. The video recording resolution of the rear camera has also been bumped from 854x480p30 to 1280x720p30.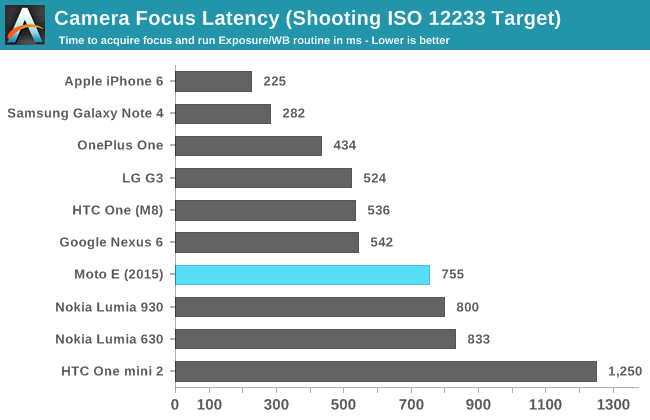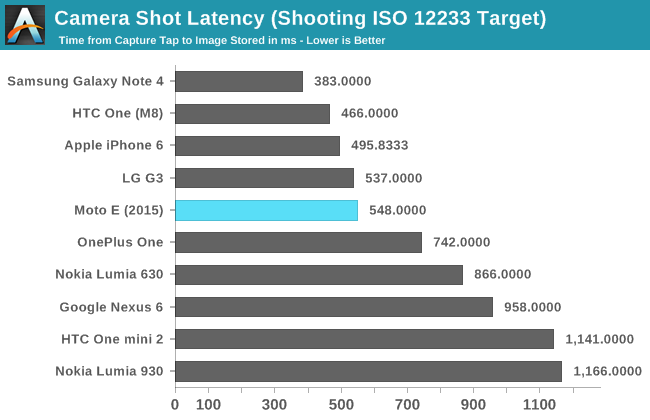 The focus latency on the Moto E is one of the longer results on our test. For a device with only contrast detection auto focus it's not a bad result, although there are a couple devices that manage to focus a couple hundred milliseconds quicker. Shot latency is actually pretty good, and you don't ever feel like you're waiting in between taking photos.
Motorola Camera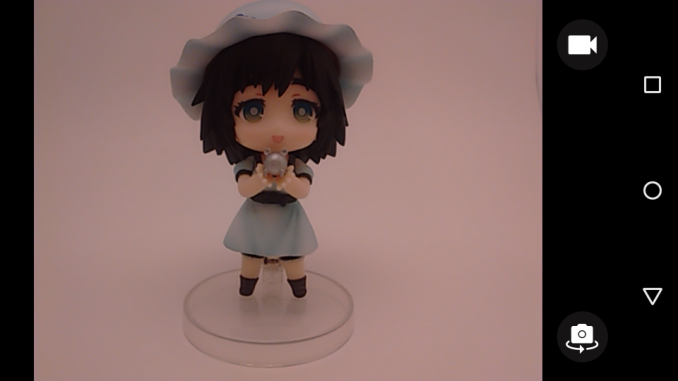 Motorola includes their own camera application with the Moto E. By default it gives you what is essentially the most automatic camera experience possible, with zero control over focus, exposure, or any other options. In this mode, tapping anywhere on the display takes a photo, and the camera is always focused in the center. Pressing and holding on the display takes a succession of photos, which seems to work well apart from a pause after every 20 photos or so to write them to memory. Moving your finger up or down does a digital zoom up to 4.0x, although I wouldn't recommend it.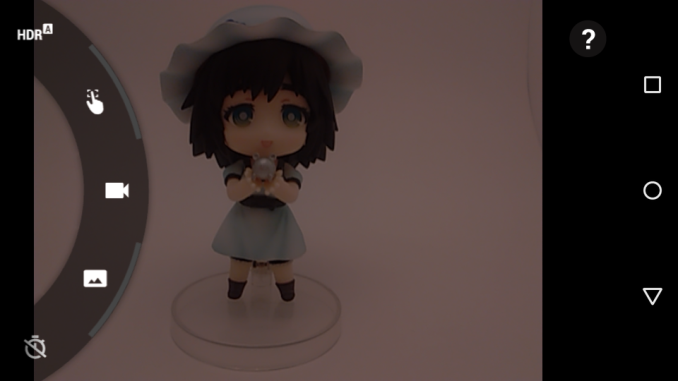 To access the controls in Motorola's camera app, you need to know to swipe in from the left side. I really don't like this hidden magic menu style of design. Motorola really should have had the menu set to be visible when the app is loaded and set it move off screen after a second or two. It is shown initially in the tutorial when you first run the app, but when you're relying on tutorials to show the user how to use the basic functions of your app your design is already a failure. Once you do find this menu, you'll be able to do various things like switch to panorama mode, change whether photos are stored on an SD card or internal memory, and most importantly, enable the control over focus and exposure that should have been enabled in the first place. You'll also be able to change the app from the default 3.7MP 16:9 cropped output to the full 2560x1920 output of the 4:3 sensor.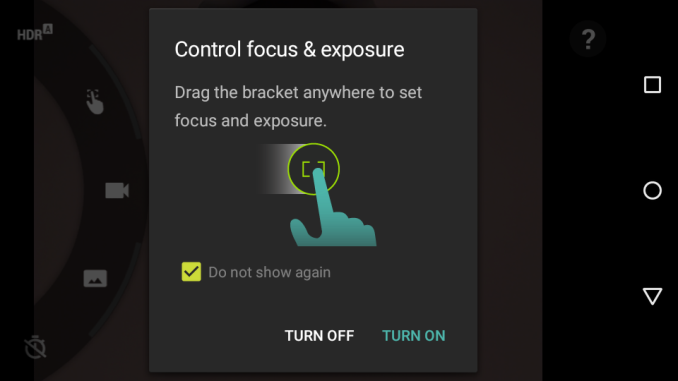 Unfortunately, even the focus control and exposure are implemented in a strange manner. You control the focus by moving a disk around on your screen, and when it turns green you know that you've successfully focused on that area. I understand what Motorola was trying to do here, as having the disk always on your screen lets you know where you focused. However, it's just not as intuitive as being able to tap somewhere to focus, and it just makes for a less comfortable experience than other camera applications.
I actually like some of Motorola's included applications, but the ones that try to replace the applications that already exist in AOSP or from Google tend to fall short. After playing with Motorola's camera app I just went to Google Play to download Google's Camera app which is quite frankly better than Motorola's. It's unfortunate though, because on an 8GB device the last thing you want is to have replacement apps for less than optimal default ones taking up space on your phone.
Of course, the biggest part of a smartphone's camera is not the camera app but the photos themselves. That's what I'll be looking at next.