Display
In the past few years we've seen a tremendous improvement in the quality of smartphone displays at every single price point. The display was often the first thing to be compromised when building a smartphone to meet a low cost, and the most inexpensive phones could ship with TN panels at resolutions as low as 480x320. But today even inexpensive smartphones like the Moto E have IPS displays and high enough resolutions to render text without overwhelming aliasing.
The 2015 Moto E has a 4.5" 960x540 IPS display, which makes it slightly less sharp than the original Moto E which had the same resolution on a 4.3" panel. However, a display's pixel density is just one of many attributes. To evaluate the various other aspects of the Moto E's display quality we turn to our standard smartphone display tests. As always, measurements are performed with X-Rite's i1Pro 2 spectrophotometer and SpectraCal's CalMAN 5 software, with the exception of contrast measurements which are done with an i1Display Pro colorimeter.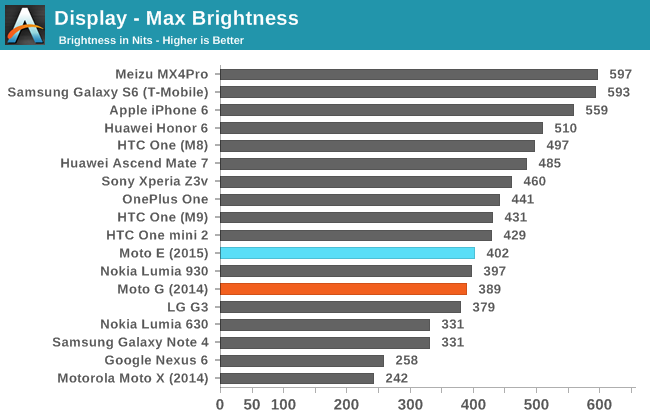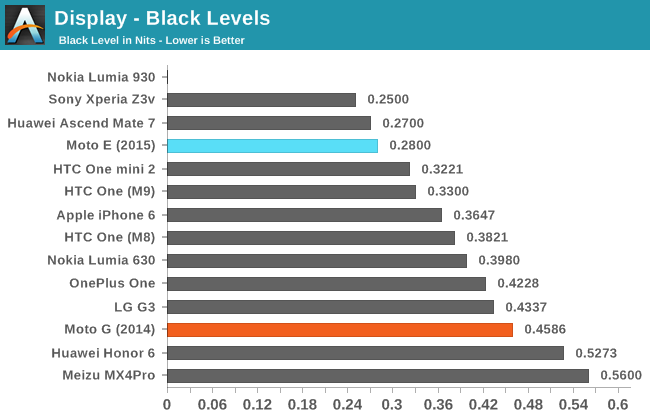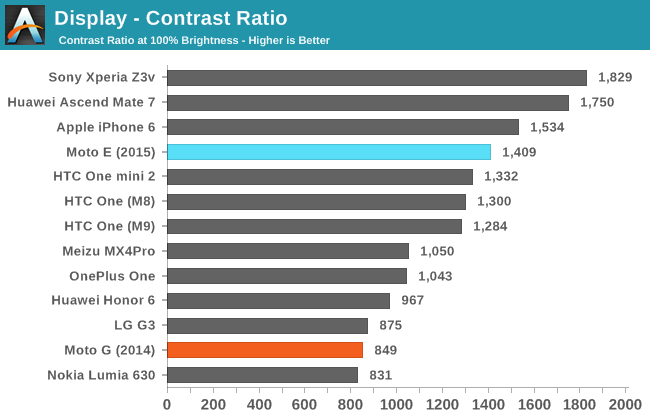 At 402 nits, the Moto E's display actually has a fairly good peak brightness. Black levels are also very good, which leads to a surprisingly high contrast ratio. It should be noted that the Moto E makes use of Content Adaptive Backlight Control (CABC), and dynamic contrast. The actual contrast ratio is closer to 1050:1, which is still a very good result.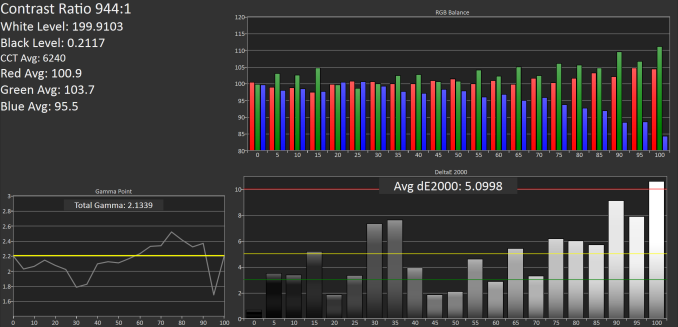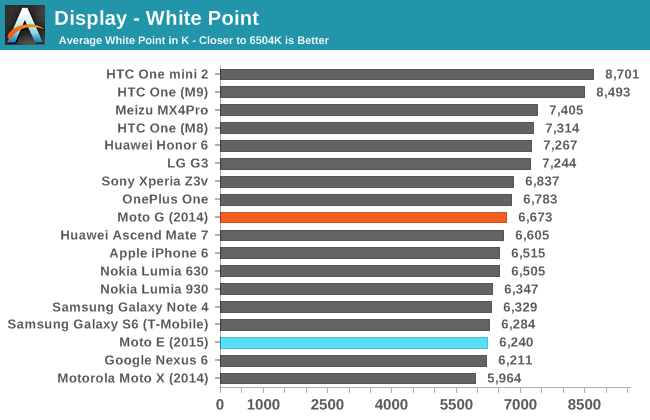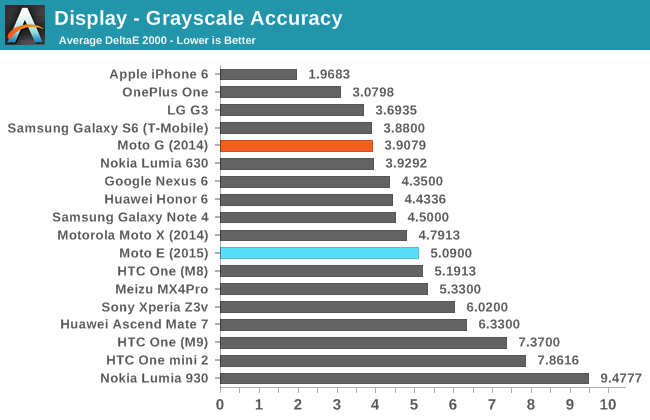 Greyscale results from the Moto E are unfortunately nothing exceptional. However, with a price point of $149 they are also not unexpected. The Moto E actually does not fare much worse than Motorola's flagship Moto X. The display's average white point tends toward the red as the blue component of luminance drops off when shades of grey approach white. The warm appearance of whites is definitely noticeable during use, but it's not highly bothersome.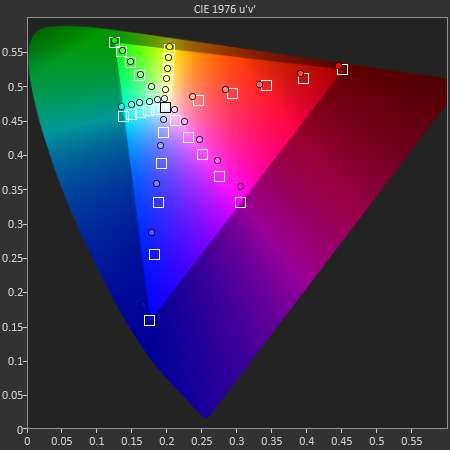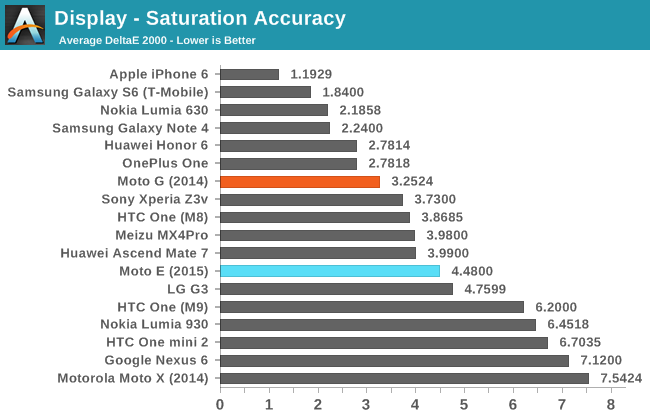 With saturations the Moto E actually performs better than I had expected it to. It's certainly imperfect, especially with blue and any secondary color with blue as a component, but with a price of $149 it surpassed my expectations of how well it would perform. The gamut itself is also larger than what one might expect from a budget IPS display.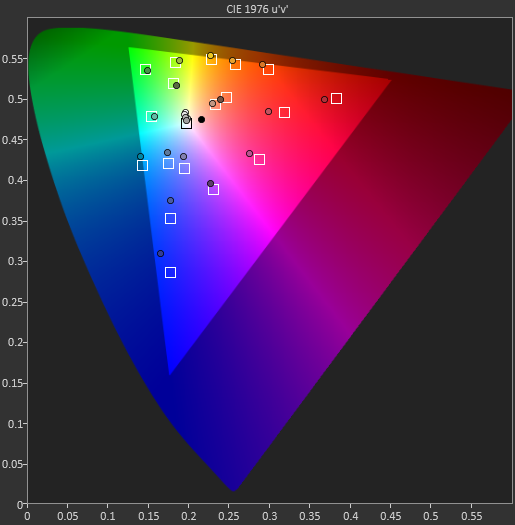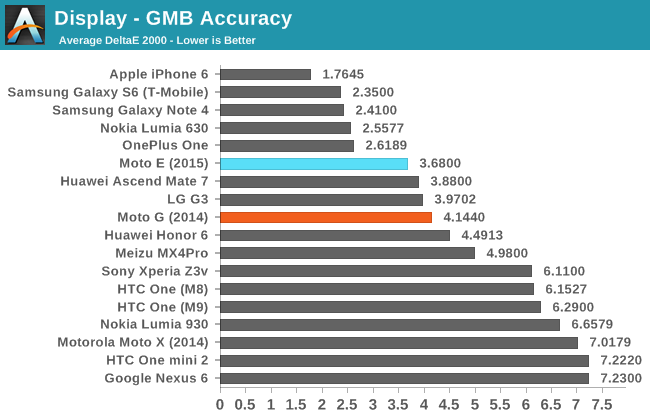 In the colorchecker test the Moto E does very well. While it isn't at the level of the most expensive flagships with calibrated displays, it beats out many devices that cost significantly more. The display is surprisingly accurate when displaying color mixtures, with much of the error coming from the issues with reproducing shades of grey.
Overall, the Moto E's display is actually much better than I had expected it to be. While I would really love if it were a 1280x720 panel, it's just not manageable with the price point that Motorola had to meet. Even so, text was still rendered fairly well, and colors were reproduced with much greater accuracy than I expected. If you have reasonable expectations of the Moto E's display when you purchase it, I think you'll find yourself pleasantly surprised.