Clevo P750ZM: Potent DTR
Similar to the MSI GT72, the Clevo P750ZM / Eurocom P5 Pro is a top performance notebook with a price to match. For the vast majority of users, I think it makes more sense to pick up the MSI GT72 or some other notebook, but if you can use the extra CPU performance and you're not willing to go with the LGA2011 DTRs (e.g. Clevo P570WM3) – or if you want as much CPU performance as possible in a 15.6" chassis – then the P750ZM can make sense. Being a desktop replacement, the usual caveats apply: battery life takes a big hit, and the system is definitely not a thin and light laptop. But it packs performance and tops nearly all of our benchmark charts.
For gamers looking just at frame rates, something like the P750ZM doesn't really make that much sense – even though there are times where it outperforms the GT72 in our tests, it's often less than a 5% difference. Running at lower quality settings can result in a larger margin of victory, but then we're looking at frame rates well above the 60Hz most laptops run at. The real reason to go for the P750ZM over the GT72 is pretty simple: there aren't any HiDPI displays available for the GT72, and in fact just finding a decent IPS display will require you to shell out $3000+.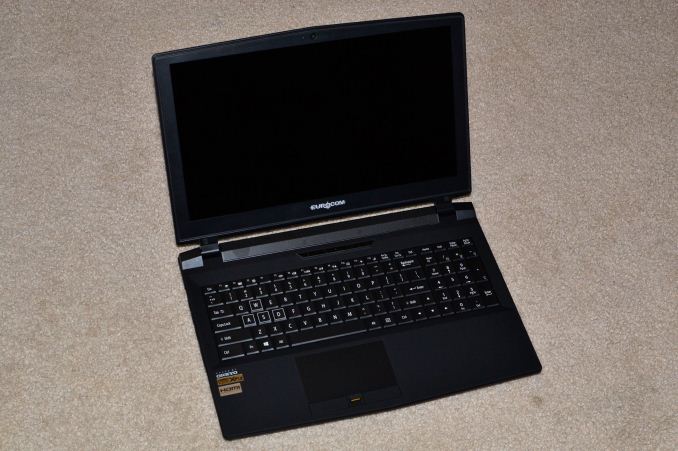 Testing the 4K Sharp IGZO display shows that there are good reasons to shell out an extra $300-$400 for the display upgrade, but at the same time 4K is often too much for a single 980M in games and scaling issues continue to be a concern. A middle ground 3K or even 2560x1440 IPS display would probably be a more sensible option, but then finding a 3K or 2.5K display that can match the 4K IGZO might not be possible. While the 4K displays may not be perfect, though, they're probably the next best thing. You can still get HiDPI and the best quality display the P750ZM supports and deal with DPI scaling and reduced performance at native resolution, or you can run at 2560x1440 with non-native resolution for gaming (it's actually not that bad, since the pixels are hard to see with the naked eye).
For Eurocom, it's also important to point out that they're now offering GPU MXM upgrades for a variety of notebooks – you don't even need to own a Eurocom system. Right now the GTX 980M is the fastest mobile GPU around, and if you happen to own an older notebooks like an Alienware M17x R4 they'll sell you a 980M upgrade for…$891. Okay, that's a lot of money, but the M17x R4 is still a capable system so you could upgrade from a GTX 680M to the fastest mobile GPU, skipping two generations of mobile GPUs in the process. Provided Eurocom keeps offering this service, in a couple more years you should be able to go from the GTX 980M and jump the Pascal architecture to whatever NVIDIA does next.
Ultimately, the P750ZM like all DTR notebooks is going to involve compromise. You have to decide that battery life (two hours or less) and weight (over 10 pounds with the AC adapter) is less important than performance, but if you're willing to make that trade I don't have any other complaints. The industrial design might not wow as much as a MacBook Retina or Razer Blade 14, but when it comes time to fire up a game or run some heavy number crunching, the P750ZM excels. I'm happy that the keyboard layout and feel as well as the touchpad all work well, and the cooling system is able to keep up with the power hungry components. With a starting price of $2000 the Eurocom P5 Pro is a serious investment, but it's a solid notebook that should keep chugging for years to come.