Sequential Read Performance
Our sequential tests are conducted in the same manner as our random IO tests. Each queue depth is tested for three minutes without any idle time in between the tests and the IOs are 4K aligned similar to what you would experience in a typical desktop OS.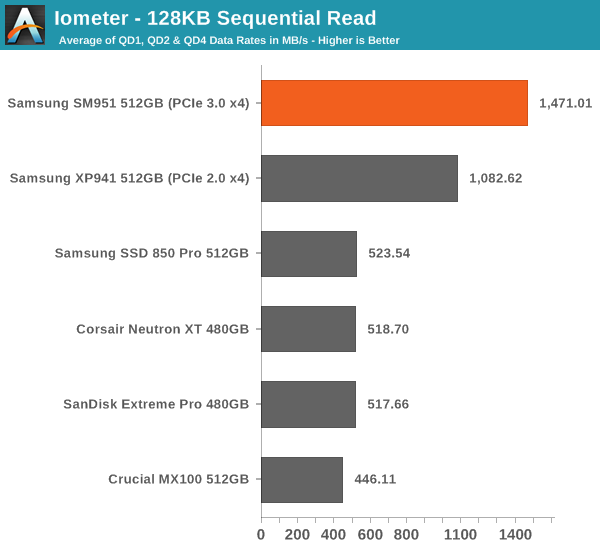 The sequential tests really show the benefit of PCIe 3.0 because the SM951 is approximately three times faster than a SATA 6Gbps drive and provides a ~40% upgrade over the XP941.
The line graph does reveal some anomalies, though. First it looks like the performance scales nicely, but after queue depth of two the performance actually degrades. I'm doing some thermal throttling tests later in the article and it's very likely that the read results are affected by that because I was able to reach 2250MB/s at queue depth of 32 with a cold drive (i.e. I went straight to QD32 without doing the scaling first that heats up the drive).
Sequential Write Performance
Sequential write testing differs from random testing in the sense that the LBA span is not limited. That's because sequential IOs don't fragment the drive, so the performance will be at its peak regardless.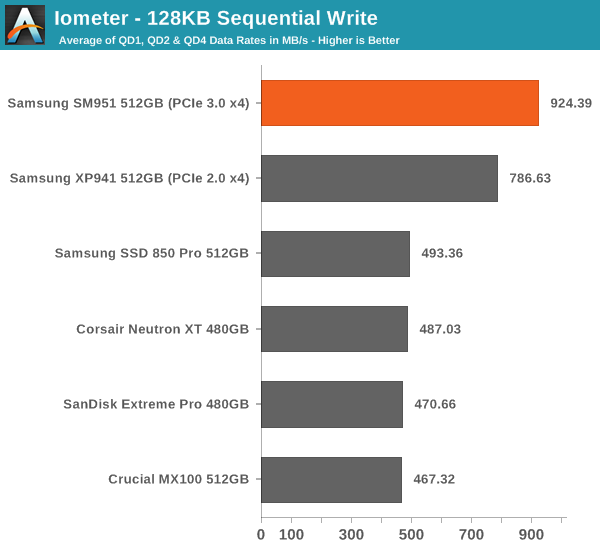 Sequential performance is also great, but seems to be affected by thermal throttling even more. That said, I did reach over 1500MB/s with a cold drive.