Frame Time Consistency & Recordings
Last, but not least, we wanted to also look at frame time consistency across Star Swarm, our two vendors, and the various APIs available to them. Next to CPU efficiency gains, one of the other touted benefits of low-level APIs like DirectX 12 is the ability for developers to better control frame time pacing due to the fact that the API and driver are doing fewer things under the hood and behind an application's back. Inefficient memory management operations, resource allocation, and shader compiling in particular can result in unexpected and undesirable momentary drops in performance. However, while low-level APIs can improve on this aspect, it doesn't necessarily mean high-level APIs are bad at it. So it is an important distinction between bad/good and good/better.
On a technical note, these frame times are measured within (and logged by) Star Swarm itself. So these are not "FCAT" results that are measuring the end of the pipeline, nor is that possible right now due to the lack of an overlay option for DirectX 12.
Starting with the GTX 980, we can immediately see why we can't always write-off high-level APIs. Benchmark non-determinism aside, both DirectX 11 and DirectX 12 produce consistent frame times; one is just much, much faster than the other. Both on paper and subjectively in practice, Star Swarm has little trouble maintaining consistent frame times on the GTX 980. Even if DirectX 11 is slow, it is at least consistent.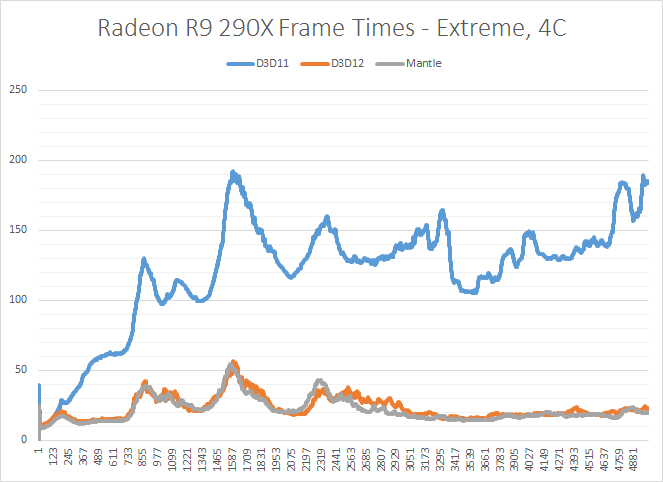 The story is much the same for the R9 290X. DirectX 11 and DirectX 12 both produce consistent results, with neither API experiencing frame time swings. Meanwhile Mantle falls into the same category as DirectX 12, producing similarly consistent performance and frame times.
Ultimately it's clear from these results that if DirectX 12 is going to lead to any major differences in frame time consistency, Star Swarm is not the best showcase for it. With DirectX 11 already producing consistent results, DirectX 12 has little to improve on.
Finally, along with our frame time consistency graphs, we have also recorded videos of shorter run-throughs on both the GeForce GTX 980 and Radeon R9 290X. With YouTube now supporting 60fps, these videos are frame-accurate representations of what we see when we run the Star Swarm benchmark, showing first-hand the overall frame time consistency among all configurations, and of course the massive difference in performance.