Final Words
In light of everything, it seems that Snapdragon 810 was not as the rumors claimed. In my experience, I didn't notice any of the development devices getting hotter than what I'd come to expect from a modern SoC. In most cases, it appears that CPU performance is about what we'd expect from a cluster of four Cortex A57s at 2 GHz, although there are a few anomalous results that could be a concern. If anything, it's clear that the CPU isn't really an area of weakness on the Snapdragon 810, especially with all of the work that Qualcomm has done for an energy aware scheduler to maximize the performance and efficiency of their big.LITTLE implementation.
Outside of the CPU, it's evident that Qualcomm will retain their traditional lead in the modem and RF space, as OEMs will continue to adopt parts of RF360 along with Qualcomm modems and transceivers to ensure maximum performance on flagship smartphones and other high-end mobile devices. I don't believe any other company will really be able to beat Qualcomm in this space, as they strongly emphasized just how well-validated their modems are and the extent to which they implement standards properly to work with operators around the world without issue.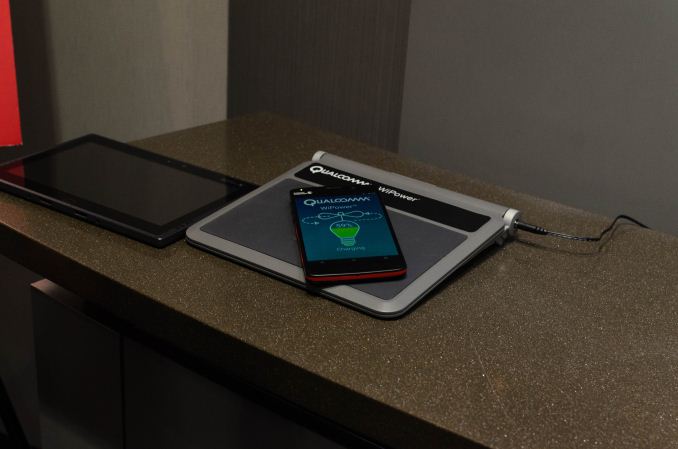 While my time with the Snapdragon 810 hasn't revealed any significant issues, the real concern here seems to be more along the lines of the GPU performance. While ALU performance and compute performance in general are significantly improved with the Adreno 430, the performance uplift doesn't really seem to be as large as one might hope. Although Qualcomm is trying to sell the idea of a 4K tablet with the Snapdragon 810, it feels as if it's too early to try and drive such high resolutions when the GPU can't handle it. In order to see an appreciable increase in performance this year, it's likely that OEMs will need to stay with 1080p or at most QHD display resolutions to really deliver improved graphics performance for gaming and other GPU intensive use cases.
As we've mentioned before, it seemed that Qualcomm stumbled a bit with the launch of Apple's A7 SoC. While it seemed that Snapdragon 810 might have relatively little competitive advantage over other SoCs, in the past few months it's become clear that Qualcomm has been leveraging their strengths to ensure that they remain a strong choice for SoCs this year. Although the GPU and memory subsystem appear to be a bit weak, overall 2015 remains promising for Android flagships, even if an OEM can't design their own SoC.