Wi-Fi
The Lumia 830 most likely unitizes the Qualcomm VIVE Wi-Fi available on the Snapdragon 400 SoC. In this particular case, it is nothing special. The 830 has a single stream only, although at least it is dual band. This gives us a maximum connection speed of 150 Mbps, which the Lumia 830 was able to achieve. However connection speeds rarely equate to real world transfer speeds.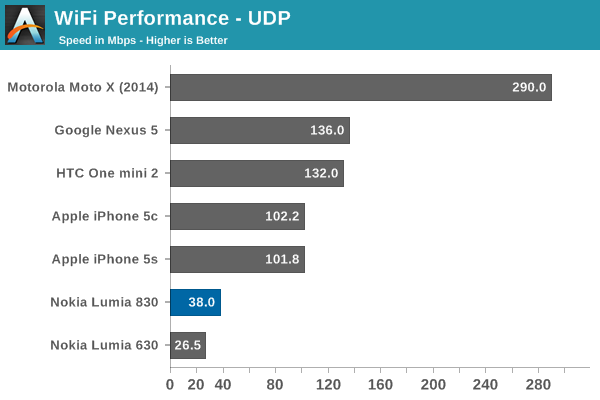 I was only able to achieve 38 Mbps transfer speed with the Lumia 830, which is not a stellar result. On a device of this price range, it would be nice to see 802.11ac wireless and possibly a dual-stream solution.
There is one other note about Wi-Fi. On one occasion, the device stopped seeing any access points at all. I had to restart the phone, at which point the Wi-Fi worked normally again. I've contacted Microsoft and this is a known issue on some Lumia 830 devices. They have no fix for this yet, so if you do purchase one and have this happen, you may want to exchange it. It happened just the one time to me though.
Cellular
Qualcomm's MSM8926 SoC supports up to Category 4 LTE which offers a maximum of 150 Mbps download and 50 Mbps Upload.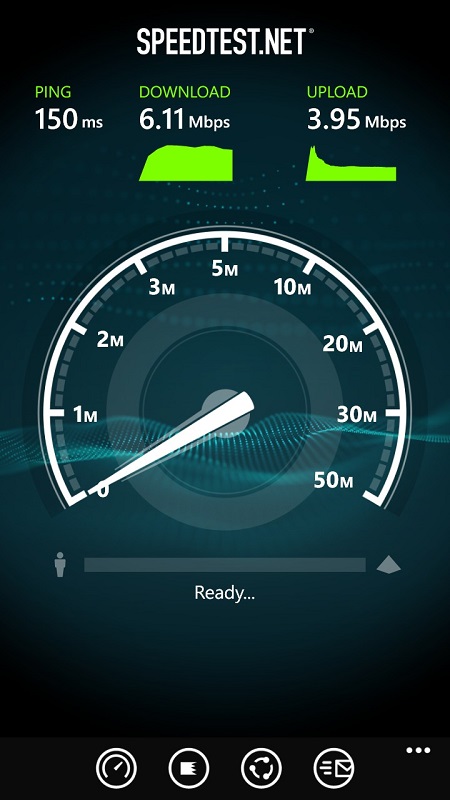 I was only able to achieve 6 Mbps download and 4 Mbps upload but these numbers have a lot to do with the traffic on the tower, as well as location and obstacles.
Reception is good but this is difficult to test unless you live on the fringe of a cellular signal and I do not.
GNSS
Qualcomm's IZat Gen8A is the GPS in the Snapdragon 400 SoC, and as with most modern Qualcomm location solutions it is fast and accurate. With location services enabled on the phone, GPS lock happened within a couple of seconds. Going from location services disabled to a GPS lock took around thirty seconds, which is pretty good.
The Lumia 830 supports A-GLONASS, A-GPS, BeiDou, and assist from cellular and Wi-Fi networks to get a quicker location fix.
Speaker and Call Quality
The Lumia 830 has a single speaker on the back of the device, which is never the ideal location for maximum clarity and volume. The tiny speaker does get plenty loud though. I measured 88.7 dBA from the speaker from 3" away.

The Lumia 830 has four microphones for noise cancelling. Below is the audio of a call from the 830 to my personal cell, which I recorded on my PC. There is a bit of whine in the recording from my PC so please ignore that I will try and get that sorted out for the next review.
The 830 does a good job cancelling out the outside noise during a call, with it only struggling when the ambient noise was high enough that it would be difficult to speak face to face. The audio quality of the call was also quite good.