Adesso SlimTouch WKB-4000
The Adesso SlimTouch WKB-4000 series has two members, the traditional 2.4 GHz RF WKB-4000UB version and the Bluetooth WKB-4000BB version. Other than the communication mechanism, both devices share the same external hardware design. These 87-key wireless keyboard / touchpad combos use 2x AAA batteries and offer up to 30 ft. range.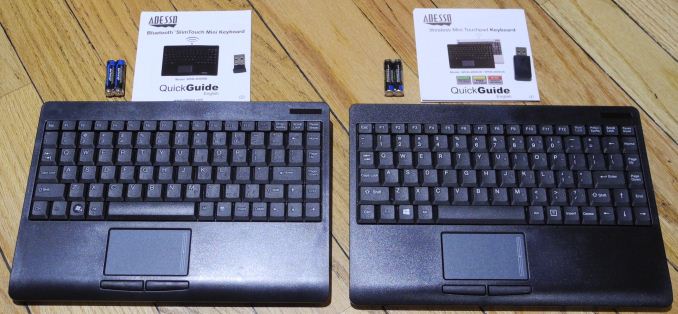 The keyboard layout is the same as that of the SIIG JK-WR0312-S1, except for the proper positioning of the Ctrl and Fn keys. The numeric keypad is also multiplexed with the traditional keys, activated by a combination of the Num Lock and Fn keys. Similar to the WKB-3000, there is a LED indicator (at the top right corner instead of the top center) to indicate whether the Num Lock key is active or not. Therefore, the ease of use factor is much improved over the SIIG version.
The attractive feature set of explicit power switches, auto-sleep after an inactivity period, secure receptacle for stowing the USB key and a Connect button to alter the communication channel is also available in the WKB-4000 series. For the Bluetooth version, a Bluetooth receiver is supplied, but I also tested it out successfully on various PCs and tablets / smartphones with in-built Bluetooth capability. The only requirement was that the initial pairing had to be done with some other input interface being active (particularly for the PCs which didn't have touchscreens). Otherwise, the keyboard even worked at boot time on those PCs without the Bluetooth receiver plugged in.
The scissor-switch keys of the WKB-3000 are retained in the two keyboards. Subjectively speaking, I enjoyed typing on these keys more than the WKB-4400's membrane keys. The 3" x 1.75" touchpad in the WKB-4000 units is also bigger than the WKB-4400's 2.25" x 1.5" version. Hassle-free one-handed operation is also possible. The touchpads could do with some gesture support, but that is not much of a deal breaker. All the keys are proportionally sized and present no learning curve to traditional keyboard users. All in all, the two keyboard / trackpad combo units could become ideal HTPC interaction options if they did away with the multiplexed numeric keypads.
The Bluetooth version is available for $70 on Amazon, while the vanilla RF version is retailing for $60 on Newegg currently.