WiFi Performance
While the Galaxy S5 LTE-A Broadband had a Qualcomm Atheros solution (QCA6174), the Note 4 moves back to Broadcom's WiFi solution. In this case, we see the BCM4358, which is a revision of the BCM4354 that was first seen with Samsung's Galaxy S5. This shouldn't have any major differences outside of improved Bluetooth coexistence but antenna design can and does change between revisions. In order to test this, we use iperf and Asus' RT-AC68U router to try and achieve maximum performance.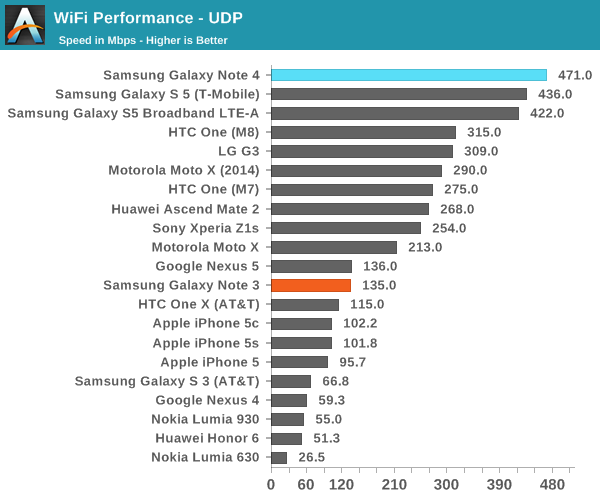 As one can see, the Galaxy Note 4 has a strong showing in this test, easily surpassing every other device we have available for testing.
GNSS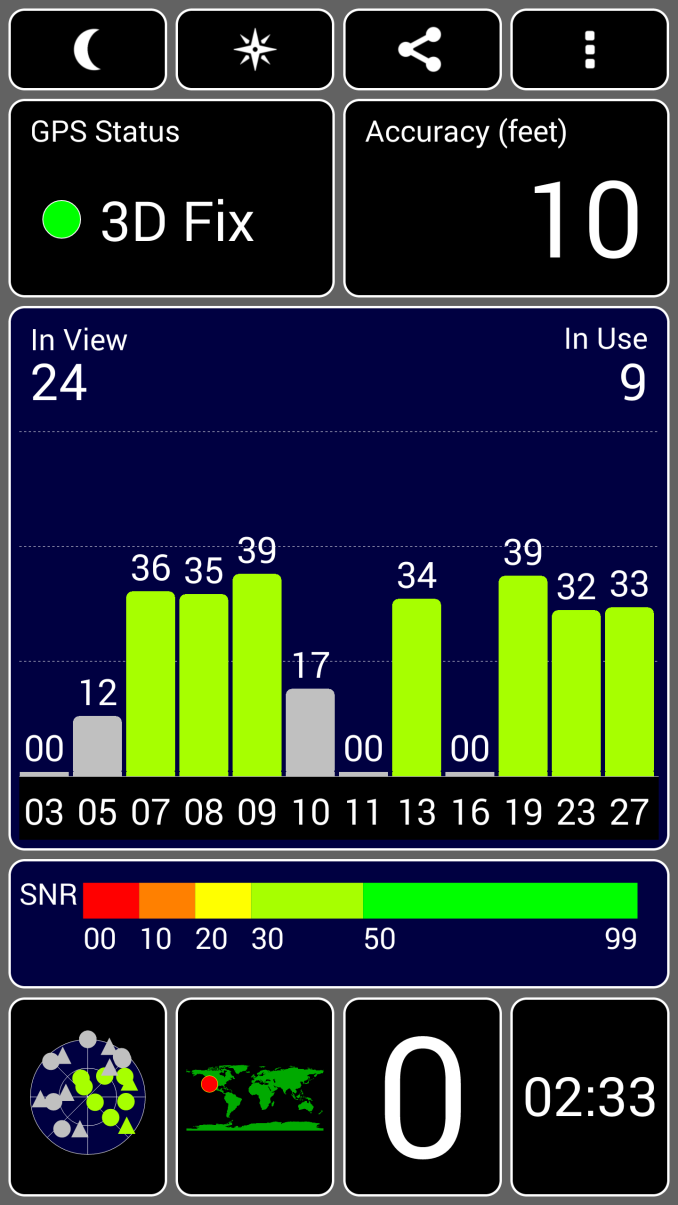 At this point, it really goes without saying that the GNSS solution of choice is the one built into Qualcomm's modem. This allows for fixes based upon initial location and time data that the modem has, and therefore in practice every GPS fix is a hot fix and takes around 5 seconds for a lock in good conditions. In the case of the Note 4, with airplane mode on and no assistance data I saw that it took around 50 seconds to achieve a lock, but this is strongly dependent upon environmental conditions. Once locked, I found that the Note 4 had quite a strong lock and quickly went down to 10 foot accuracy level without issue.
Misc
Similar to the new Moto X we see a Cypress CapSense solution in the Note 4 but this is likely used for the capacitive buttons rather than any impedance-matching antenna tuner. The UV sensor appears to be a Maxim design win, although there's no information on the specific part. The battery's fuel gauge is also a Maxim part, as is the speaker amplifier and pulse sensor. The NFC chip used is NXP's PN547, so host card emulation should be supported and therefore Google Wallet's tap and pay system should work as well.