MSI Afterburner
MSI Afterburner is the last utility we are going to look at in our round-up. Afterburner is collaboration between MSI and RivaTuner's developer, Alexey Nicolaychuk. Afterburner uses the RivaTuner core along with an MSI designed user interface. MSI has been very proactive in working with Mr. Nicolaychuck, and in doing so, they have added many features that are exclusive to Afterburner.
Developed with MSI video cards in mind, the utility will work for all other brands of video cards as well. Like the ASUS GPU Tweak utility, that means MSI Afterburner will work with both NVIDIA and AMD based graphics cards. So let's get right to it and see what separates Afterburner from the rest of the utilities in our round-up.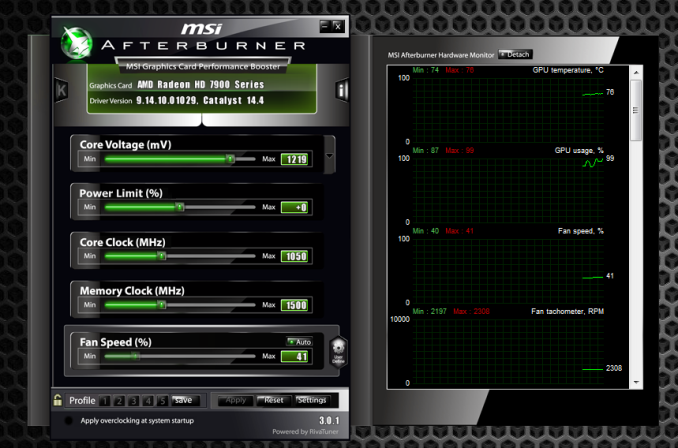 When starting the utility you'll first notice the no nonsense user interface. The interface may appear subtle in comparison to most of the utilities in our round-up, but don't let that deter you. While it may lack the flash and style of its competitors, Afterburner makes up for it with its long list of features and advanced user options.
Right off the bat, we see a good bit of information with just these two panels. First, let's focus on the right pane, the hardware Monitor panel. At a glance, we can view GPU temperatures, GPU usage, fan speed, and RPMs. As we move the slider down, we see a wealth of additional monitoring information. Not only can we monitor the video card(s), but we can monitor other hardware as well. CPU temperatures and usage are now included, and system memory usage can also be monitored.
Pressing the detach button at the top of the panel allows you to expand the panel. This allows you to get a much bigger picture of what the hardware monitor has to offer. There is no doubt that this is the most informative monitoring utility in our roundup, even a step ahead of what EVGA has to offer with their Precision X utility.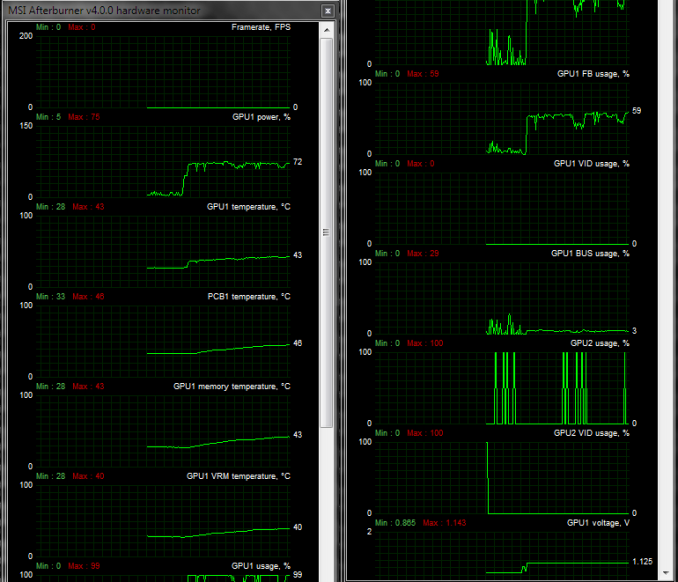 Reverting to the main panel, we can see that Afterburner allows for the adjustment of the standard array of settings, everything from power limit to fan speed. We can also adjust the GPU core voltage as well (on most GPUs); however it's an option that needs to be enabled in the settings tab before use. Along with voltage adjustment, Afterburner also offers us up to five custom profiles, so you can save and apply profiles as needed. They also include a lock feature to keep you from applying or changing profiles accidentally.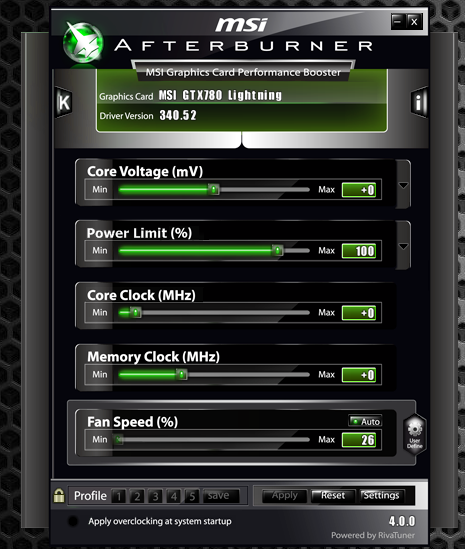 You might have noticed the K button in the upper left of the main panel. This is for a program called MSI Kombuster. Like EVGA's OC Scanner X, this stress testing and benchmarking tool uses FurMark technology. Kombuster can check for video card stability and max temperatures while overclocking. As an added benefit, it can stress test your CPU as well. Unlike OC Scanner X, Kombuster's latest version does not include an artifact scanner. Also note that Kombuster is not bundled with Afterburner; it's a separate install.
Another quick item to note is that the "I" button directly across from the Kombuster button is used to view basic system information as shown below.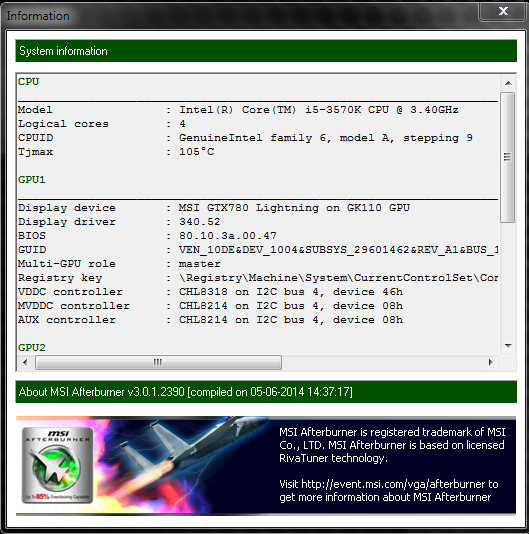 Let's move on to the general tab in the settings of Afterburner and see what options it offers. As mentioned before, users are now given the option to unlock voltage control along with voltage monitoring in the general tab. We tested multiple cards using different voltage controllers and we were able to adjust the GPU core voltage on every one of them after checking the voltage unlock option. This type of compatibility is one that no other manufacture agnostic utility can provide at this point in time, which really makes this utility stand out for most overclockers. Additionally, we can choose to have Afterburner load on Windows startup and have the utility periodically check for updates as they become available.
AMD users also have the option to change the compatibility properties of Afterburner as well. Selecting the extend official and overclocking limits box will allow users to increase clock speeds beyond the limitations put in place by their video card's BIOS. Users can also disable ULPS (ultra low power state mode); this option allows the AMD driver to disable secondary video cards when the system is at idle, which sometimes can cause instability and issues when running in a CrossFire configuration.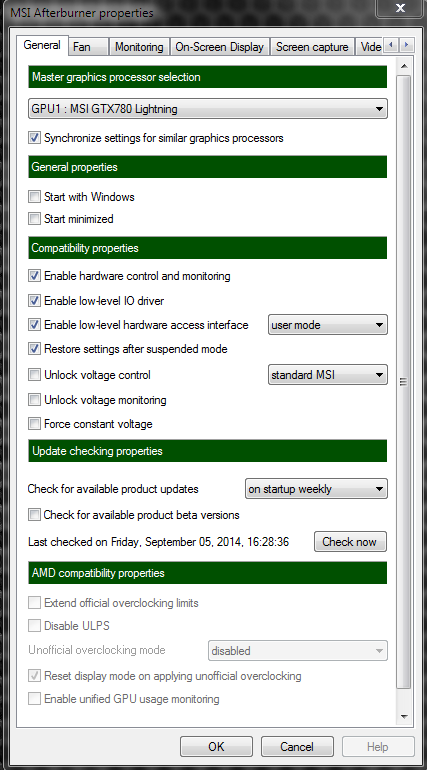 To get the most out of our GTX 780 Lightning we had to set our voltage mode to extended. This allows us to take advantage of MSI 's Triple overvoltage and triple temp monitor option. Only MSI Hawk, Power Edition, and Lightning Edition cards currently have these options available. Triple overvoltage allows users to adjust their GPU core, memory, and PLL (Aux) voltages, and the triple temp monitor allows users to monitor the GPU core, memory, and VRM temperatures as well.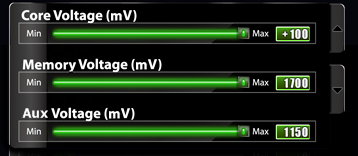 The next tab in Afterburner settings is user defined fan control. Users can now configure fan speeds based on projected GPU temperatures. At this point, this feature is nothing new and in fact, it's pretty much identical to Precision X's fan control section.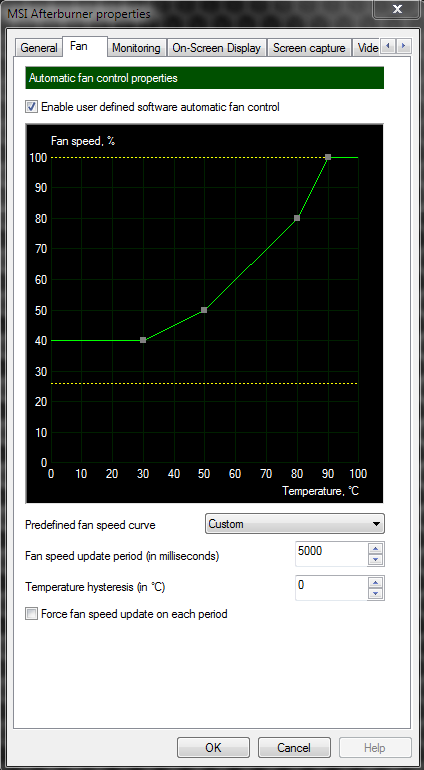 Continuing the list, the monitoring tab is next and works in conjunction with the monitoring panel we looked at earlier. When installing the MSI Afterburner utility, you can also install the RivaTuner Statistics Server (RTSS). The active hardware monitoring graphs work alongside the RTSS to give us an On Screen Display (OSD) option. Here you can monitor the video card, CPU, and system memory among other things. You can arrange the graphs from top to bottom by dragging and dropping each graph to the desired location. To activate the graphs and their properties, you need to tick the checkmark located next to each graph. Also, the RTSS version 6.2.0 has now included the option to override the group and graph name, change the layered graph color, and added graph columns if you want to change the look of the OSD.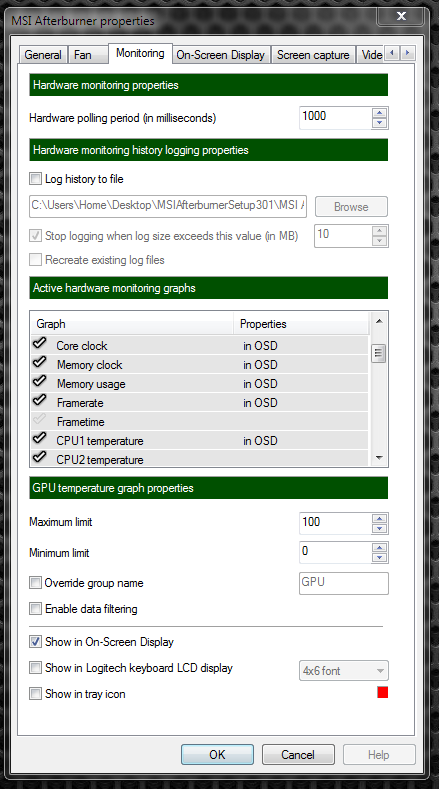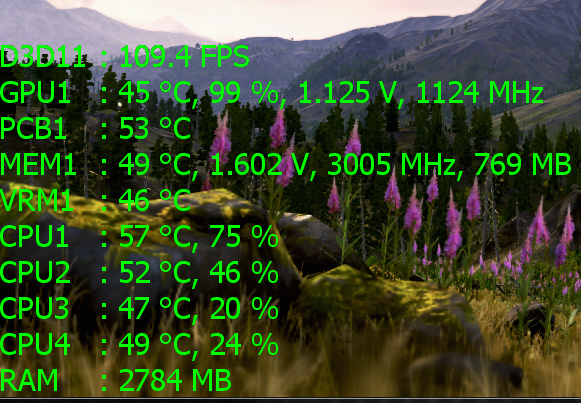 GTX 780 Lightning OSD in Unigine Valley benchmark
Comparing the OSD of Afterburner to Precision X may bring up some questions. Unlike Precision X, we can change the location, color, and size of the OSD font. Additionally, MSI exclusively offers monitoring of the CPU, system memory, and VRM temperatures. VRM temperature monitoring requires video cards to have supported sensors. Monitoring of PCB and video memory temperatures are options exclusive to MSI cards that have triple temperature monitoring.
With that said, in order to make changes to the OSD you need to open the RTSS server. Here you can change the OSD rendering mode and change the size, color, and location of the font. You can even set a frame rate limit in any application using RTSS. These changes can be global or set to specific applications.
Looking further into Afterburner's settings we have the OSD, Screen capture, profile hotkeys, and user interface tabs. Inside the OSD tab, we can select a hotkey to toggle the OSD on and off, and select hotkeys to show and hide the OSD as well.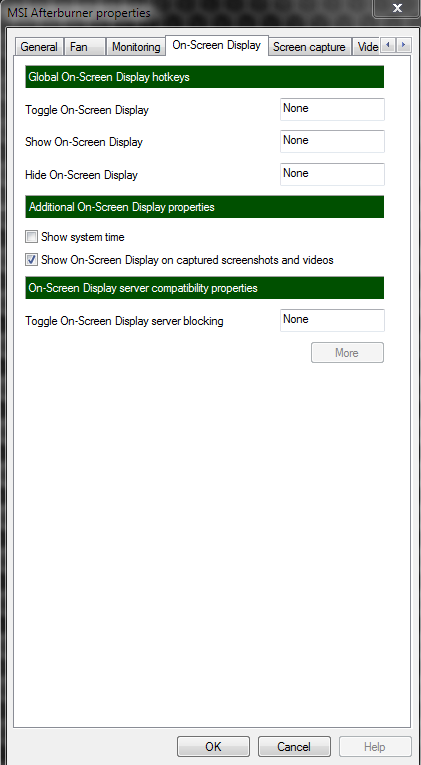 The screen capture tab allows you to assign a hotkey to take screenshots. You can select the format of the screenshot -- either BMP, PNG, or JPG -- and you can set the quality of the screenshot as well. Like EVGA's Precision X, you need to set up a target folder before you can use this feature.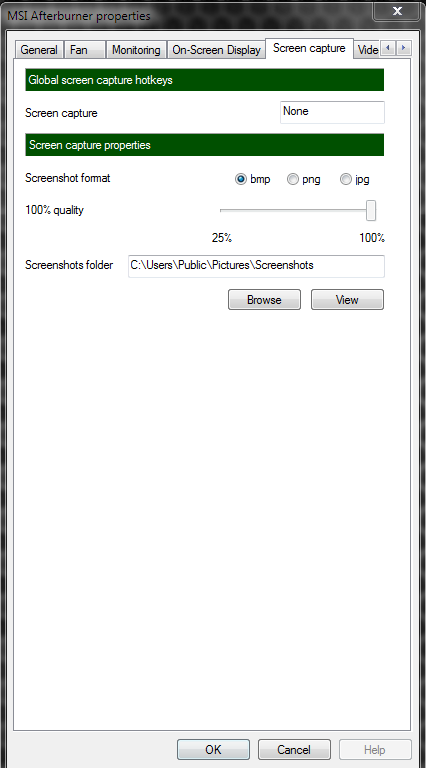 The profiles tab lets you set up hotkeys to enable saved profiles, so they can be applied while in a game or another full screen application. Like in EVGA's Precision X, you can also set up 2D and 3D profiles to enable specific profiles automatically.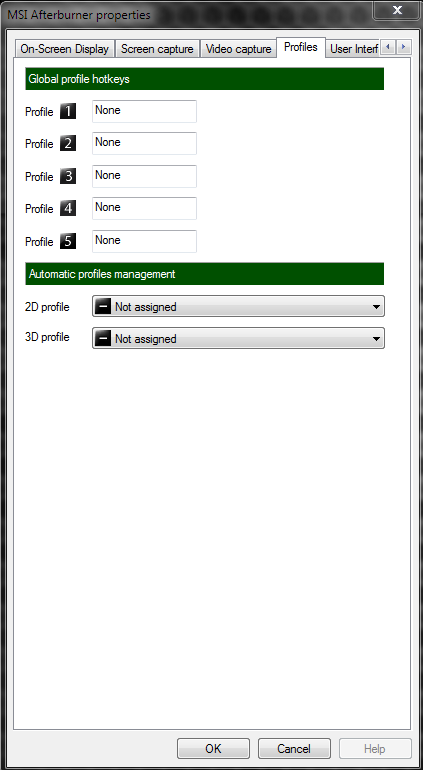 Moving on, the user interface tab lets you disable/enable tooltips, change languages, and select temperature and time formats. The (arguably) best feature in this tab is the ability to change the Afterburner utility skin. Afterburner has its fair share of skins to choose from and it helps spice up the rather dull appearance of the default Afterburner skin.
Meanwhile as odd as it may seem, due to the shared heritage of Afterburner and the 4.2.1 version of Precision X you can actually use Precision X 4.2.1 and older skins with the newest version of Afterburner. This piqued my curiosity so I tried to do the same with 4.2.1 Precision X by adding an MSI skin to its file system, but I was unsuccessful in getting it to work. It appears this option pertains to Afterburner 4.0 only. Since this is just a skin, it doesn't carry over any of the exclusive options that are included with the Precision X utility.
Another option worthy of mention is MSI's Afterburner Android and IOS app. The Afterburner app is the first to support both major mobile operating systems. Afterburner functions very similarly to the Precision X 4.2.1 app, but unlike Precision X this version is WiFi only and requires a remote server to be installed in order for it to work.
The last feature I want to look at is Afterburner's video capture program, Predator. Predator offers a number of video and audio capture properties and includes H.264 hardware accelerated encoding as well. These H.264 encoding options include Intel QuickSync, NVIDIA NVENC, and AMD VCE. While NVIDIA's ShadowPlay and AMD's Gamer DVR utilize their respective encoders, Afterburner offers recording with the addition of Intel's QuickSync. This may entice some users that have compatible Intel processors and want to take advantage of QuickSync's better performance and/or to keep the load off their main GPU while recording.

Other options include the ability to choose from different container formats such as AVI and MKV, modify video quality, and adjust recording frame rates. Predator also includes audio source capture properties for recording two independent audio tracks. While there are more feature rich video capture tools available, Predator offers some robust options, especially considering it's a free utility.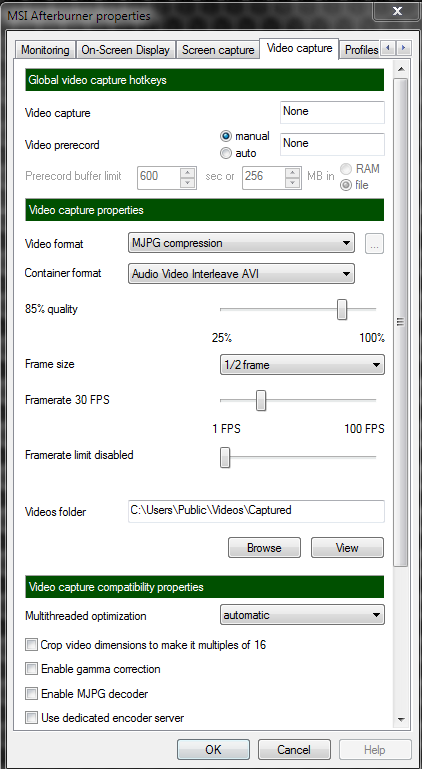 Wrapping things up, it's easy to see why there's a lot to like about MSI's Afterburner utility. It takes all of the complaints I had with previous utilities and addresses them one by one. Having all these features in a utility that works with both AMD and NVIDIA based graphics makes Afterburner the choice for many experienced overclockers, particularly overclockers not tied to one brand of video card. In addition, Afterburner is constantly being updated and adding new features quite regularly.
Finally, I can say the default skin looks rather bland compared to most of the utilities in our round-up, but that can easily be addressed by downloading a different skin. I do think that Afterburner may be too complex for the beginning overclocker, as its list of features and settings can be overwhelming at first, but overall Afterburner is the gold standard of overclocking utilities.