ABIT KG7-RAID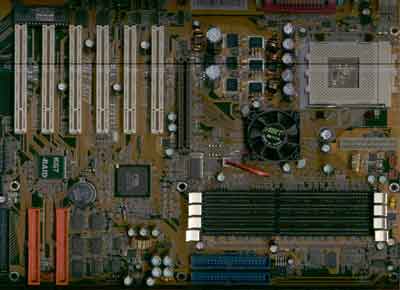 Click to Enlarge
ABIT KG7-RAID

CPU Interface

Socket-462

Chipset

AMD 761 North Bridge
VIA 686B South Bridge

Form Factor

ATX

Bus Speeds

100 - 200MHz (in 1MHz increments)

Core Voltages Supported

1.100 - 1.850 V (in 0.025V increments)

I/O Voltages Supported

3.5 / 3.6 V

DIMM Voltages Supported

2.44 / 2.52 / 2.55 / 2.58 / 2.62 / 2.65 / 2.67 / 2.70 / 2.75 / 2.79 / 2.80 / 2.83 / 2.88 / 2.92 / 2.94 / 3.00 V

Memory Slots

4 184-pin DDR DIMM Slots

Expansion Slots

1 AGP Slot
6 PCI Slots (4 Full Length)
0 AMR Slot

On-board Audio

N/A

BIOS

Award Modular BIOS 6.00PG
Over the years, ABIT has become known for the overclocking capabilities of their motherboards. Although DDR chipsets have been available for almost a year, it wasn't until this year's Computex that ABT introduced their first two Socket-A DDR motherboards, one using the AMD 760 and one using the VIA KT266. In fact, it was only a few weeks ago that we finally got our hands on ABIT's AMD 760 solution, the KG7-RAID. Although it is already relatively late in the game, this board is still one of the most highly anticipated ones here. After playing with the board, we found out that the KG7-RAID is no doubt another outstanding product from ABIT. According to ABIT, one of the reasons for their late appearance in the 760 market was their decision to make a board capable of running stably with more than two DIMMs. In fact, ABIT went a step further with a total of four DDR DIMM slots on the KG7-RAID, supporting up to 4GB of memory. Most other AMD 760 boards only have 2 DIMM slots.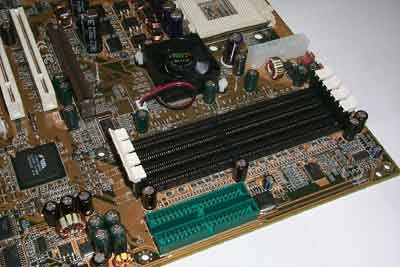 The KG7-RAID comes with 4 DDR DIMM slots, ensuring that it stands out in this group.
Now it's one thing to include 4 DIMM slots on a motherboard, but it's an entirely different thing to ensure that they all work properly, without sacrificing stability or performance. We had no problem populating all four slots at the same time on the KG7-RAID. This is quite remarkable, considering the tight timing required for DDR SDRAM.
As we've come to expect from ABIT, the KG7-RAID offers tremendous overclocking potential. SoftMenu III provides 1MHz increments for the FSB as well as three sets of voltage tweaks. You can adjust the CPU core voltages from 1.100V to 1.850V in 0.025V increments, while the I/O voltage is adjustable from 3.5V to 3.65V. The most unique thing ABIT has done is provide adjustments for the DDR SDRAM voltage, including a total of 16 settings, with the highest being 3.0V. The jury is still out whether tweaking the memory voltage can really help when it comes to overclocking, but we'll continue to investigate.
In the front left hand corner, you'll find the Highpoint HPT370A Ultra ATA 100 RAID controller, offering two additional IDE channels. The RAID controller is capable of running in RAID 0, RAID 1, and RAID 0+1 modes. There are a total of six PCI slots.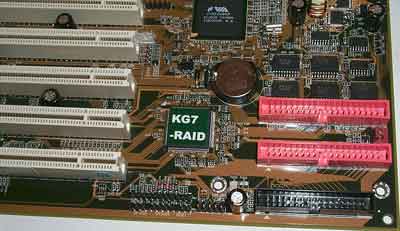 The on-board Highpoint IDE RAID controller.
Although it has arrived on the scene a little late, there is no doubt that the KG7-RAID is the best 760 motherboard available. This actually contradicts the past where ABIT has usually been among the first to use a new chipset. Nevertheless, the belated KG7-RAID does offer everything an overclocker could ask for. If this isn't appealing enough, the $140 price tag Is relatively low among this group.