Drupal Website: Performance per Watt
When we reviewed the Xeon E5-2600 v2, a performance per watt comparison was much more straightforward. Now we are faced with two different 2U-servers, with many similarities but also with some noteworthy differences. For example, the E5-2600 v3 based server is outfitted with six fans that can pull 1.6A, while our Xeon E5-2600 v2/v1 based server is outfitted with three fans that can pull 0.6A. If all fans are at their maximum RPM, the fans of the first server could easily pull 90W more. Also, our "Wildcat Pass" server still has to mature a bit as we are using a beta BIOS that has quite a few issues. Still, at idle, both servers are in the same ballpark.

The Haswell-EP reveals its mobile roots. The Idle power of the Xeon E5-2699 v3 is lower despite being a much larger chip than the Xeon E5-2697 v2, while both are baked upon the same process technology.
Next we measure the power consumed while keeping the response time at 100 ms. These are averages measured over a period of time. So basically we are measuring energy consumption, but we report the average power that was consumed over the same period of time.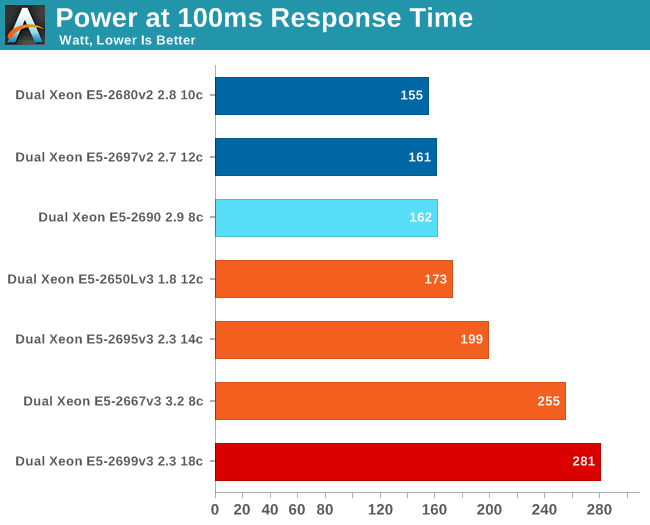 It would be wrong to simply compare the numbers above as the Xeon E5-2695 and 2699 do considerably more work. However, it cannot be denied that the Xeon E5-2699 v3 and Xeon E5-2667 v3 are a lot more power hungry than the rest of the pack. Remember also that, as noted above, the fans of the server that hosted the Xeon E5 v3 consume quite a bit more, but at the moment we have not been able to determine how much.
Let's calculate performance per watt. Take the following graph with a grain of salt as the benchmark is not the most accurate (results tend to vary by 5-8%), but still it gives a rough idea of what you can expect.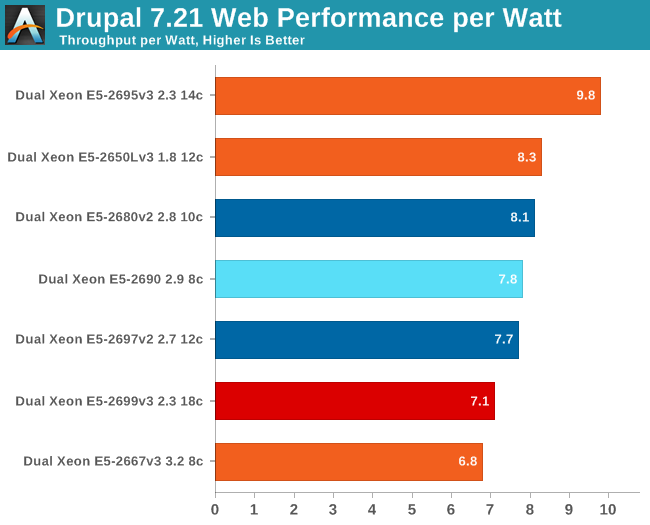 The Xeon E5-2695 v3 is able to Turbo Boost to high clock speeds, which keeps the response time low. At the same time, the power consumption is limited. The Xeon E5-2699 v3 probably fires up the fans a lot higher, and that drives power consumption up as the fans in our server can consume quite a bit.
What this means is that TDP is once again a relatively decent predictor of actual power consumption. The lower TDP of the Xeon E5-2695 v3 (120w) materializes in real world power savings compared to the Xeon E5-2667 v3 (135W TDP) and Xeon E5-2699 v3 (145W TDP).