AMD's 760
The world's first DDR platform is still desired by many.  The AMD 760 chipset was introduced to bring DDR SDRAM to the Athlon processor and it would continue to do so until a third party chipset manufacturer could take over supplying the market with DDR enabled chipsets.  Unfortunately this transition didn't occur as smoothly as planned, so AMD ended up supplying the 760 chipset for much longer than originally planned. 
We used the ASUS A7M266 for our 760 platform.
SiS' 735
A highly underestimated entry into the Athlon chipset market, SiS' 735 chipset has gained a lot of attention recently.  SiS sent out some very high performing reference boards based on the 735 chipset not too long ago, and today we are finally able to find boards available in the retail channels.  What's surprising is that the performance of the publicly available boards are reminiscent of what SiS claimed with their reference design; the 735 is the real deal.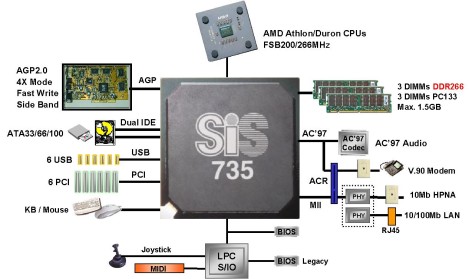 The 735 chipset has a few characteristics that make it unique.  First of all, it is a single chip solution with the North and South bridges integrated into a single chip.  The two are connected internally by what SiS likes to call their Multi-Threaded I/O Link (MuTIOL).  SiS claims that this link offers up to 1.2GB/s of bandwidth between the North and South bridges; astute readers will realize that there is no need for that much bandwidth between the two bridges but it looks good on paper.  The real benefit of MuTIOL is lower latency operation and superior data arbitration, but for the most part you're still limited by disk performance when you're talking about transfers between the North and South bridges.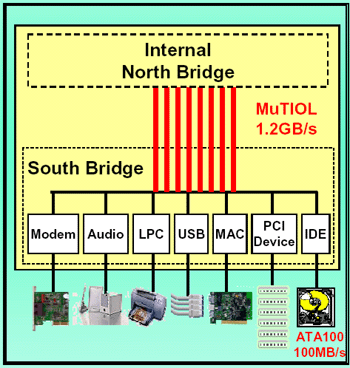 Unlike competing manufacturers, SiS has their own fabrication plant where they make their chipsets (for example, VIA chipsets are produced out of TSMC and not directly by VIA).  Theoretically this will keep manufacturing costs low, although it does mean that startup costs are significantly greater than competing firms (constructing a fab plant is not cheap, they can cost close to $2 billion).  A combination of being able to manufacture their own chipsets and a willingness to reduce profit margins in order to gain market share has allowed SiS to sell the 735 chipset at significantly lower levels than competing solutions.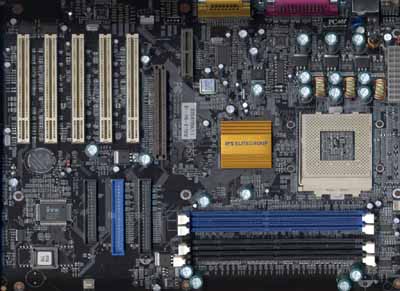 Click to Enlarge
Although many manufacturers have shown off boards based on the SiS 735, the only manufacturer currently shipping boards is ECS.  We used the ECS K7S5A for our tests.  Because the K7S5A supports both DDR and regular SDRAM, we tested the 735 chipset with both PC2100 DDR and PC133 SDRAM. 
The board itself ran fine; in terms of features, the board is lacking in overclocking features but is priced very attractively at $65 - $75. 
VIA's KT133A
You should be intimately familiar with VIA's KT133A chipset.  Only recently have shipments of the KT133A begun to die off, partially because of the extremely attractive price point of DDR SDRAM making DDR solutions the thing to have now. 
We used the ASUS A7V133 as our KT133A test platform.
VIA's KT266
The KT266 got off to a rocky start but it has finally become a much more mature chipset.  KT266 based motherboards are beginning to replace older KT133A solutions as the boards are finally ready for prime time.
We tested with the MSI K7T266 Pro.