Final Words
Surface 2 is a big step forward compared to Surface RT. The chassis looks awesome, the device is significantly quicker and battery life is appreciably better. The new display is much better than its predecessor (and so much better than what you get from most $449 PCs). The new touch/type covers see similarly major improvements. Surface 2 also benefits from the update to Windows RT 8.1, giving it a far more polished OS than what launched a year ago. The overall package is just a lot better than it was last year.
Unfortunately, Surface 2 faces the same struggles as its predecessor – primarily around the limited use of Windows RT. You'll still get a better third party app experience on Android or iOS. The good news is that Microsoft's first party apps are much better with 8.1. With Surface 2 Microsoft offers a potentially more productive environment courtesy of Windows RT 8.1's ability to display two windows at once, not to mention the benefits of having an integrated kickstand and cover options that double as excellent keyboards. Finally there's the benefit of having Office RT 2013 on the device as well. I can't stress just how much more productive you can be on Surface than any other 10-inch tablet. The only issue with Surface 2 is that productivity is limited to Office 2013 and a smaller list of applications compared to Surface Pro 2.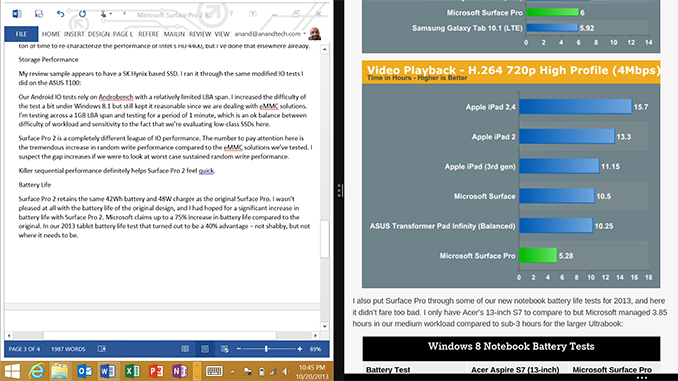 It's definitely a tough sell for the majority of the ARM based tablet market. I feel like at a lower price (and/or with a cover thrown in as part of the bundle) Surface 2 would have a much easier time attracting more than a niche. I can't help but draw comparisons between Surface 2 and a modern day Chromebook. Both are limited in the sort of applications they can run, but whether or not they are suitable for you depends on how valuable Google/Microsoft browsers and services are to you. Surface 2 can be a fine recommendation – if the price is right. I'd love to see Surface 2 with type cover retail for $399, I feel like at that price point it'd be at least a competitive sell.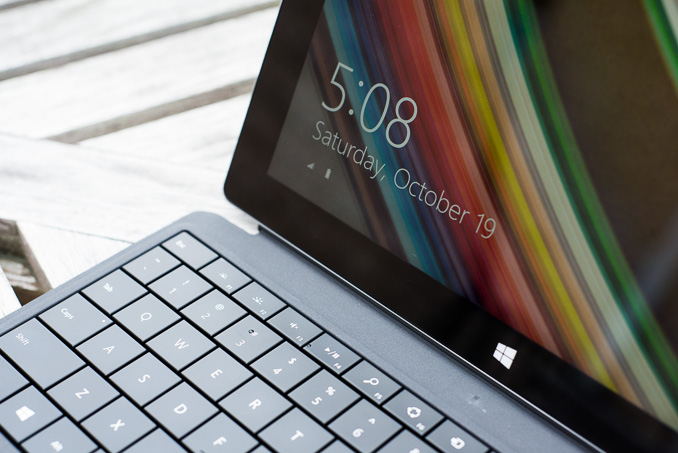 I really like everything about Surface 2 as a physical device. The chassis, the weight, the kickstand, the feel, everything. The software/services side of the story needs work, and until it gets there that puts a good amount of pricing pressure on Microsoft – at least if it wants broad adoption. There is an alternative solution to this entire problem however. I can't help but feel like if Microsoft threw Intel's Bay Trail in the Surface 2 chassis that a number of users might come to a completely different conclusion about the device. When we first posted about ASUS' T100, common feedback was that users would be willing to pay more for an even better device. A Bay Trail Surface 2 could've been that device.