Serious Sam Performance - Game Play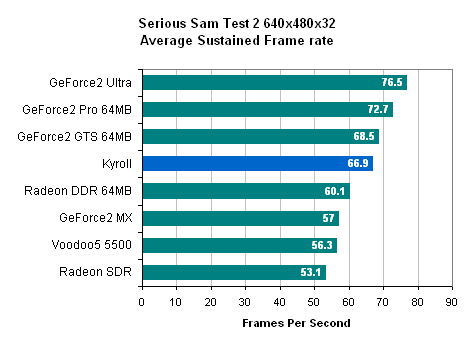 The Kyro II fares well at 640x480x32 in Serious Sam. Once again, a T&L engine is really the best way to boost the Kyro II's performance at low resolutions. Let's see how it does when we up the ante a bit.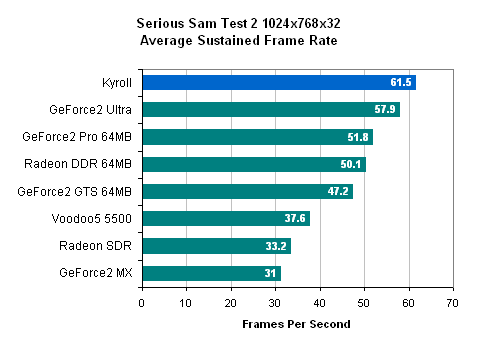 The 149.99 Kyro II once again does the impossible, beating the $340 GeForce2 Ultra, not just by a slight margin, but by an impressive 6%. Showing the complexity that must be present in Serious Sam in the form of overdraw, the Kyro II and its 100% effectiveness in the Serious Sam synthetic fill rate benchmark rises to the top of the charts. It is clear that tile rendering systems do have their place in modern day 3D rendering, and that place lies above today's immediate mode renders.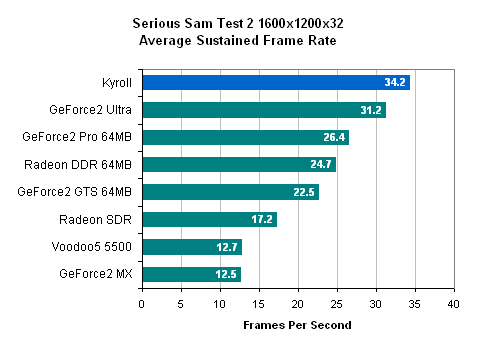 Serious Sam at 1600x1200x32 results in a similar conclusion: not only is the Kyro II a great card for the price, it is also the fastest in Serious Sam. Running 10% faster than the GeForce2 Ultra, the Kyro II's efficiency pays off in a big way. Giving the price, the performance of the Kyro II is nothing short of breathtaking.