Along with the most of the consumer level X79 products being upgraded for Ivy Bridge compatibility, arguably Xeon compatibility for the server side of each motherboard manufacturer is more important. In my inbox today I found two press releases, one from ASUS and one from GIGABYTE, showcasing their server line support for E5-2600 V2 (and E5-1600 V2) processors. The E5-1600 V2 line of CPUs are quad and hex-core parts designed for uniprocessor setups, whereas the E5-2600 V2 line are for dual processor workstation boards (but can be used on their own) and run up to 12 cores.
On the ASUS side, support for these processors extends to the ASUS E7, Z9P, ESC4000 G2, ESC2000 G2, Z9PE-D8 WS and P9X79-E WS series products with a BIOS update, (much like the non-Xeon focused motherboard counterparts and standard Ivy-E that require BIOS updates). ASUS likes to point out that one expansion slot on their new generation boards is reserved for the ASUS PIKE (Proprietary I/O Kit Expansion) card for increased storage configurations.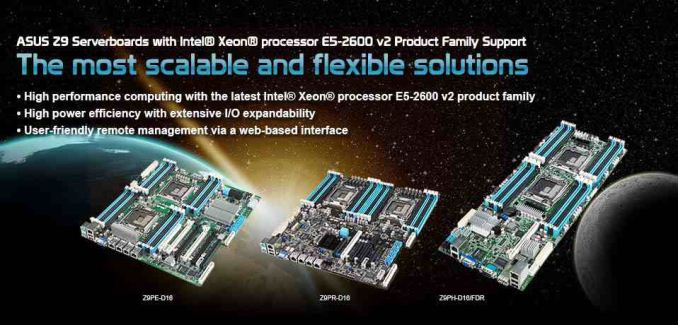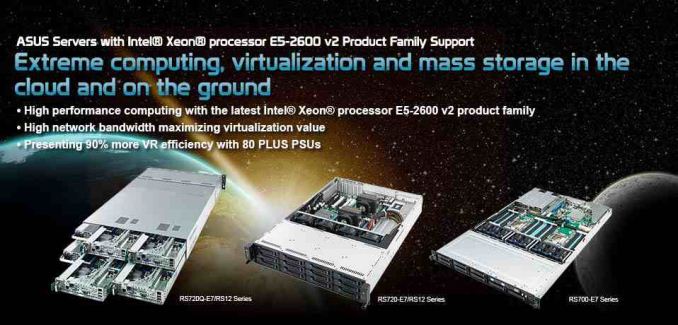 For GIGABYTE, the server GA-7P and workstation GA-6P lines have the new Xeon support as well as their GPU/MIC, Network, High Density Computing and Standard Server product lines. One of GIGABYTE's features they are promoting is DDR3-1866 compatibility at full DIMM population (8 per socket) which is not a standard feature.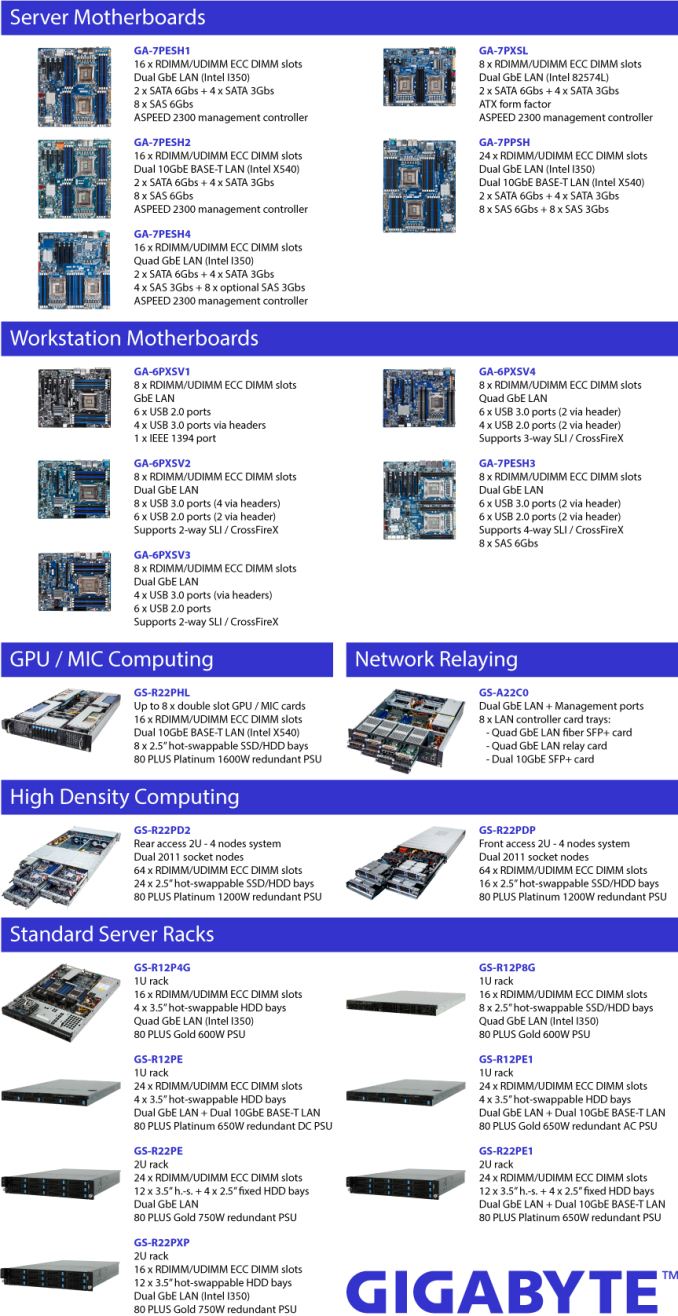 As Anand referenced to in his i7-4960X review, server platforms request the same socket for two generations to allow for an upgrade path. Thus we get two generations of Xeon CPUs that use LGA-2011, and we should expect all 2011 server products to have that upgrade path before Haswell-E (in a new socket) comes around next generation – most likely when the consumer market is using Broadwell. All manufacturers will be touting many benefits of the new Xeons (increased core count, higher IPC, PCIe 3.0 validation), and thus it comes down to the individual features and package that each manufacturer can provide when deciding on the correct solution.
As part of our motherboard coverage at least, we have been in talks regarding one or two of these motherboards, for both 1P and 2P. Keep an eye out for the review over the next few weeks after some X79 refresh reviews!