The Test Equipment
Here is a picture of the test setup: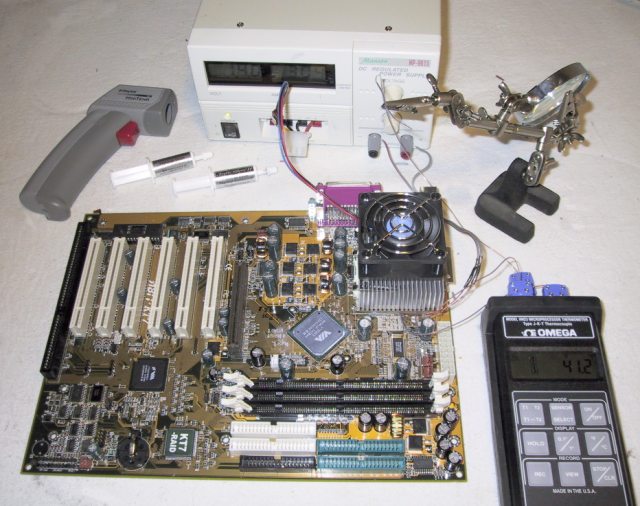 The following equipment was used for testing:
Thermometer: Omega HH23
Thermocouple: Omega T-type (copper/constantan) thermocouple wire model TT-T-30-SLE
Thermal compound: ArcticSilver II
The gun-like object in the upper left of the picture is a RayTekMiniTemp MT4 noncontact infrared thermometer. We did not use it during the actual testing, but it proved to be highly useful during the development of the test setup, since it instantly provides surface temperatures without having to install a thermal sensor.
The metal stand in the upper right holds the thermal sensor that measures ambient temperature. The temperature readings to be published in the cooler roundup are the temperature differences between simulator temperature and ambient temperature. This way, small changes of the ambient temperature will not influence test results in a significant way. The ambient temperature sensor is located above the fan; in the case of the Kanie Hedgehog and the Alpha PAL35, where the fan sucks air away from the cooler, the temperature sensor was relocated to the side of the cooler (15cm away from the heatsink).
Ambient temperature is 19.5°C +- 0.2°C.
Based on our experience in numerous tests, reproducibility of the test results was +- 0.2°C. We test each heatsink three times and publish the average of the three tests.
Final Thanks
We would like to thank those in the community that helped us develop this new testing methodology as well as the members of the AnandTech Forums that pointed out the flaws with our previous system and helped push us to develop this new methodology. Thanks guys.